As a first-year student at Vanderbilt University, I'm ready to take advantage of and enjoy the next four years of my liberal arts education. It's the first time in our lives that we are pretty much autonomous, and whether you're trying to decide what you're going to eat for dinner or what you're going to major in at university, everything is an exciting opportunity. My day can vary all the time, but this is a rough guideline of what I get up to as a university student in the US. 
Getting ready for the daily grind
By the time I finally muster the motivation to slide out of bed at about 8.35am, at least three of my many alarms have gone off, blaring whatever top 40 song I'd been listening to on a loop the night before. I stumble out into the hallway, fill my coffee mug at the water fountain and make coffee; I would not be able to live without my coffee machine.
Over the course of my two semesters at Vanderbilt, I've been lucky enough to start all my classes between 9 and 10am. Still, 9am comes too early, and I usually end up throwing on some clothes and light makeup, scarfing down whatever yoghurt or smoothie I picked up the night before using my midnight meal swipe from the canteen, and race out the door, trying to make it to main campus in under 10 minutes.
Class time
I personally like knocking out all my classes in one condensed go, preferably not having awkward hour-long breaks in between. While I'm leaning towards public policy but have not formally declared my major, I'm focusing on fulfilling my liberal arts requirements. This semester I'm taking general chemistry, macroeconomics, Spanish, literature, a mass media and politics class and am auditing a class (taking the course without receiving a grade) on presidential leadership.
It's easy to complain about having to take core classes but I've loved having the room to explore different subjects that I never would have encountered otherwise, like the Buddhist to Beat literature class writing seminar I took last semester.
---
Brits in America: a day in the life of a Harvard student
A day at a US graduation ceremony: what to expect
World Reputation Rankings 2017: navigating Yale University
Student life in London: culture and cuisine
---
Finally, time for lunch
I generally tend to organise my day so I can be close to the good coffee places on campus. My favourite spot is a little cafe attached to the library; it has the best coffee and grilled wraps. On days where I don't have time to sit down for lunch, I pack protein shakes and granola bars to munch on during the short breaks between classes.
I need a break
Once I've finished my classes for the day, I like to take a little time to decompress. At around 1pm I'll go for a run, walk into town to study and people-watch at a trendy coffee shop or watch Netflix in my room. I'll still have a good few hours left of my day after and this gives me a second to reset.
Getting involved
As a freshman, it was all too easy to tick almost every box at the Student Organisation Fair back in the autumn. I was eager and ready to get involved. After all, classes had not yet become too serious and I had nothing but time. Now that my college life has hit a rhythm (eat, study, sleep, repeat), I've narrowed it down to being part of the student newspaper, a sorority and a few different charity/service clubs.
Now that we are in the spring semester, I've found myself swimming in applications for different clubs and summer internships. I'm hoping to work in a congressional office on Capitol Hill or to write for a local magazine, so this month is all about cleaning up my résumés and cover letters.
Fun!
After spending all day trying to become educated and professionally developed, I'm ready for a fun adventure. One of my favourite things about being at Vanderbilt is that we're able to experience Nashville, a cultural hotspot. There is always something going on, be it a concert featuring an up-and-coming artist, a latte art competition at a local coffee shop or an open mic night at a comedy club.
Back to the library
After dinner on most weeknights, my friends and I head back to the library for a late-night study session. Often, we find our separate cubicles and are more productive than we've been all day, working until the library closes at midnight so we can walk over to the canteen and grab our breakfast swipe for the next day. Sometimes we reach a point where we're all just scrolling through Facebook or Instagram because of a lack of motivation and end up heading back to the dorms to hang out or watch a movie.
My favourite part: sleeping
Sleep is often the second thing that's sacrificed when you're stressed out, right after exercise. While the occasional all-nighter is OK, I need at least six hours of sleep a night to have a sustainable existence, but everyone is different. To some, six hours might seem ambitious. To others, it's definitely not enough. Whatever your number is, try to hit it because being well rested is a big part of getting the most out of your time at university. 
Read more: A day in the life of a university student in the UK 
Featured image
Image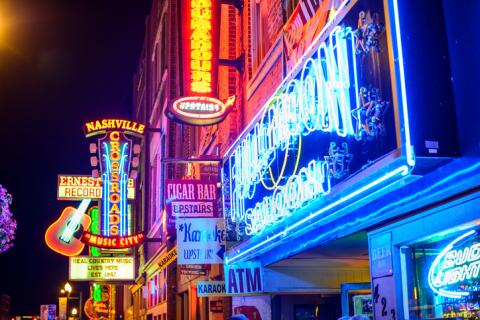 Standfirst
Avery Muir from Vanderbilt University in Nashville on what a typical day looks like for her as a college student in the US