How do you get into a top US university such as Stanford? What do US colleges look for in your application? How can you afford to study in the US?
When Indian student Manu Chauhan started looking into studying in the US, he had all the same questions. While many international students dream of studying in the US, the high cost of studying, the competitive application processes and the lack of access to admissions advice can easily make this goal feel out of reach.
Manu managed to overcome these obstacles to gain a full scholarship to study at Stanford University, but he stresses that it was no easy task.
Stanford University is one of the best universities in the world, according to the Times Higher Education World University Rankings. For the Class of 2024, there were more than 45,000 applications to Stanford University. About 3,000 students were given an offer, and only 12 per cent of successful applications were international.
---
Everything you need to know about studying in the US
Best universities in the US
Scholarships available in the US for international students
The cost of studying at a university in the United States
---
Manu grew up in the Indian state of Uttar Pradesh, before studying at the VidyaGyan school, which is supported by the Shiv Nadar Foundation and was designed to nurture gifted students from economically underprivileged rural backgrounds across India.
Studying there helped him gain the confidence to apply to a top US university, with the encouragement of supportive teachers and college counsellors.
In this video, Manu describes his journey to Stanford and shares his tips on applying to colleges in the US as a low-income international student.
Featured image
Image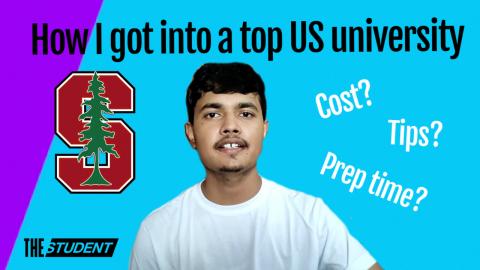 Standfirst
Indian student Manu Chauhan shares how he landed a full scholarship to Stanford, along with his top tips for applying to prestigious US universities