Applying to American undergraduate programmes as an international student was a challenging experience because I had no idea if I would receive any financial aid to cover the cost of tuition. I was born in Mumbai, India and grew up in the city of Thane, where I attended a private school until the end of third grade.
When I was nine years old, my family moved to Knoxville, Tennessee, to be closer to my dad's workplace, and I enrolled in an American public school. When I graduated from high school in Tennessee, I was still not yet a permanent resident of the US, and so I was classified as an international student. As such, I was ineligible for in-state tuition, federal student aid and most scholarship programmes.
At the California Institute of Technology (Caltech), however, I was offered an international grant to help cover my tuition costs. My financial aid package also included Caltech-supported work-study because I was ineligible for the federal work-study programme.
When I arrived on campus for the first time, I joined all incoming international students in a three-day international student orientation, which was designed to help foreign students acclimatise to life in a US university. The first event was a resource fair introducing students to services on and around campus, including everything from bike and car rentals to health and counselling services; we received a tote bag to collect free goodies from the various information stations.
---
Nine tips for students studying abroad for the first time
International perspective: Indian students studying in Canada
Four things international students should know about studying in the US
How to craft the perfect application for US universities
---
This event was one of my first opportunities to interact with other students. One activity was a "Mission Impossible" metro chase organised by the International Student Programs (ISP) office. We gathered into teams of four then hunted down the official ISP office team situated somewhere on the metro line. Although my team had assembled in a completely random way, I became good friends with one of my teammates, and we eventually became roommates after ending up in the same house. The last event for the day was an International Dessert Night, featuring delicacies from cuisines around the world.
Throughout my time here, the International Student Programs office has been a constant source of support for answering questions about travelling, applying for Curricular Practical Training (CPT) for summer internships, filing tax returns and more. The Caltech community is also exceptionally diverse, with a variety of international organisations, faculty and events.
In my freshman year, for instance, I joined the Organisation of the Associated Students of the Indian Subcontinent (OASIS) and participated in several events throughout the year, including a Diwali puja (religious ceremony), flag hoisting for Republic Day and Independence Day, and a Holi celebration.
The Holi celebration had a great turnout. One of the main outdoor spaces on campus became quite a spectacle with undergraduates running around and launching coloured powder at each other, while taking breaks to feast on samosas.
I have also been able to indulge my love for Hindi songs as a dancer with Caltech Dhamaka, our coed Bollywood fusion dance team. I have danced with Dhamaka for two years, performing at the Diwali show, Caltech's Dance Show and a Bollywood play for the annual OASIS show. Some of my favourite memories have come from Dhamaka.
Although I'm technically an international student, I have found the Caltech community to be so close-knit that such categories are meaningless; while writing this post, I realised that I had forgotten which of my friends were international students – in my memory, we are all simply Caltech students.
Read more: Caltech: 'uniquely difficult but a wonderful place to study'
Featured image
Image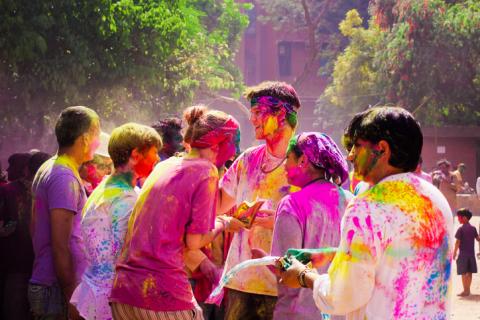 Standfirst
Indian student Ramya Deshpande has lived in the US since she was nine, but she was still classed as an international student when applying to study at university in the US