Making friends at university can seem daunting, since most of your high school friends will have gone on to other colleges or other occupations, or are even in an entirely different country. As an international or native student, you can position yourself in a good place to make friends simply by being open to new experiences, attending new events and by starting up a conversation with a passer-by. Here are a few tips to get started:
1. Participate in orientation week events
Orientation week is the week before classes officially start. Colleges prepare activities, including group trips to nearby museums, scavenger hunts and group dinners, to help fellow students to get to know one another.
Some universities have their own unique traditions that help students to make friends. At my university, a new civic engagement programme encourages students to bond in teams while giving back to the community via volunteering activities with environmental, advocacy and local groups for schoolchildren throughout the South and West sides of Chicago. The more events you go to, the more likely you will be able to meet others who you vibe with.
For international students, it is helpful to attend a pre-orientation week to engage with other students and faculty and to get adjusted to the larger community. Common events include trying food at local restaurants, learning more about international student resources at the student multicultural centre, and going to international student panels to learn more about fellow international students' experiences at the university.
2. What are fraternities and sororities?
Called "brotherhoods" or "sisterhoods," fraternities and sororities can be based around common pre-professional or social interests. These groups often arrange fundraisers, parties, dining and residence for their members. It is a way to potentially find a tight-knit group of students who can be part of your professional network later on.
To join, one must go through the process of "pledging", and entry requirements vary depending on the fraternity or sorority. It may be limited to prior university experience and academic standards.
3. Consider joining a sports team
Many US colleges are big on their sports teams – they are a great way to develop camaraderie, collaborate and compete with your peers.
Games are always big events on campus, and it can be fun to get involved even if you aren't a big sports fan.
If you don't want to play competitively, you can join an intramural club, or your dorm residential area will probably organise recreational outings for residential teams to face off in friendly competitions. At my university, my residential area hosts "midnight soccer". The gym also holds daily group yoga practices, Zumba and cardio kick-boxing so you can connect with like-minded peers while hitting your daily fitness goals.
4. Stay connected on social media
International students should join the international student group chats on WeChat, WhatsApp or other messaging apps you are more accustomed to. You can also stay in touch with your classmates and friends on Facebook, Instagram, Snapchat or any other social media platform.
Make plans to meet people with similar interests to you, whether it be having coffee at a cafe, working at a volunteer event or just studying together in the library. It's impossible to be friends with everyone you meet, but if you maintain communication, some will become your friends.
5. Go to campus events during the school year
Campus events are a great way to get together with other students interested in the same academic or extracurricular topics. Whether it's attending a guest speaker lecture, a fundraiser, a dance, a comedy night or a play (or any other campus event), you are sure to encounter people with similar interests.
Many times, you can find announcements for these events on social media or on bulletins around the campus. Usually there's something happening somewhere on campus every day.
---
What do British students think of studying in the US?
Everything you need to know about student societies at university
Five ways to make friends at university
If you're feeling lonely at university, you're not alone
---
6. Join campus clubs
There may be no better way of finding others who share your interests than by joining a club around that activity or pastime.
Whether you are interested in intramural sports, the student newspaper, a pre-professional group or a theatrical troupe, there are a plethora of clubs available to you on campus. You are more likely to meet someone who has the same interests as you. Plus, they usually meet weekly, so you can have consistent communication with any friends you make there.
7. Talk to people in your class
It can be hard to feel chatty at an 8:30am lecture on a Monday. But just think about the potential friends you can make by talking to the person next to you in class.
If you want to make friends, seeming friendly is important. You aren't going to make friends by being the first one to pack up and rush out of the class when it's over, or by plugging in your earphones, playing games on your phone or staring at the table before class starts.
Instead, try putting on a smile and greeting the people around you. Chat to them about how they are finding the class, or what they thought of the course reading, and you might find that conversation flows easily. If you happen to be going to the same location as someone after class, you can walk together. Maybe you'll discover that you both share a major or an extracurricular interest, which can lead you to even more new friends and clubs.
8. Get to know people in your residential dormitory
Your dorm area can be a valuable source of friends. Leave the door open, or hang out in the lounge rather than staying in your room all the time. Sometimes social events or study sessions will be organised within the dorm, so keep an eye out for those.
9. Get an internship or research assistantship
This experience is not only great for showing your future employers your work readiness, but also a great common ground for sparking conversations with your internship peers. Even questions as basic as "What made you choose this internship?" or "How did you hear about this internship" can open doors to deeper relationships.
10. Opportunities to socialise are always around you
Never forget there are opportunities to socialise all around you, even if it's not a formal group gathering like a club or a reception after a concert. Simply going about your own day can lead to unexpected and long-lasting friendships.
For example, just riding the same elevator, walking to class and eating in the dining hall can be valuable opportunities for meeting people informally. The key is to take the initiative to talk to people.
11. Relax and be yourself
It's easy to get self-conscious and feel that you're awkward at small talk. Even if there may be cultural differences, you'll find that most people are friendly and open to conversation. The more you talk to new people, the more natural you will become at striking up conversations. Don't give up just because you don't have a solid friend group after a few weeks in college. Trust the process and know that relationships are cultivated by mutual respect, communication and consistency.
12. Don't use school work as a constant excuse to not go to social events
An important part of friendship is not only making friends, but maintaining friendships. If you are managing your time efficiently you should still have ample time for occasional outings with friends downtown, watching a movie, baking a cake and so on.
All in all, college is full of new experiences and people for you to connect with. Don't be afraid to take the initiative to strike up a conversation and do things that are outside your comfort zone. It's OK to struggle in the beginning – just stay true to yourself and you will find friendships forming naturally.
Read more: Hoping to apply to a US university as a foreign student?
Featured image
Image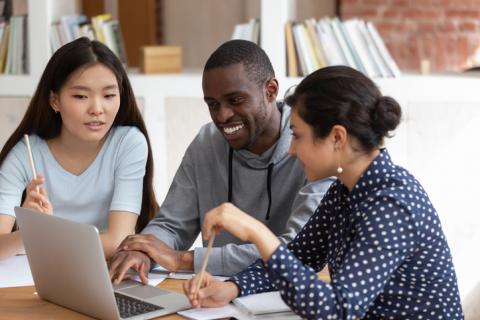 Standfirst
Whether you are an international or a domestic student in the United States, it's not always easy to make friends when you first get to university. Here are some ways that you can make friends in any kind of scenario