Top 10 private universities in the US
Scroll down for the full list of the best private universities in the US
Many of the US' highest-ranked universities are classified as private universities, including Harvard University, the Massachusetts Institute of Technology, Stanford University and Yale University.
These universities are funded primarily through student tuition fees, which are generally higher than those of public universities. Accordingly, private universities usually have better staff-to-student ratios and more income for resources, which may be one reason they rank higher than the country's public universities.
All the institutions in the prestigious Ivy League group are private universities.
We've pulled together a list of the top 100 private colleges in the US, based on data from the Wall Street Journal/Times Higher Education US College Rankings 2022. Private universities also dominated the top 100 of the overall ranking.
A number of liberal arts colleges including Williams College, Amherst College and Pomona College have also entered the top 100 private universities in the US.
The majority of private universities in the US are not-for-profit operations.
The WSJ/THE US College Ranking is a more student-centred ranking because of its emphasis on student outcomes and engagement. While previously we have used results from the US Student Survey for the ranking, we were unable to conduct a survey in 2020 and 2021 because of the coronavirus pandemic. Instead, we have used data from the 2019 survey to inform this year's ranking. The full methodology can be found here.
---
Best universities in the United States
Best liberal arts colleges in the United States 
Best universities in California
Best universities in New York
Best universities in Washington DC
Best universities in Los Angeles
Best public universities in the United States
---
Top 5 private universities in the US
-Duke University is a private research university in Durham, North Carolina and was founded by Methodists and Quakers in 1838.
-It was originally located in the town of Trinity before moving to Durham in 1892.
The original campus was rebuilt in a Georgian architectural style and is now known as East Campus, after the 1930 addition of West Campus, Gothic in style and home to the impressive Duke Chapel tower.
There are 10 schools and colleges; the oldest is Trinity College of Arts & Sciences, founded in 1859, and the youngest is the Nicholas School of the Environment, established just 25 years ago.
-Notable graduates of Yale University include former US secretaries of state Hillary Clinton and John Kerry, and actor Meryl Streep.
-Alumni also include five US presidents, 20 Nobel prizewinners and 32 Pulitzer prizewinners. 
Yale is famous for its secret societies, including Scroll and Key and Skull and Bones, which started admitting women only in 1991. There are also plenty of student societies that aren't so secret, such as the mathematics society, Chinese students' society, foosball club and the chamber orchestra. 
-The Massachusetts Institute of Technology has more than 500 recognised student activity groups. One of these is the student newspaper, The Tech, which is published in print and online.
-MIT also sponsors 31 varsity sports and has one of the broadest NCAA Division III athletic programmes.  
MIT has never awarded an honorary degree, nor does it award athletic scholarships. It has only twice awarded honorary professorships, to former British prime minister Winston Churchill in 1949 and to author Salman Rushdie in 1993. 
-Stanford University was founded in 1885 by Jane and Leland Stanford, in the heart of what is now Silicon Valley.
-Stanford counts 19 Nobel laureates within its community today, as well as numerous famous alumni in the worlds of art, social sciences, business, politics, humanities, media, sports and technology. 
In total, companies founded by Stanford affiliates and alumni generate more than $2.7 trillion in annual revenue, which would be the 10th largest economy in the world. These companies include Google, Nike, Netflix, Hewlett-Packard, Sun Microsystems, Instagram and Charles Schwab. 
-It's no surprise that Harvard University tops this list, considering that it also took the top spot in the overall WSJ/THE US College Ranking 2022.
-Harvard has also been a mainstay at the top of the THE Reputation Ranking for the past nine years.
The cost of attending Harvard is high, with tuition fees averaging about $43,000 a year. However, the university offers generous financial aid packages for less advantaged students.
According to the university's website, it has stepped up financial aid by 75 per cent since 2007, and is now offering about $170 million a year to students. In fact, 50 per cent of students receive financial aid.
---


Why the US is a unique study experience for international students
---
Top 100 private universities in the US
Featured image
Image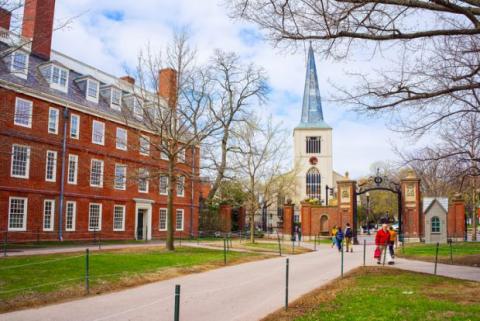 Standfirst
Explore the best private universities in the US using Wall Street Journal/Times Higher Education's US College Rankings data