Illinois, or "the Prairie State" borders Indiana in the east and the Mississippi River in the west and gets its nickname from its rural landscapes - think forests, rolling hills and wetlands. 
But as well countryside, its midwestern location offers easy access to the rest of the United States and cities which buzz with history and culture. 
While the official state capital is Springfield, the windy city (or rather, Chicago) often steals its thunder. Located on the shores of Lake Michigan Chicago is the third largest city in the US and has become an essential hub for finance, agriculture, the energy and service industries. The city's O'Hare International Airport is among the world's busiest. 
The state is also home to a number of corporate headquarters including McDonalds, Motorola, Boeing and United, making it an excellent choice for students keen to secure internships and build careers with some of the country's most well-known companies. 
Being in the midwest, Illinois residents get the full span of four seasons - hot summers, colourful autumns, cold winters and pleasant springs. 
Whether it's looking at skyscrapers by the likes of Frank Lloyd Wright and Louis Sullivan, exploring Abraham Lincoln's hometown of Springfield, understanding the state's history at the prehistoric Indian settlement of Cahokia Mounds or tucking into a Chicago-style deep dish pizza, there's plenty to keep students busy in the state of Illinois. 
Northwestern University (NU) is a private research university in Evanston, Illinois. When it opened for business in 1855, it had just two academic staff and 10 students. These were all male, but women have been admitted since 1869.
It now counts some 22,000 undergraduate and postgraduate students within its ranks, with some 3,800 faculty staff. 
Northwestern is now a leading private research university with a strong interdisciplinary culture and a commitment to teaching excellence. It comprises 12 separate schools and colleges and is notable for its research strength in fields including neuroscience, nanotechnology, biotechnology and the development of new drugs. The main campus is still based at Evanston, 10 miles north of Chicago, although there is a smaller one in Chicago. Since 2008, there has also been a third, satellite campus in Doha, Qatar.
Northwestern's mascot is Willy the Wildcat. Its mottoes are both taken from the New Testament and read, in Latin and Greek, "Whatsoever things are true" and "The world is full of grace and truth".
Notable alumni include novelist Saul Bellow and economist George Stigler, who both went on to win Nobel Prizes, as well as Friends star David Schwimmer and authors Gillian Flynn and George R. R. Martin. Meghan, the Duchess of Sussex also studied at the university.
No fewer than four economists and one chemist who worked as faculty at Northwestern went on to receive Nobel Prizes. And the diplomat and political scientist Ralph Bunce, who had been a researcher there, went on to become the first African American to win a Nobel Peace Prize for his efforts to resolve the Arab-Israeli conflict.
---
Best universities in Chicago
Best public universities in the United States
Best liberal arts colleges in the United States
Best universities in Massachusetts
Best universities in Seattle
Best private universities in the United States
---
The University of Chicago (or UofC, UChicago or simply Chicago) has a number of global campuses, which include Paris, Beijing, Delhi and Hong Kong, among others. 
It was established in 1890, with a donation from Baptist oil magnate and philanthropist John D. Rockefeller, and including land donated by Marshall Field. 
Its 217-acre Chicago campus is in the Hyde Park neighbourhood, near Lake Michigan. The buildings are a mixture of traditional English Gothic and award-winning modern buildings designed by world-renowned architects. It also has a botanic garden which was added in 1997. 
Beyond the arts and sciences, Chicago is well known for its professional schools, which include the Pritzker School of Medicine, the Booth School of Business, the Law School, the School of Social Service Administration, the Harris School of Public Policy, the Divinity School and the Graham School of Continuing Liberal and Professional Studies, as well as the recently launched Pritzker School of Molecular Engineering.
As well as its main campus and many international campuses, it manages the Argonne National Laboratory and Fermi National Accelerator Laboratory for the Department of Energy, has direct oversight of the Marine Biological Laboratory and is a founding partner of the Giant Magellan Telescope Project. 
Its motto is "crescat scientia; vita excolatur" which means "let knowledge grow from more to more; and so be human life enriched". 
The University of Illinois at Urbana–Champaign, founded in 1867, is the flagship campus of the University of Illinois. 
After Illinois State University, It is the second oldest public university in the state of Illinois, and is made up of 17 colleges offering about 150 different study programmes. The institution is spread out over some 647 buildings set on a 4,500 acre campus. 
The university is one of the original 37 public land-grant institutions that were founded when Abraham Lincoln signed the Morrill Act in 1862. 
The university takes its name from the twin cities of Champaign and Urbana, which are located about 180 miles north of St Louis and 140 miles south of Chicago.
The libraries at the university hold one of the biggest collections of any public library in the US, with some 13 million volumes across nearly 40 library sites. 
Some 11 graduates of the University of Illinois at Urbana–Champaign have gone on to win Nobel Prizes, with 18 winning Pulitzer Prizes. 
The university's Krannert Center for the Performing Arts  has four theatres, which seat 4,000 people and host about 350 performances by both students and professional acts every year. Its Krannert Art Museum and Kinkead Pavilion contain nearly 10,000 works of art, while the Spurlock Museum has 46,00 artefacts from around the world. 
The largest collection of John Philip Sousa music manuscripts is housed at the university's Sousa Archives Center for American Music. 
There are 23 halls of residence at the university – enough to accommodate more than 8,500 students. 
---
Best universities in Los Angeles
Best universities in Washington DC
Best universities in Florida
Best universities in California
Best universities in Texas
---
The University of Illinois at Chicago (UIC) is the city's only public research university. It grew out of the Chicago College of Pharmacy, founded in 1859, after which it joined forces with other medical colleges in the region.
Although UIC's origins are rooted in healthcare – the university lays claim to the largest medical school in the US – its 15 colleges offer programmes spanning liberal arts, social work and engineering, as well as sciences and health.
UIC's first campus, at the junction of the Greektown and Little Italy districts of Chicago, meant that many students were the first in their families to attend college (and still remain so, to this day).
During a period of rapid student expansion in the 1960s, the renowned Chicago architect Walter Netsch was asked to design buildings that would accommodate a growing student community in what was a small area of land. His response was to construct them in a series of concentric rings, the inspiration for which was a droplet of water.
Netsch's brutalist style dominates UIC's east campus, which is nicknamed "Circle" after the major expressway that runs alongside it.
Students at UIC have a plethora of extra-curricular activities to choose from. Sports facilities include a gym, volleyball and racquetball courts, running paths, climbing walls and an outdoor field complex comprising 214,000 square feet of synthetic turf for soccer and baseball games. A separate outdoor facility has tennis and basketball courts, along with swimming pools, saunas and a wellness centre.
The Illinois Institute of Technology (IIT) was founded after the minister Frank Wakely Gunsaulus gave a sermon saying if he had $1 million he would use it to found a Chicago school where students from all backgrounds, not just the wealthy, would be able to receive an education that would make them useful contributing members of society.
Gunsaulus' sermon inspired Philip Danforth Armour, Sr. an industrialist who had made a fortune in the meatpacking industry selling food to the US army. Armour donated $1 million and the Armour Institute was established. IIT was founded in 1940 when the Armour Institute merged with the Lewis Institute. The liberal arts programs on offer at the Lewis Institute complemented the engineering and science-based teaching available at Armour.
Today IIT is a private research university, focused on technology, which caters to around 8,000 students studying a range of undergraduate and postgraduate courses in engineering, science, architecture, business, design, human sciences, applied technology, and law. The university is also highly international with a large proportion of graduate students coming from abroad and many undergraduates classified as international.
IIT has five separate campuses in the Chicago area, the main one is Mies Campus, which covers 120 acres, and has been named a National Historic Landmark due to its beautiful design and architecture. Mies is also home to residential halls, fraternity and sorority houses and student sports and leisure facilities. The Downtown Campus building houses the colleges of law and business. 
Its motto is "Transforming lives. Inventing the future". 
Notable alumni include designer Virgil Abloh and Martin Cooper, who invented the mobile phone while working at Motorola. 
---
Best universities in Illinois 2021
Click each institution to view its full World University Rankings 2021 profile
Read more: Best universities in the United States
Featured image
Image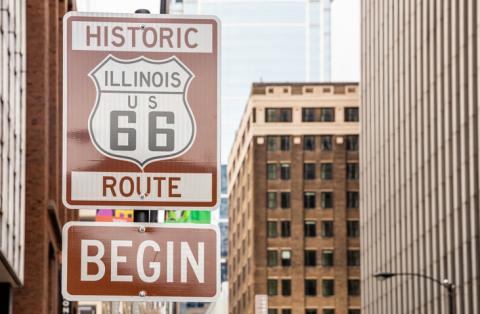 Standfirst
Explore the top universities in Illinois using data from the Wall Street Journal/Times Higher Education US College Rankings