I have been living and studying in Australia for 15 months now, but I am originally from the United States. I grew up in Minnesota where my family were avid outdoors-people. Like classic Minnesotans, summers were spent going on nature expeditions - hiking, fishing, camping - where I developed an appreciation for nature and wildlife.
These trips, paired with an obsession with the television channels Animal Planet and Zaboomafoo and a passion for science, eventually solidified my dream of becoming a veterinarian, though I admittedly never expected it to lead me this far away from Minnesota.
After high school, I attended the University of Wisconsin-Madison and received an animal science degree. During college, I was able to dip into a few animal industries as an assistant in a zebrafish genetics lab, a kennel worker at the teaching hospital and as a local zoo volunteer. As an "animal ambassador" at the zoo, I gave talks about the animals to promote understanding and conservation and I discovered a passion for public education and wildlife/zoo veterinary medicine. 
---
Applying to university overseas: what to consider
---
During final year, I applied to several veterinary schools and was accepted at Iowa State University. However, because of a transcript issue I wasn't able to attend. So I returned to Minnesota, got a job as a veterinary assistant, and sent out another round of applications.
I applied to four vet schools and was pretty satisfied. Later, I was talking with my mom and she asked why I wasn't applying for more. My response was that I didn't have enough money to do so. To apply to vet school in the United States you send all your transcripts and information to the Veterinary Medical College Application Service (VMCAS), an online organisation where you select which schools to apply for.
You essentially pay VMCAS to organise everything and then pay the individual application fees for your chosen schools on top of that. So my mom said: "How about you choose one more [school] and I'll pay for the application." Obviously I couldn't pass that up, so I gave her my VMCAS ID so she could choose where she wanted to send me off to.
The next day she came back to me with her choice: University of Sydney was included in international universities. I had always wanted to travel to Australia, so I figured why not give it a shot? I didn't expect to be accepted but nothing ventured, nothing gained. So I applied and two months later was accepted. Knowing I would regret it if I didn't seize this opportunity, I took a leap and enrolled.
Classes began in mid-February and at this point it was late November so over the next couple months I was running around frantically to prepare. I arranged my visa, airfare, loans, accommodation, said goodbye to everyone, and let my boss know I would be leaving six months earlier than expected. Before leaving, I had one more bump in the road when literally the day before my flight I became extremely sick and had to delay a week. I pushed through and eventually made it to Sydney on 12 February 2016 - three days before classes started.
Over the next two weeks, I found my apartment, made many friends, and learned that the Australian pronunciation of medical terms is confusing. Going to a completely different country without knowing anything and jumping into one of the hardest degrees was not easy, but I haven't regretted anything yet.
I look forward to continuing to share my experiences on Times Higher Education and hopefully provide some tips and tricks for surviving in the land down under.
Acacia Cordes is a second year veterinary medicine student at the University of Sydney and will be regularly blogging her experiences for Times Higher Education 
Read more: Best universities in Australia
Featured image
Image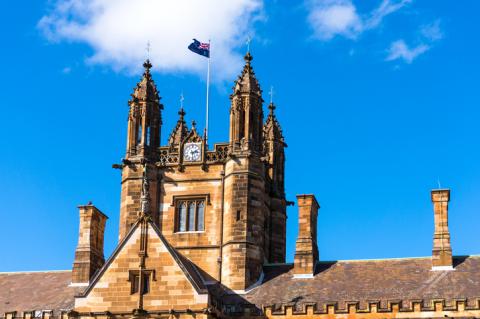 Standfirst
Moving to Australia from the US to pursue a veterinary science degree was a quick and easy decision, writes Acacia Cordes