I first thought about studying abroad during the second year of my bachelor's degree.
I was studying international relations and modern languages, specialising in Spanish and Chinese. Since my Spanish was getting pretty good and I wanted to pursue my studies at the postgraduate level, I started researching for master's degrees in political science or international relations that would take me to Spain or Mexico.
My research led me to choose Barcelona as my city of choice and Pompeu Fabra University, mainly because the university was recognised in Europe and its policies matched what I was looking for. There was also the benefit of professors from different universities across the world joining to teach at the UPF.
Some of my friends also recommended travelling and studying in Barcelona as they had such great experiences. This got me even more excited.
Once I was accepted on to the programme, I had to start the visa application right away because I am not a European Union citizen.
The process lasted from April to August 2021, mainly because communication with the Spanish consulate was difficult and because the Canadian government and the Spanish consulate had to authenticate my bachelor's degree and the official transcript.
The only way to do this was by mail, which added to the length of it. As for the financial aspect of the visa process, I can only talk about my situation in Canada, but it is important to keep in mind that gathering the required documents and paying for the application itself is an additional cost that is not always clearly stated. In my case, that process cost about C$500.
At the same time, I had to figure out how I would pay for the master's degree (fees are much higher if you are from outside Spain or the EU) and budget for my living costs in Barcelona.
---
Best universities in Europe
Best universities in Spain
Everything you need to know about studying in Europe
---
I worked full-time in a hotel during the summer before leaving and applied for grants and scholarships. I managed to put money aside from my job and to secure a grant from the Quebec government. As a result, I was then in a strong financial situation that allowed me a decent quality of life in Spain without having to find a job during my study year.
Before leaving Canada for Barcelona, I was understandably nervous. Even though the societies are similar, every aspect of my life was about to change. I had visited the south of Spain before, but living an entire year in the country was a much bigger challenge. I would say that I adapted quite rapidly, mainly because I speak Spanish, but also because Spaniards are welcoming and easy to approach.
Being curious by nature, I discovered some delicious food (I might have been overeating patatas bravas and paellas), drank sangria on sunny terraces almost all year long and encountered too much incredible scenery to recount. I have also adopted the afternoon siesta, which is an everyday must in my life now.
I would recommend studying in Spain as an undergraduate or postgraduate student. There are several high-quality universities with professors who are attentive, knowledgeable and welcoming (from my experience and from stories of friends I met who were also studying across Europe).
For me, having the sun almost every day was a game-changer, and having the possibility to travel on beautiful and cheap little trips during the weekends was incredibly refreshing and got me back on my feet every Monday morning.
Having the possibility to travel to other European countries without the hassle of border crossing is something I did not know I would enjoy that much. Pack yourself a little bag, take your driving licence, and in no time, you are in a completely different country. Finally, for day-to-day life, even though Barcelona is a big city, it is not a stressful environment. It is a safe city and there are an almost infinite number of activities to do and places to visit.
Featured image
Image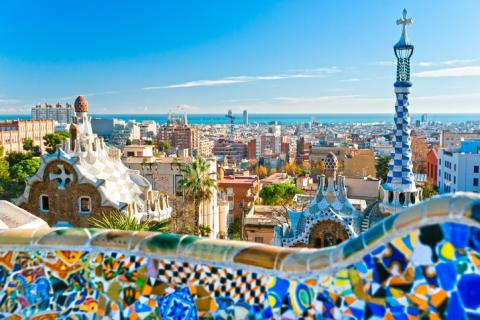 Standfirst
Canadian student Alexis Bernatchez chose to study for his postgraduate degree in Spain after