Top 10 universities in Germany
Scroll down for the full list of best universities in Germany 
This league table reveals the best universities in Germany, according to the trusted Times Higher Education World University Rankings 2023.
The Technical University of Munich is the top university in Germany, followed by LMU Munich. 
---
Best universities in Europe
Best universities in the world
Best universities in Canada
Best universities in the United States
Best universities in the UK
Best universities in Italy
Best universities in France
---
The top universities in Germany are scattered throughout the country, with options to study in Munich, Berlin and 40 other cities. The top university in Berlin is Charité - Universitätsmedizin Berlin.
In total, 50 universities in Germany are counted among the very best in the world.
More than 500 degrees (bachelor's and master's programmes) are taught in English at top German universities. Whatever subject you are interested in, you can study that degree in English in Germany.
Top 4 universities in Germany
Charité - Universitätsmedizin Berlin is one of the largest university hospitals in Europe.
More than half of Germany's  Nobel prizewinners in medicine and physiology have studied or worked at the university.
It can trace its roots back to 1710, when the hospital was built in response to the plague in eastern Prussia. In 2003, it merged with other medical institutes in Germany and took on its current name.
Many famous scientists and physicians have worked or studied at the university, among them neurologist Carl Wernicke, psychiatrist Karl Leonhard and Rahel Hirsch, the first female medical professor in Prussia.
Heidelberg University, founded in 1386, is the oldest university in Germany.
Close to 20 per cent of the student body is international, representing 130 countries. More than a third of doctoral students are international.
The university offers undergraduate and postgraduate degrees in 160 study programmes. Academics at Heidelberg have been responsible for founding subdisciplines including psychiatric genetics, modern sociology and environmental physics.
The university is particularly renowned for its innovative research and intellectual contributions across a range of subjects. Some 27 Nobel laureates have been associated with Heidelberg University, nine of whom won the prize while tenured there.
Many influential politicians, philosophers and scientists are alumni or affiliates of the university, including Max Weber – the founder of modern sociology – and philosopher Hannah Arendt.
Heidelberg is known as the home of German Romanticism, and the Old Town and castle are some of the most visited tourist destinations in Germany.
---
The cost of studying at a university in Germany
Everything you need to know about studying in Germany
Scholarships available in Germany for international students
Everything international students need to know about student visas in Germany
A guide to post-study work visas in the UK, the US, Canada, Australia, Germany and New Zealand
---
LMU Munich was founded in 1472, making it one of Germany's oldest universities.
The university is affiliated with 42 Nobel laureates, including renowned scientists such as Otto Hahn, Max Planck and Werner Heisenberg.
With the second-largest student population of any university in Germany, Ludwig Maximilian University of Munich – to use its full name – attracts a large number of international students, about 13 per cent of the total student body.
Since the end of the 18th century, the university has had a strong focus on natural sciences, and has produced world-leading research and innovations.
The German Universities Excellence Initiative, launched in 2005, has provided funding for LMU Munich, as well as other leading universities in the country.
The Technical University of Munich is the only state university dedicated to science and technology.
Since 1927, 17 Nobel prizes have been awarded in physics, chemistry and medicine to academics affiliated with the university.
Founded in the 19th century, the university originally focused on engineering, but has expanded over the years to include natural sciences, social sciences, agriculture, brewing and food technology, and medicine. Many specialisms within engineering and information technology are offered across three departments.
An overarching philosophy of "the entrepreneurial university" guides the development of the institution, which now has 15 departments across three campuses in and around Munich.
---
International perspective: a Canadian student in Germany
Top universities in Germany ranked by employers
The 10 most beautiful universities in Europe
International perspective: an Albanian student in Germany
---
Best universities in Germany 2023
Click each institution to view its full World University Rankings 2023 results
Featured image
Image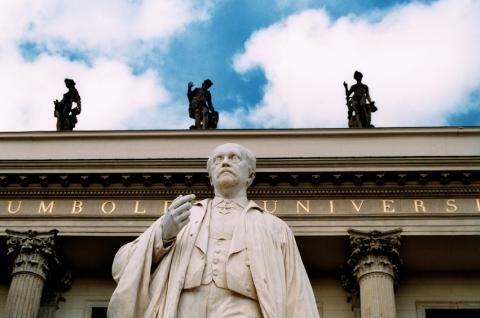 Standfirst
Find the best universities in Germany in 2023 through Times Higher Education's World University Rankings data