I recently headed out to Berlin for a couple of days, aiming to explore some universities, speak to some students and find out exactly why students love studying in Berlin. It turns out that there are a ton of reasons why the German capital is so attractive to students. 
All the students I spoke to said the same thing: Berlin was great for students, because you couldn't ever get bored. There are parties, bars, museums, galleries, green spaces and shops in their multitudes. History and culture flow through every corner of the city. Alex, who studies at the Free University of Berlin, summed it up well, saying that there was so much to do in the city that you might even forget to study. But we wouldn't advise that. 
He added that one of the best things about being in Berlin is that there are a lot of alternative parties, and Monique, another student at the Free University of Berlin, agreed. "I have lived in this city for nine years and I love that if you want to go to a techno club at 10am you can. Just 40 minutes away is a lake with lots of greenery. There are also plenty of opportunities to get involved in sports like yoga, pilates, even sailing," she said. 
As well as the unlimited recreational activities, most of the students I spoke to said that another great thing about the city was the affordability and the good quality of life that came with that. Monique said that "as more and more students are coming to the city, it is getting harder to find cheap accommodation, but it is still a more affordable city than Paris and London". Recent research by foreign currency exchange company FairFx found that not only was Germany the second cheapest European country to study in, the Free University of Berlin was the fourth cheapest university to study at in Europe. 
This is probably because Germany does not charge tuition fees for domestic and international students. Students are also offered free travel around the city and student discount cards are available that cover entry to some of the city's museums and galleries. 
---
Studying in Germany 
Reputation of German universities
Finding accommodation in Berlin
Free tuition in Germany
Expectations v Reality in Berlin
Best universities in Germany
---
Another thing that makes Berlin such a great city for students is the sheer number of students. There are four public research universities and 27 private, professional and technical colleges. This means that the student population in Berlin is quite large and the high number of universities that share facilities means that you can meet students who study at other universities. 
Additionally many international students head to Berlin every year, with more and more students choosing to fly to Germany every year. The Free University of Berlin, Humboldt University and Technical University of Berlin are in the top 100 most international universities in the world and the Free University of Berlin is in the top 200 universities in the world with a high percentage of international students. In addition, in 2014-15, Germany received 32,871 students through the Erasmus programme, coming second only to Spain. 
Miriam, who studies at the Technical University of Berlin, says that one of the main reasons she loves studying in Berlin is that there are so many universities here and so she can "connect with lots of students and can study in the many different libraries in city".
The video below highlights even more reasons why students should study in Berlin, from the students themselves. 
If you want to see more of Berlin head over to our Instagram.
Featured image
Image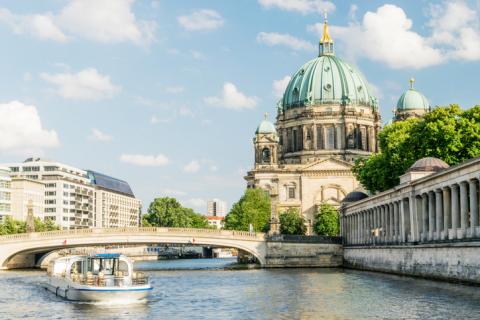 Standfirst
It's fun, cheap and packed full of students...just some of the reasons why Berlin has become such a popular student city