I have always wanted to explore the world, meet new people, travel, learn new languages and cultures. During my bachelor's degree, I spent the summer as a scholar and thesis student in the US to improve my research skills. There I had a valuable experience interacting with many people of different backgrounds and cultures.
I received my undergraduate degree in molecular biology and genetics from Bilkent University in Turkey. When choosing a university to do my master's degree, I wanted to switch my focus from cancer biology to stem cell biology, which led me to TU Dresden in Germany.
There I experienced another new culture, built relationships with others from around the world, met new mentors and learned the German language. I also had the ability to travel to other European countries right on my doorstep.
All this international travel throughout my studies led me to consider pursuing my PhD somewhere in Europe, too. I decided to search for a place where I could receive a world-class education, improve my language skills, experience multiculturalism and travel around picturesque landscapes. Switzerland was the answer.
---
International perspective: a French student in Switzerland
Best universities in Switzerland
Pursuing doctoral study in Switzerland
---
ETH Zurich is a highly ranked university, is associated with 21 Nobel laureates and offers a lot of degrees in English. It also provides a wide range of events and cultural activities for students from Switzerland and all over the world.
The most important part of my PhD journey was the ability to develop my social and scientific abilities while applying my skills to an exciting research topic.
I was fortunate enough to be selected for Life Science Zurich Graduate School, which contains many PhD and MD/PhD programmes run jointly by ETH Zurich and the University of Zurich. The programme coordinator completed my visa process on my behalf, and the university offers studio accommodation for international PhD candidates. This meant that my visa experience ran smoothly, and I avoided the highly competitive accommodation search that many students face.
Switzerland is located in the heart of Europe, and it is beautiful. Although it is a small country, it is efficient, clean, safe and peaceful. You can cycle or ski in the Swiss Alps, swim in clear water lakes and hike to the castles with mountain and lake views. It also shares a border with five countries and has four official languages. This meant that travelling around Europe was easy.
Switzerland has many things to offer international students. Education is excellent, travelling is easy, there is an unlimited supply of cheese and chocolate, lots of activities to get involved with, natural wonders at your doorstep and a historically and linguistically rich environment.
I would recommend studying in Switzerland even if the cost of living is more expensive than other countries. Some Swiss universities are known to have the lowest tuition fees in Europe, and most universities will also offer financial aid and scholarship opportunities.
Featured image
Image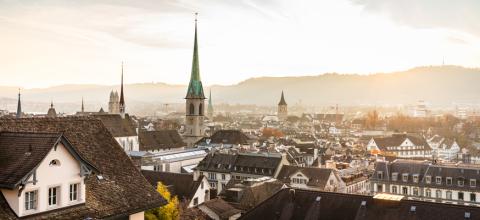 Standfirst
Dilara Yilmaz has studied in Turkey, Germany and now Switzerland. She shares what it was like to study in these different environments and why she chose Switzerland for her PhD