What is a PhD?
The term "PhD" is often used as a synonym for any doctoral-level qualification. Doctorate degrees can often be split into two categories: MPhil and PhD.
An MPhil takes about two to three years to complete in most countries. Like a PhD, it consists of a research element (which is usually shorter and less in-depth than a PhD thesis, and often more akin to a dissertation undertaken at undergraduate or master's level). 
MPhil students focus more on interpreting existing knowledge and theory and critically evaluating other people's work rather than producing their own research. The precise nature and definition of an MPhil can vary among institutions and countries. 
A PhD, meanwhile, follows a more widely known and traditional route. Taking about three years (sometimes more) when pursued full time (and about twice that time if studied part time), a PhD is significant in that it requires students, often referred to as "candidates", to produce their own work and research on a new area or topic to a high academic standard.
PhD requirements vary significantly among countries and institutions. The PhD, once completed, grants the successful candidate the title of "doctor of philosophy", also called PhD or DPhil.
PhD diary: Preparing for a PhD
Nine things to know before doing a PhD
Why should you do a PhD?
For many people, acquiring a doctorate degree is the pinnacle of academic achievement, the culmination of years of commitment to higher education.
However, the act of pursuing a PhD can be a complex, frustrating, expensive and time-consuming exercise. But with the right preparation, some sound advice and a thorough understanding of the task at hand, your years as a doctoral student can be some of the most rewarding of your life. 
People choose to work towards a doctorate for many reasons. If you are looking to pursue an academic position, such as university lecturer or researcher, then a PhD is usually required.
Many people obtain a PhD as part of a partnership with an employer, particularly in scientific fields such as engineering, where their research can prove useful for companies.
In some cases, however, PhDs are simply down to an individual's love of a subject, and their desire to learn more about their field.
Starting a PhD during the pandemic
What is a PhD thesis? And what is a PhD viva?
A PhD thesis will be produced with help from an academic supervisor, usually one with expertise in your particular field of study. This thesis is the backbone of a PhD, and is the candidate's opportunity to communicate their research to others in their field (and a wider audience). 

PhD students also have to explain and defend their thesis in front of a panel of academics. This part of the process is often the most challenging, since writing a thesis is a major part of many undergraduate or master's degrees, but having to defend it from criticism in real time is arguably more daunting. 

This questioning is known as a "viva", and examiners will pay particular attention to a PhD's weaknesses either in terms of methodology or findings. Candidates will be expected to have a strong understanding of their subject area and be able to justify specific elements of their research quickly and succinctly.
In rare cases, students going for a PhD may instead be awarded an MPhil if the academic standard of their work is not considered fully up to par but still strong enough to be deserving of a qualification.
Women in STEM: undertaking PhD research in cancer
PhD eligibility
Students who want to study for a PhD will usually be required to have obtained a master's degree in a related field of study (some universities may accept a strong undergraduate degree), often with a strong research element.
This may be an MPhil, or a research master's (commonly called an MRes).
How to apply for a PhD in the US
Can you do a PhD part time? 
Many PhD and MPhil candidates choose to pursue their qualification part time, in order to allow time to work and earn while studying. This is especially true of older students, who may be returning to academia after working for a few years. 
When applying, you should always speak to the admissions team at your university to ensure this is possible and then continue to work with your supervisor to balance all your commitments. 
Studying for a part-time PhD: the challenges and the benefits
Is it possible to do a three-year PhD as an international student?
Can I do a PhD through distance learning?
This is something else that you will need to check with your university. Some institutions offer this option, depending on the nature of your research. 
You will need to be clear how many times you will need to travel to your university to meet with your supervisor throughout your PhD. 
Embarking on a PhD: failure is inevitable in the face of progress
Your PhD supervisor
Choosing the right PhD supervisor is essential if you want to get the most out of your PhD. Do your research into the faculty at the institution and ensure that you meet with your proposed supervisor (either virtually or in person) before fully committing. 
You need to know that not only do they have the right expertise and understanding of your research but also that your personalities won't clash throughout your PhD. 
Remember, to complete your PhD, you will need a strong support network in place, and your supervisor is a key part of that network. 
Looking for PhD tips? Why not check Twitter
PhD diary: Where do I begin?
Coping with PhD stress
If you do decide to embark on a doctorate, you may well encounter stress and anxiety. The work involved is often carried out alone, the hours can be long, and many students can suffer from the pressure they feel is on their shoulders.
Ensuring that you check in regularly with your emotions and your workload is crucial to avoid burnout. If you have other commitments, such as a job or a family, then learning to balance these can feel overwhelming at times. 
Give yourself regular breaks, speak to your supervisor and ensure that you know what university resources and support systems are available to you in case you need to access them. 
How to do a PhD on a budget
PhD diary: The romance versus the reality of a PhD
PhD diary: Having a bad day
Post-doctorate: what happens after you finish your PhD?
On graduating, many people will pursue a career in academia, while others will work in industry. Some might take time out, if they can afford to, to recover from the efforts of PhD study.
Whatever you choose to do, undertaking a PhD is a huge task that can open up a range of doors professionally. Just remember to take some time out to celebrate your achievement. 
International PhD students: the ups and downs of job hunting in the UK
Featured image
Image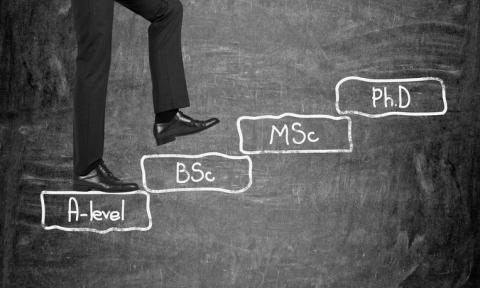 Standfirst
How long does it take to get a doctorate degree? How do you get into grad school? Are you qualified to do a PhD? Answers to these questions and more