My alarm went off at 7am in the morning and after pressing snooze a few times I realised that there were no classes today as it was US election day.
Although I am an international student who cannot vote, I did have a checklist of qualities that I would have liked to see in the next president. The US will be my second home until I graduate, so I had expectations of the upcoming leader.
My roommates and I collected in front of the TV that evening to watch the election news. As college students, we are avid believers in healthy discussions and debates, so it was no surprise that discussions were going on about what each candidate would bring to the table. We were students from three nationalities, ethnicities and backgrounds, so I enjoyed how we saw the same things from different perspectives.
Unlike previous elections, this year's election had a lot of mail-in ballots, thus the counting process took days to finish. Finally, after about five days, Joe Biden was projected to be the next president of the United States. I must confess that I was relieved to hear this news, and I am certain many of my fellow international students must have felt the same way.
---
What it has been like as an international student during the US election
International perspective: a Nepalese student in the United States
International perspective: a British student in the US during lockdown
Coronavirus: the abrupt end to my year abroad
---
While I have no say in whether President Trump is good or bad for the country, I can speak about how the administration has been affecting international students and their college experience.
Four more years of a Trump administration would mean four more years of unpredictable laws and regulations that get enforced out of nowhere, making our college experience stressful. A recent example was the July decision by Immigrations and Customs Enforcement (ICE) which ruled that international students whose classes were online had to leave the US or else they would be deported.
Similarly, in September, the Department of Homeland Security proposed to limit F and J student visas to two years instead of four. This came as a blow to many prospective students who come to the States for their undergraduate, graduate or doctoral studies, which usually take more than two years to finish. Apart from these, there are many other proposed and implemented restrictions imposed on foreign worker visas, Optional Practical Training (OPT) and so on. The Trump administration had been deliberately going after international students as their political lab rats to experiment with new and harsh regulations.
Students from all over the world studying at US universities bring varied perspectives and enrich the study experience. Moreover, international students contributed $41 billion (£37 billion) in 2018/19 along with supporting more than 450,000 jobs.
Thus, I feel it is in the best interests of the US to help ease international students' experience instead of pushing them to their edge. While I do not know for certain how the Biden administration will look into these issues, I remain hopeful that his administration will at least try to make some amends for the harsh steps taken against international students.
Read more: Best universities in the United States
Featured image
Image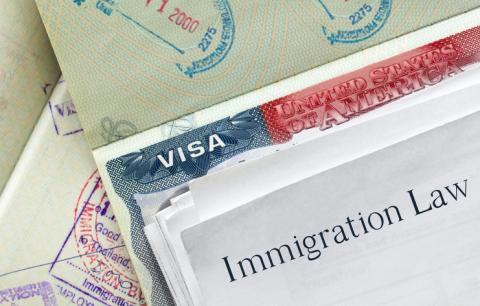 Standfirst
Nepalese student Wilbur Acharya writes about why international students are so important to the US and why the new administration should recognise that