For students wanting to study in the US, many recent factors have potentially caused them to rethink their decision – from the coronavirus pandemic to travel restrictions and deportation orders for international students. 
But the overwhelming message in our webinar, held in collaboration with Shorelight and Crimson Education, was that now is a great time to apply to university in the US. Studying in the US brings a whole host of opportunities, and universities are doing everything they can to support international students. 
Steve Robinson, senior associate vice-president for enrollment management at the University of Utah, explained why new applicants should not be worried about being in competition with students who have deferred their autumn 2020 places. 
A concern that many students might be having right now is restrictions on being able to get involved in extracurricular activities or volunteering opportunities while the pandemic is ongoing. Jamie Beeton, CEO and co-founder at Crimson Education talked about a few different online opportunities that students can take advantage of instead, such as essay writing competitions and global competitions and clubs. 
Jennifer Schnetter, managing director at UOP International, also spoke about the concerns that students will have around the cost of studying in the US and the different funding options they can explore. 
Watch the full video below:
Read more: Best universities in the United States
Featured image
Image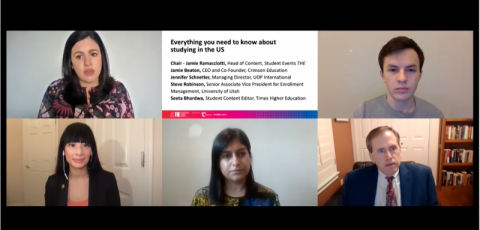 Standfirst
Students wanting to study in the United States should catch up on on our expert panel livestream, which covered everything from finances and applications to visas and student life