Choosing a university is a big decision. I am from Belarus and I decided to study in Lithuania. I enrolled at Vilnius University as a bachelor's student and now continue my journey as a master's student. 
Lithuania is a popular place – if you go to the old town in the evening, you will hear at least five different languages. Many international companies have opened their offices here, such as Booking.com, Google and Nasdaq. 
Moreover, Lithuania is a country of start-ups. The government provides support for new businesses, so starting one is a fast and easy process. It means that graduates have many opportunities when starting their career, either in a global company or their own business.
The country's location makes it ideal for those wishing to travel, and there are many great travel discounts for students to take advantage of.
---
International perspective: a Dutch student in Denmark
International perspective: a Zambian student in Australia
International perspective: a British student in Spain
International perspective: a Filipino student in Hungary
International perspective: a Brazilian student in Japan
---
There is always something going on in Vilnius – you will never get bored. There are karaoke nights, quizzes, food festivals and so much more. In addition, there are many student organisations and events that you can get involved in, such as crazy costume parties in the bars and clubs, movie nights, volunteer projects, excursions around Lithuania and even to other countries.
There are students here from all over the world. When you arrive for your first lecture, you will meet people from North and South America, Asia, Africa, and Europe. For me, that is the best part of studying here. It is not just about learning: university is a chance to make friends with people from around the world. 
Students at the university also have many opportunities to go abroad for an internship or a semester. This leads to many amazing experiences and also gives you something interesting to put on your CV. Vilnius University allowed me to undertake part of my studies in South Korea and then go to the Netherlands for an internship.
Additionally, the lecturers treat you as equals and they can be flexible about missing lectures if you cover the work. Once, I wanted to leave home early for the Christmas vacation and my professors let me take all my exams before leaving.
So why choose Lithuania and Vilnius University? To put it simply: you will never feel lonely here. The people care about you and they try to make Lithuania feel like home.
While Vilnius is the capital city with a solid infrastructure, it still maintains its history, feels cosy and has a welcoming atmosphere. And Vilnius University has it all – warm people, quality education and plenty of opportunities.
Read next: International perspective: an Iranian student in Poland
Featured image
Image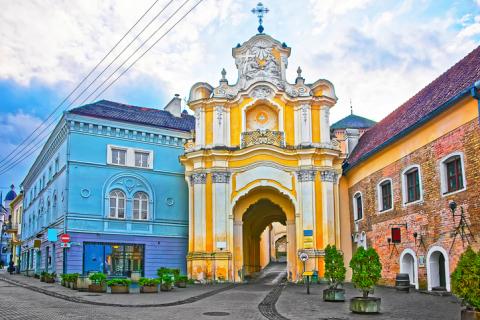 Standfirst
As the home of a number of global companies and many start-ups, Lithuania offers many opportunities to students, says blogger Lydia Lysenkova