Six months have gone by and I am still surviving in a foreign country, trying to make family, fellow citizens and my sponsor back at home proud. The idea of studying overseas is extremely appealing to many, and the Netherlands is a student-friendly country with an environment that enables you to adapt quickly and remain on your feet, despite the many challenges you may come across. 
I have spent more than three months in Breda now and have not experienced any homesickness yet. Was my home town of Boksburg, South Africa boring? Not in the slightest. Am I having more fun in Breda than I had in Boksburg? Not at all! I have simply settled in well. The first days are always the most exhilarating. Although you experience many culture shocks, you are still excited about the new environment.
The first thing that stood out for me, not just in Breda but in the Netherlands as a whole, was how cycling is such a big part of the Dutch lifestyle. It came as a shock when I saw a man cycling in a suit – this is something you would rarely see in my country, if at all. It brought me great joy when I went to fetch my own bicycle from campus the next day.
---
Best university guides
Best universities in the Netherlands 
Graduate employability: top universities in the Netherlands ranked by employers
Most international universities in the world
Best universities in Europe
World-ranked universities with the most international students
---
The first time I went shopping for household essentials, I had to use cash because I did not yet have a bank account. The South African Rand trades at R15 for €1 on average. This means that €50 equals around R750. It was hard to come to terms with this at first. When I had €50, I would spend it like it was just R50. 
On my first Friday in Breda, I went out to get a feel for the city's night life. I noticed how people in this city don't go to sleep. Perhaps it is because there is not much crime in the Netherlands compared with my home country.
In South Africa it is not safe to be in most city centres at midnight. But in Breda, midnight feels the same as midday. There was a huge party at Park Valkenberg on the evening of my arrival. I couldn't understand why there would be a gigantic party on a Tuesday evening because, where I'm from, that is unusual. Nonetheless, I have grown accustomed to that, too. 
The strangest thing to me is that even though there is no time difference between the Netherlands and South Africa, the dawn and the dusk times are different. On my second day at school, I arrived late for my first class because I had peeked out of the window, seen that the sun was only beginning to rise and gone back to bed. I'd assumed it was 6 o'clock in the morning when it was already 8 o'clock. It took me a while to acclimatise to this.
I must mention the language barrier, too – a subject I could write a book about. The Dutch embrace their language and it is difficult to communicate with them on any level if they have little or no knowledge of English. It did not bother me that much until I had to ask for directions to the grocery store. That is what made me take a Dutch language course at the first opportunity I had. 
---
More experiences of international students 
The benefits of an international placement during your degree
Paris university introduces scholarships for international master's students
Best destinations to study abroad, chosen by parents
World's most international universities: the student experience
Making international connections studying in Geneva
Applying through Ucas as an international student
The international experience at the London School of Economics
The perks of studying in the Netherlands
---
Sometimes peer support is very effective at boosting motivation. During exam season, I felt my levels decreasing but after a chat with a Romanian friend in his third year of the same programme, I rallied.
The night prior to my maths exam, my classmates and I formed a study group. I gained more in the five-hour group study session than I had throughout the term working on my own. I wish we had started earlier with that. You don't lose anything by explaining something you know to someone else who doesn't.
It's important not to take learning for granted either. There is a subject that I could have obtained 90 per cent for, but ended up getting 60 per cent (just about enough to pass) owing to inadequate preparation. The "I know it" mentality gave rise to this shortfall. My first term has taught me that anything is possible and that I should tackle each subject as if I don't know anything about it. I have also learnt the importance of making time to study, even for the boring subjects.
As a student at a university of applied sciences, you must be prepared to undertake a lot of projects, therefore you have to do a lot of group work. We were fortunate enough to study a subject called cross-cultural management, which opened my eyes to the understanding that we are all different. The hardest thing was to accept that everyone is motivated by different things. Some members are motivated by a normal pass and others by an outstanding pass.
After having a bad day at university, I picked up the phone to groan to my mum about the amount of academic pressure I was under. My mum kept silent for a while and I could feel that she felt my pain. After those few seconds of silence, she said: "Isn't this what you said you wanted?"
Immediately I knew that I had to make it work. This is my advice to students: it doesn't matter what circumstances prevail, you have to fight tooth and nail to make it work. 
Bokang Lemaoana is a South African student studying at the NHTV Breda University of Applied Sciences 
Featured image
Image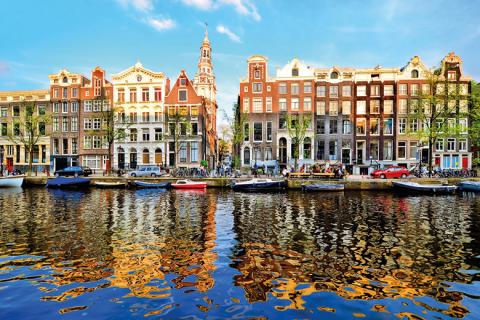 Standfirst
Bokang Lemaoana outlines his experiences at the NHTV Breda University of Applied Sciences