The Covid-19 pandemic has redefined the typical college experience for international students. As a first-year international student at the University of California, San Diego, I have not yet had the chance to visit the campus, nor meet any of my classmates in person. Instead, I learned from home in Canada.
Despite the difficult situation, I have kept up my optimism and gradually found my remote learning experience to be delightful. Here is my story.
The pandemic has changed many things for me. Last March, the Canadian government ordered a provincial-wide school closure but had no clear plans for the schools' continued operation. To my disappointment, I graduated high school without a prom, a commencement or a proper goodbye to my closest friends. However, I managed to put my emotions aside and shift my attention to college preparation. 
I attended my first University of California, San Diego webinar in March 2020. While I struggled with using Zoom then, I was nevertheless cheered up by the energy of the panelists. It encouraged me to attend more webinars to gain a sense of the school's culture.
I soon found such online interactions to be the new norm of socialising, and driven my desire to meet new people, I made use of every online resource to navigate my school's clubs and councils. 
I ended up joining two organisations, one of which was my college's student government, Muir College Council (MCC). At MCC, I took on the position of the international and out-of-state representative, as I hoped to connect those who learn from home like me and engage them in campus events virtually.
---
Tips for studying online and at home for university students
Interviews with international students in Canada about the Covid-19 situation
International perspective: a Chinese student in Canada during the coronavirus outbreak
Coronavirus: when learning never (quite) stops
---
Part of my role includes serving on the International Student Advisory Council (ISAC). I meet monthly with other international student ambassadors and staff to discuss the challenges of international students and come up with accommodations. 
As a first step, I surveyed my constituents on their challenges with virtual learning. I found that one of the biggest challenges facing them was time-zone differences. When I lived in China for a quarter while visiting my family, I personally found this a struggle, too.
Although we could attend lectures asynchronously, there were often no alternative times for office or tutoring hours. Some students even had to complete exams at 4am. This put a lot of strain on the mental health of international students. While I like to de-stress by participating in student activities, I understand that it is not the best option for everyone.
I shared my survey results with ISAC as we have been working on a guide for international student support. This guide has since been shared with campus departments and student organisations to remind faculty, staff and students of factors to consider when supporting international students. Next, I will be actively working with ISAC on a campus-wide survey to obtain a more comprehensive understanding of international students' challenges.
In addition to surveying, I led virtual events to promote interactions between students. I recently co-hosted my first webinar on the topic of "youth in social change", which covered ongoing social movements inside and outside the US and featured four youth activists who were involved. Toward the end, we had an open discussion on social issues that we are passionate about and ways we can contribute to these movements. It was absolutely an exciting night for me. For the first time, I was no longer a webinar participant but a panelist. My partner has also been a huge support for me along the way, especially with handling the technical issues I might not have been able to sort out all on my own.
Following this webinar, I felt more confident to present in a virtual setting. It furthered my interest in student government and encouraged me to continue dedicating myself to student service. Moving forward, I am thrilled to develop more meaningful events for my constituents.
Last but not least, I would like to give three tips to my fellow international students:
Join student organisations. It is a great way to meet new people. Honestly, my council members have been my greatest source of joy since the start of the school year.

Don't hesitate to email your professor and TA about more flexible exam times or office hours. Many of them are willing to offer individual office hours by appointment.

Self care. It is important to prioritise your physical and mental health. Taking small moments to meditate every day can help you save up the energy to put towards your long-term success.
Featured image
Image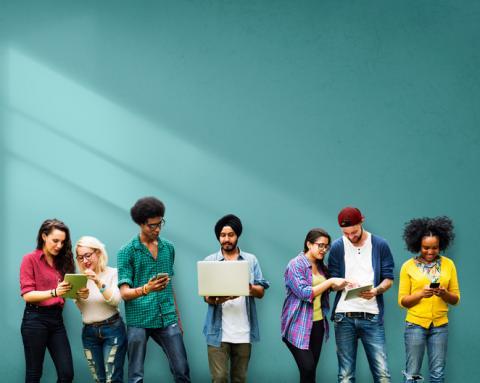 Standfirst
Serena Zheng discusses how getting involved with student leadership during Covid-19 helped her both connect fellow international students and stay connected herself