My name is Raphaëlle Soffe, and I am a dual British and French citizen. I currently live in Ewloe, a small village in North Wales, and I went to high school in the neighbouring village of Hawarden. In just a few short weeks, I will be cramming four months' worth of possessions into two suitcases and flying over to Boston to start at Harvard University. 
I remember when I was 14 years old my dad told me he thought Harvard University fitted me. I laughed at his suggestion because I thought it would be impossible. How could a state school student like me from a low income background and with neither parent having attended university possibly consider an institution such as Harvard? It wasn't until I stumbled upon the Sutton Trust US Programme that I realised that the prospects of applying to the US were realistic. 
A year later, I had been admitted via the highly competitive early entry round into Harvard, alongside a full scholarship and an unconditional offer. All I remember about the night I found out that I had been accepted was uncontrollable crying and the sense of relief that all the hard work had paid off.
One of the best things about the US undergraduate system is that you don't choose what you major in until you have experienced most of the courses on campus. I plan to concentrate in government and possibly take minors in economics and French. I also have an incredibly long list of clubs I want to join, ranging from the International Relations Council, to the Francophone Society, to the badminton club. I also hope to grow an organisation called Neutral News that I have been running for the last two years. This extracurricular was at the heart of my Harvard application as it showed initiative in answering the growing problem of "fake news" and demonstrated my ability as an entrepreneur. However, I am aware that I will not be unique in terms of ambition when I arrive at Harvard. I will be sharing living spaces with the best and brightest students, and this both excites and scares me.
---
Sixty-two UK students head to US universities through charity partnership 
---
A lot of people have asked me whether I am concerned about Harvard's reputation as an elite university. Looking at the alumni list with names such as John F Kennedy and Bill Gates, and considering that Malia Obama will be in my class, it is hard not to be a little unnerved. However, by accepting a student like me, Harvard has dispelled the myth that it is primarily an institution for the rich or the elite. I have been given start-up grants, offered numerous advisers, and received packages through the post. They taught me to realise that regardless of my income or background I am no different to my classmates. For the past two years, I have endured long shifts at a fast food restaurant in order to pay for books and events that were crucial for my education. 
An issue I have campaigned on for many years is the loss of potential in state schools due to lack of funding, bad behaviour, and the stigma around studying hard. I know that Harvard will become my home for the next four years, but I also intend to use it to further my career ambitions. I aspire to graduate from Harvard and enter British politics with the primary goal of reducing the inequalities found in education. I look forward to the opportunities that the next four years will bring and I will be recording them all for Times Higher Education. 
Raphaëlle Soffe will be blogging her journey through Harvard University every month for Times Higher Education. 
Read more: The 50 most prestigious universities in the world 
Featured image
Image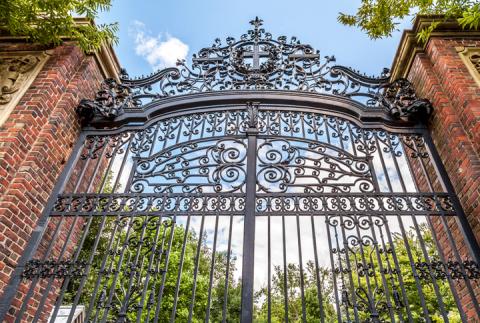 Standfirst
In the first of her blogs for Times Higher Education, Welsh student Raphaëlle Soffe discusses her journey to attending Harvard University