Key points for stydying in the UK
1. How many universities are there in the UK?
2. How does the British university system work?
3. How do you apply to study in the UK?
4. What kinds of universities are there in the UK?
5. How is Oxbridge different to other universities?
6. Do I need an English language test to study in the UK?
7. How much does it cost to study in the UK?
8. What scholarships are available for international students in the UK?
9. How do I apply for a student visa in the UK?
10. What can I do after I graduate in the UK?
UK universities are among the oldest and most prestigious institutions in the world. The University of Oxford in England is almost 1,000 years old and is currently ranked the best university in the world, according to the Times Higher Education World University Rankings 2022. A further 28 UK universities feature in the top 200.
It's no wonder then that the country is a top destination for international students.
Most international students come to the UK from China, India, the US, Hong Kong and Malaysia. The post-study work visa allows international graduates from UK universities the opportunity to stay in the country to work for two years after they graduate. 
If you're an international student, applications to UK universities can be a little confusing, but don't let that put you off. Below is a rundown of everything you need to know if you're thinking of applying to a UK university as an international student.
How many universities are there in the UK?
According to data collected by the 2021 National Student Survey (NSS), there are 151 universities in the UK.  Scroll to the bottom of this article to see an alphabetised list of all of the universities in the UK. You can explore the best universities for your chosen course using the Times Higher Education World University Rankings 2022. The University of Oxford and the University of Cambridge are ranked the top two British universities, while three of the best universities in London complete the top five.
How does the British university system work?
Undergraduate courses in England, Wales and Northern Ireland are generally three years long and require you to study one subject only, which you will specify in your application. However, there are plenty of exceptions to this rule, such as joint honours courses that allow you to study two courses in tandem, longer courses such as medicine (which is typically five years in the UK) and courses that include three years' teaching and one year abroad or in industry.
The Scottish system is different to the rest of the UK, and follows a model closer to the US college system. In Scotland, undergraduate courses tend to span four years, and cover several subjects in the first two years before students specialise in one subject in the final two years.
At the postgraduate level, courses in the UK are further specialised, but you can choose between taught masters courses with seminars and classes, and research masters courses where you will focus on your own project from the beginning.
PhDs vary in length depending on the kind of research you're doing, and whether or not you are required to teach as part of your course.
How do you apply to study in the UK?
Unlike in other countries, you do not apply directly to UK universities with separate applications. Instead, all university applications are done through one centralised system called Ucas, which involves a small fee of about £22. When applying through Ucas you have the option to apply to up to five universities.
On your Ucas application you will provide details of all your exams and qualifications, as well as a reference from one of your teachers and a personal statement. The personal statement is your opportunity to outline why you are interested in studying your chosen course, as well as describing any extracurricular activities you are interested in outside your studies, such as clubs, societies, extra subject research or sports.
The deadline to hand in your Ucas application is usually 15 January, but this may vary each year. 
There is an earlier deadline of 15 October for anyone applying to the Universities of Oxford and Cambridge and most courses in medicine, veterinary medicine/science and dentistry. You will usually hear back from the universities you applied to by June.
There are three possible outcomes to your Ucas application: a conditional offer, an unconditional offer, and an unsuccessful choice or rejection. A conditional offer and an unconditional offer are both good news.
The most common type of offer from UK universities is conditional offers, which means your offer will only be confirmed if you fulfil a number of requirements in the future. The main requirement of a conditional offer is that you achieve a certain set of grades in your exams, or a certain number of Ucas points, which is a way of measuring your grades and making sure different kinds of exams from around the world are all treated equally.
Each university and course will expect different grades or Ucas scores. You can find the average grades for conditional offers for any course on the websites of the universities you're interested in. 
If your exams results turn out worse or better than you expected and you either miss the conditions of your offers or greatly outperform them, you can go through a process called Ucas clearing or adjustment in August. This is when you may be able to gain admission to a university you did not apply to that may have a spare place for you. The process is the same for domestic and international students.
---
THE International Student Seminar: what you need to know about studying in the UK
---
What kinds of universities are there in the UK?
There are more than 160 higher education institutions in the UK. These include the prestigious Russell Group, an association of 24 leading research universities, including the University of Cambridge in East Anglia, the University of Edinburgh in Scotland, Durham University in North East England as well as UCL and the London School of Economics and Political Science in central London. 
Many of the top institutions in London, such as SOAS University of London, UCL, Goldsmiths, University of London and Queen Mary University of London are actually affiliate schools of the University of London. For most practical purposes, such as admissions and funding, the schools operate like independent universities. However, as a student of any of the affiliate schools you will often get access to services across the University of London, such as other schools' libraries, the Senate House library, and exclusive student deals and discounts.
There are also many other universities across the country offering a range of courses, from regular undergraduate degrees to specialist foundation years and vocational programmes. 
Most universities will offer courses in both the arts and sciences, but a few universities teach in one particular area, such as Imperial College London, which focuses on science and technology, specialist drama schools such as the Royal Academy of Dramatic Art (RADA) and music and dance conservatoires.
How is Oxbridge different to other UK universities?
The universities of Oxford and Cambridge, together known as "Oxbridge", consistently rank as the top two in the UK and are among the oldest higher education institutions in the world.
Along with their beautiful medieval campuses, what sets Oxford and Cambridge apart from other UK universities is their teaching style. As well as the usual lectures and labs, Oxbridge students get to discuss their work with a leading researcher in the field each week. This is known as the tutorial system at Oxford and the supervision system at Cambridge, and means students get personalised academic mentorship.
Both universities operate a collegiate system. Separate from your subject department, your college provides accommodation, learning support and pastoral care. Each college has its own character and history and provides students with a sense of community. When applying to Oxbridge you can either choose which college to apply to or submit an open application where a college will be randomly selected for you. Neither option changes the likelihood on whether or not you will get in, so it is worth choosing a college that you like the look of or have visited before. The same applies for Durham University, which is also collegiate.
Like all other UK universities, you apply to Oxford and Cambridge through Ucas, but there are a few important differences, including the earlier deadline. Furthermore, you cannot apply to both Oxford and Cambridge so you must decide between them.
On top of your Ucas application, the two universities have their own specific admissions requirements, which involve entrance exams and an interview with admissions tutors, either face to face or online. Applying to Oxbridge is highly competitive so it is crucial you do your research and have achieved or are predicted to achieve the high grades expected from all applicants.
Do I need to take a language test to study in the UK?
If you want to study in the UK and English isn't your first language, it's very likely you'll be required to take an English language test to prove you have sufficient proficiency to excel academically.
Universities will usually state which test they prefer, the minimum overall grade they expect, and the grades they require in writing, speaking, listening and reading components. Areas such as law and medicine and more competitive universities such as those in the Russell Group will usually expect high scores. We recommend getting in touch with the international offices of your chosen universities if you are unsure on the exact requirements.
The IELTS Academic, TOEFL, PTE Academic and Cambridge English Advanced are the most widely accepted English tests, with the IELTS Academic being the most commonly recommended by UK universities.
These tests are accepted and recognised by most governments and course providers around the world, including the UK's immigration department.
You do not need to have completed a test before you apply to a UK university through Ucas, but if you have not, completing a test to a given minimum score will probably form one of the conditions of your offer. If you have already taken a test, you can simply include this information on your Ucas application alongside your other exam scores.
Since 1998 universities in the UK have charged students tuition fees, and international students are usually charged a higher rate than their domestic peers. Tuition fees will depend on the course you choose and which country you are from.
Prior to Brexit, students from the European Union had "home fee status" in the UK, meaning they paid the same tuition fees as UK domestic students. If they studied an undergraduate course in Scotland their fees would be completely covered by the Student Awards Agency Scotland. A maintenance loan was also available to EU students to cover living costs.
But the UK's exit from the EU has changed things. Any students who started before 31 July 2021 will continue to enjoy home fee status for the remainder of their course.
However, students from the EU, EEA-FTA and Switzerland who start a new course in Scotland, England or Wales after August 2021 will no longer be granted home fee status, meaning that each UK institution will set its own fees for students from these regions and countries.
EU students applying for the 2021/22 year and onwards will be charged significantly more than domestic students, in line with what non-EU international students have previously been charged. 
In 2023, international students can expect to pay between £10,000 and £32,000 annually for lecture-based undergraduate degrees. An undergraduate medical degree can cost overseas students up to £64,000 per year. 
Make sure you check with the university to which you are applying for more information. The government in Northern Ireland is yet to announce how Brexit will change fees for EU students, but more information is expected soon.
There is no upper limit on postgraduate degree charges for international students, but they tend to be more expensive than most undergraduate courses and the fee varies depending on the university.
Accommodation is another factor to consider when you're calculating study costs. The price will depend on where in the UK you're based and which kind of accommodation you opt for.
In 2021, the average student rent in the UK was £126 per week, or £547 a month, however, students in London can expect to pay an average of £182 a week, or £640 a month. The average annual cost for students is £4,914 (based on a 39-week contract). Most rents include bills of some kind, although one-third of students will pay bills on top of rent.
Students typically stay in university accommodation for the first year and then move to private housing for the second and third years.
However, accommodation and tuition are not the only costs, and students should research and budget for their individual lifestyle costs.
---
Ucas clearing advice from students who have been through it 
Universities in the UK that accept the gao kao
Best universities in the UK
---
If you are an international student, there are a number of scholarships that can help to cover the cost of tuition fees, maintenance costs, relocation and sometimes even flights between your home country and the UK.
Scholarships come in many shapes and forms, so it is worth doing some research to find the one that works best for you. Contrary to popular belief, scholarships are not just available to students who are academically gifted. There are also scholarships based on your country of origin, financial need, or for achievements including entrepreneurship and athletics.
Most universities will offer some kind of financial aid and scholarships for international students, so your institution of choice should be the first place to look. Lots of these scholarships take the form of private donations to individual universities set up to help fund students from a specific country or studying a particular subject.
However, many governments provide grants, including the Commonwealth Scholarships for students from Commonwealth countries applying to master's and PhD programmes in the UK.
Since October 2020, international students in the UK have needed to apply for a student visa. This has replaced the Tier 4 visa.
All international students on degree courses need a visa, including those from Europe.
You can apply for your student visa online on the gov.uk website or through a visa application centre near you.
Applying for this visa will cost £363 if you apply from outside the UK, or £490 if you apply while already in the UK. There is also a priority service that will give a faster decision but includes a higher fee. As well as the visa application fees, you will need to pay the immigration health surcharge. As of October 2020, this is £490 for each year of the visa for which you are applying. For example, if your course is three years, you'll pay £1,470.
You can apply for the student visa from three months before the start date of your course if you're already in the UK, and from six months if you're outside the UK.
Once you have proved to your university that you have a sufficient grasp of English to study there, they will usually vouch for your English-speaking ability to UK immigration on your CAS (Confirmation of Acceptance for Studies) form.
This means that you would then be exempt from having to take another English language test as part of your student visa application. This remains the case even if the test your university accepted is not on the official UK Home Office SELT (Secure English Language Tests) list, although most tests universities ask for will be listed on the SELT anyway.
What can I do after I graduate in the UK?
With the post-work study visa, international students at UK universities will have the opportunity to stay in the country to work for two years post-graduation. The UK has a great array of job opportunities, and its multicultural capital city of London is a centre for media and business.
Given that it's home to so many prestigious universities, the UK is also a great place to kick off an academic career, and you can use the Times Higher Education jobs lists to search for current academic vacancies.
Most UK universities have careers advice centres, many of which you will have access to for life as a graduate. There is ample opportunity to network at UK universities through various clubs, societies and alumni events. Employers around the world recognise the prestige of degrees from the UK and are even known to headhunt graduates from the highest ranked universities.
Full list of universities in the UK
Please note all costs and conversion rates were correct at the time of publication. These may vary over time.
Featured image
Image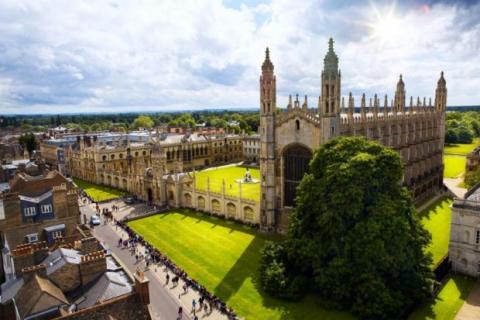 Standfirst
Want to study abroad in the UK? Use this guide to understand the UK university system and how to apply to a UK university as an international student