What can you do with a theology degree? 
Theology is an excellent degree choice for those wishing to continue on into religious positions. However, there are many other roles across publishing, legislation, policy and medicine that graduates may also find interesting. 
Some of the top roles for theology graduates include: 
Religious studies teacher 
University lecturer 
Chaplain or cleric 
Youth worker 
Religious minister 
Charity worker 
Counsellor 
Archivist 
What is theology?
Theology is the study of religion. It examines the human experience of faith, and how different people and cultures express it. Theologians examine the many different religions of the world and their impact on society. Today we are more aware than ever of the profound influence religion has on us, even if we do not follow it ourselves. Understanding this can help us understand the laws, wars, traditions and morals of our own society and that of others. 
The study of theology is part philosophy, part history, part anthropology, and also something entirely its own. Theologians have the complex job of thinking about and debating the nature of God. Studying theology means taking on challenging questions about the meaning of religion. It also requires being able to compare the different religions in a knowledgeable, balanced way.
While some students take theology in preparation for a career in the church, you don't have to be religious to have an interest in religion. Likewise, you can be from a certain faith but study other beliefs. 
---
---
What do you learn in a theology degree?
A theology degree may cover a variety of different religions, or may specifically look at just one or two, depending on the course requirements and the module choices of the student. Any theology degree is likely to include modules on the history of one or more religions.
Instruction on a religious text, such as the Bible, Torah or Quran, and how to interpret it, is a major part of most theology degrees. Students will discuss the significance of these religious texts, answering questions such as: to what extent are they open to interpretation? Are they the word of God?
In order to better get to grips with the texts, some universities offer students the chance to learn their original language, such as Arabic, Hebrew or ancient Greek. While some courses will accept students working with translations of the texts, for others it is a requirement of the course to learn an ancient language.
Theology degrees cover some of the most challenging philosophical and ethical discussions of all time, delving into the minds of the great theological thinkers of the past. Depending on the course, students may also study the relationships between the church and different social groups, such as women or indigenous people.
What should I study at high school if I want to study theology?
In order to study theology, the most common basic requirement is for applicants to have experience in essay-writing. Studying at least one essay-based subject, such as English, history, philosophy or classics will help demonstrate the necessary skill to write theology essays. Most courses do not require students to have a background in any particular subject, although if a course in religious studies or theology is available it might help you decide if theology is the right subject for you.
---
What can you do with a languages degree?
What can you do with an English literature degree?
What can you do with an English language degree?
What can you do with a psychology degree?
What can you do with a politics degree?
What can you do with a philosophy degree?
---
What do people who study theology do after graduation?
For many students, a degree in theology is a step towards their calling to work in the church. A theology degree is a good place to start for anyone wanting to pursue their faith, whether as a minister, a pastor or a youth worker.
Many theology students go into further study, teaching or careers in a wide variety of fields. Students learn a wide variety of skills through theology, like critical thinking, clear writing, problem solving and analysis of social and historical trends. These lend themselves to any number of different jobs.
For this reason, theology students go on to work as journalists, politicians, accountants, police officers, interior designers; the spectrum of possibilities is almost limitless. A substantial percentage of theology graduates train for a career in law. The ethical aspect of theology lends itself to a career in the third sector, and many graduates end up working for charities and non-governmental organisations, either with a religious mission or without.
Which famous people studied theology?
A look at some famous theology graduates shows just how dynamic a degree in this subject can be.  David Nussbaum, who has been the CEO of multiple UK charities has both an undergraduate and a master's degree in theology.
Jack Gleeson who played Joffrey Lannister from Game of Thrones enrolled as a theology student, after his time on the show. One of the most inspiring theology graduates is Dr Martin Luther King Jr, who earned his doctorate in theology at the University of Boston in the same year he led the Montgomery bus boycott.
Featured image
Image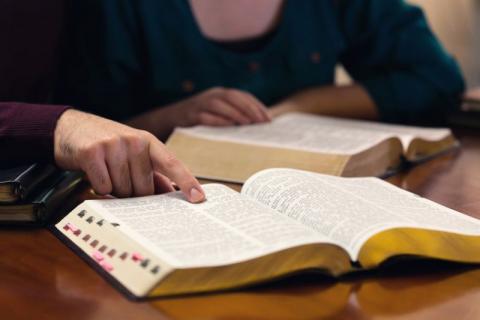 Standfirst
Why study a theology degree? Our essential guide to what you will learn on a theology course, what you should study to get your place on a degree, and what jobs you can get once you graduate