On a recent trip to Dublin I decided to visit some of the universities in the city to speak to students about why they chose to study there. 
The students were only too happy to list the things they loved about studying in the city, from the vibrant social life, to the friendliness of the locals, to the ease with which they could explore the rest of Ireland and Europe.
In fact the friendliness of the locals was one of the recurring themes of my conversations, with genetics student Conor Rossi, from Trinity College Dublin, saying that Irish people were "notoriously friendly" and Abi Odekeye, a human health and disease student, saying that she was proud of how diverse Dublin was becoming. 
---
Studying in Ireland
Best universities in Ireland
If you have two left feet, this society at an Irish university could be for you
International perspective: a Canadian in Ireland
Dublin named one of the best university cities
---
Simran Ganeriwal, a medical student from the Royal College of Surgeons Ireland, highlights many of the places that you can go and visit while in Dublin, such as "going to the cliffs, going to Galway", as well as going slightly further afield as "the whole of Europe is like your campus".
 A key draw of Dublin was that although it is a large city with many amenities, attractions and things to do, it still maintains a small-town vibe where everyone is friendly and you are likely to bump into people you know.
There are many smaller, independent shops, coffee shops and restaurants around the city, nestled among the standard mainstream establishments you would expect to find any big city. In fact, Eleanor Creighton, a physiotherapy student from the Royal College of Surgeons in Ireland, revealed one of the best places to get a coffee in the city in the video below, not far from the hustle and bustle of Grafton Street.
Check out the video down below to find out more reasons why you should consider studying in Dublin. 
Read more: Best universities in Europe
Featured image
Image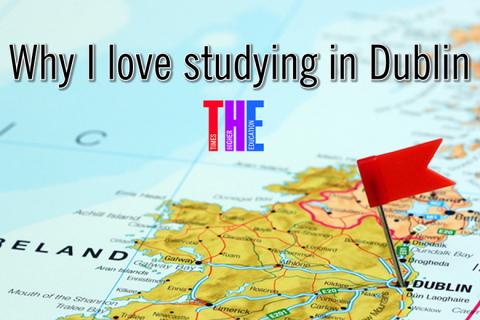 Standfirst
More and more students are being attracted to Ireland, but why exactly do students love studying in Dublin so much?