I was born in  the Iranian capital of Tehran, and have enjoyed playing video games from an early age. This passion led me to pursue a career in computers and technology, culminating in a bachelor's degree in software engineering and my first master's degree in eCommerce, to understand the connection between technology and businesses. 
 
I was born with a disability – spinal muscular atrophy (SMA: Type 4), which is a barrier to muscle growth and strength. As a disabled person in a wheelchair, I found being different from others difficult, especially when experiencing situations that were new.  
However, inspired by one of my favourite fictional characters, Batman, I decided to face my fear head on and tackle those challenges. When people ask how I overcame my disability I respond that I never did because there is nothing to overcome. My body is not a war zone, I love my body and myself the way I am. 
 
After finishing my first master's degree, I wanted to expand my IT and industry knowledge. I also wanted to experience student life in one of the most liveable cities in the world, Melbourne.  
I received five offers from universities in Australia to study my second master's degree and I chose the University of Melbourne because of its global ranking and graduate employability statistics. I knew this would mean my courses would match industry requirements and would involve industry and research-based assignments. 
 
The application process to study in Australia was straightforward. I simply uploaded the required documents, such as official academic transcripts from my previous degree, IELTS and CV. You then need to briefly explain the course and its syllables if your previous studies were not in English. As far as I remember, there was no need to upload any document about my disability at the time of applying.  
---
A guide to student bank accounts in Australia
A guide to student loans and funding for international students in Australia
A guide to student accommodation in Australia
---
Once I had accepted the offer from the University of Melbourne, I was asked to create my student profile by answering a few questions. In the student profile, there is a section where you can explain any disabilities and support needed.  
I ticked "mobility" because I'm a wheelchair user but disclosing your condition was optional. Bear in mind that the university generously supports you with study adjustments or ongoing services if you do decide to disclose any personal details. 
 
After I completed the disability section, I received a call from the Student Equity and Disability Services team. They asked me to complete a Health Professional Form by booking an appointment with a general practitioner. It was very straightforward and was completed in three business days. 
 
The support that I received can be divided into three sections: accommodation, academic and personal. I lived in a residential college called International House, which belongs to the university. I was allocated the largest room on the floor, which had all the accessibility requirements that I needed. The college additionally supported me with cleaning my room every week and giving me hand sanitisers from time to time because I was considered a student at risk during the pandemic.  

The university has a confidential academic adjustment plan based on individual health conditions and disabilities. For instance, if you are unable to submit an assignment on time because of your condition, you can ask for an extension to finish your assignment. The adjustment plan is beneficial because it allows students to submit work in their own time and removes the anxiety of missing deadlines. 
The university has also supported me personally. When I came to Australia, I bought a mobility power chair to make it easier for me to study and get around campus. One night I was coming back from the library in the rain and the power chair's battery stopped working correctly.  
I asked the university for help, and they provided me with a new power chair, free of charge. All other assistance that was provided to me was also free and really helped me focus on my studies rather than worrying about additional costs due to my disability. 
 
It is hard to articulate all aspects of university in a few sentences. But I can say that studying abroad was probably the best experience of my life. The diversity and inclusion at the university made me feel a sense of belonging, surrounded by amazing student activities. I highly recommend extracurricular activities that help you engage with other students.  
Finally, I suggest students be transparent about their health with the university. Support is always valuable, and it can be made available to anyone: just ask. 
Featured image
Image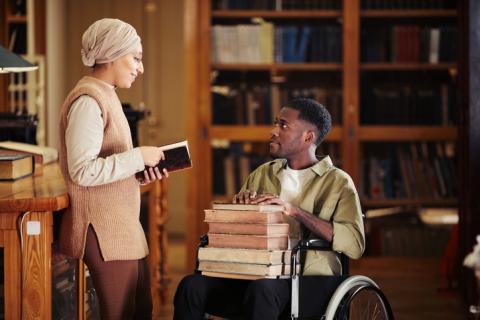 Standfirst
As a wheelchair user, Saman Akbaryan shares how he chose a university to study abroad and how the University of Melbourne supported him in finding accommodation and having the right equipment for his studies