My journey to the American University of Sharjah (AUS) was a complicated one. 
During the semester before studying abroad, I took a choir class with a professor who previously taught at AUS and worked with a choir he created in the UAE. I made friends in that exchange, over Skype, who studied at AUS, and who ultimately convinced me to come here.
There have been many challenges to living in the UAE and studying at AUS, but they have also led to what I consider to be incredible benefits and personal growth. For me, the number one challenge is food preparation issues. Although the dorms aren't the best part about AUS, our rooms do at least have hot plates, and the lack of certain snack brands has caused my diet to become healthier.
As an international student, I have found that classes are much more demanding compared with classes in my home university. I feel as though they have substantially increased my abilities as a student in terms of efficiency and knowledge.
---
More experiences of international students
The international experience at the London School of Economics
My experience as an international student at the University of Luxembourg
International perspective: a Canadian in Ireland
International perspective: a Filipino student in Hungary
---
There are also significant language barriers, even within AUS. I am part of the Palestinian Cultural Club and performed Palestinian dabke (a traditional dance) during Global Day. Practice was a struggle, not just because of the strenuousness of the dance but because the group leaders never spoke in English. Sometimes this led to frustrations but my understanding of Arabic increased substantially, as well as my ability to communicate through body language.
I also had the privilege of being the president of the UN High Commissioner for Refugees in the 10th annual AUS Model United Nations. This role required a lot of leadership and several months of training and research as we (the moderators) were expected to chair debates between delegates (other students). There would be more than 40 students in each committee. It is my dream to work for the UN, and this opportunity gave me the chance to experience it firsthand.  
Finally, a key benefit that many international students at AUS enjoy is the UAE's central location. Most of us have been able to travel to other countries surrounding the UAE and even to South Asia and Europe because of cheaper tickets. I have visited France, Germany, Turkey and Egypt during the breaks.
Although there have been many ups and downs during my experience at AUS, and in the UAE in general, I have no regrets about coming here and will miss it when I return to the US. I honestly consider the UAE to be my home now.  
Featured image
Image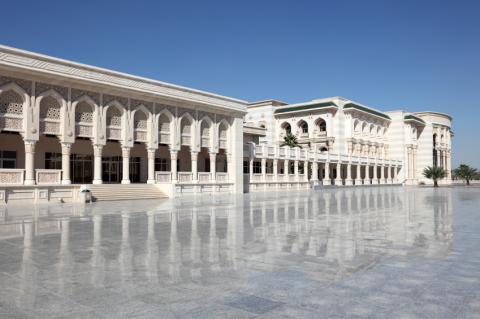 Standfirst
The American University of Sharjah has the highest proportion of international students, according to a THE analysis. Rainie Grant, a US student at the UAE institution, explains what it is like to study there