When Covid-19 emerged, I was still in my sophomore (second) year of university. It did not take long to realise that many aspects of my university experience were going to be impacted by the pandemic. Specifically, I knew that the traditional study abroad experience would no longer be feasible.
Before the pandemic, my school, Goucher College in Baltimore, Maryland, had required that all students undertake a period of study abroad. But because of the safety concerns brought on by the pandemic, all study abroad programmes were suspended.
To give students the opportunity to reap the benefits of studying abroad without leaving their homes, virtual alternatives were offered. One of the alternatives was an interdisciplinary course involving a mix of lectures and activities designed to simulate the study abroad experience.
The first part of the course focused on travel literature and the perspectives of travellers such as Marco Polo and Ibn Battuta. Not only did we learn a great deal about the places they visited, but we also gained insight into their approach to travelling and interacting with local communities.
Some travellers opted to immerse themselves in the local culture, while others chose to take on the role of the observer. Overall, the literature we read and the discussions we had gave us some food for thought on the sort of role we would take on as foreigners in a country.
Apart from the readings and lectures, we also got to hear from a series of guest speakers, many of whom were Goucher alumni. They shared their experiences of being abroad and the lessons they learned.
---
Eight tips on how to choose where to study abroad
Study abroad countries that you've never thought of
Ten student YouTubers you should know about
---
One recurring theme was the use of travel abroad as a tool for cross-cultural exchange. Many speakers expressed that during their trip they had been determined to make some sort of contribution to the local community.
The notion of cross-cultural exchange was further explored when we shadowed Goucher alumni. For three weeks, we worked in groups to complete projects designed by the alumni.
The projects were centred around scenarios that highlighted the importance of cross-cultural exchange. For our project, my group and I got a feel for what it would be like to work as part of a consulting team with multinational clientele. Our goal was to provide a recommendation to a fictional pharmaceutical company.
Over the three weeks, we did research on multiple countries' drug approval processes and became aware of regulatory partnerships that existed between them. By working on this project, my group and I were able to understand the value that each country brought to the partnerships and to see how cross-cultural exchange facilitates the completion of common goals.
In the final part of the course, we used the information we had learned to each design our own ICA (intensive course abroad). The process of planning our ICAs gave us the opportunity to explore resources such as memoirs and virtual tours. The memoirs introduced us to the sociocultural landscape of our chosen countries and gave us insight into what travelling to these countries would entail.
Then, using virtual tours and any other online resources available, we were able to experience the places that had been mentioned in the memoirs and explore other areas of interest. The realistic nature of many of these virtual tours alleviated some of our disappointment at not being able to travel.
Once we had a solid idea of what we wanted our ICAs to look like, we began planning the logistics. We asked ourselves questions such as: how long will my trip be? Do I need a passport? How much will food, housing and transport cost me? What would I do in case of an emergency?
That part of the course opened our eyes to just how much planning goes into making a trip feasible. During our end-of-semester presentations, my classmates and I modelled the concept of cross-cultural exchange by sharing the logistics of our ICAs as well as details about the itinerary.
I enjoyed learning about the different countries my classmates were hoping to visit, but most notably, I enjoyed seeing how they each tailored their ICAs to align with both their academic and leisure goals. As I watched more and more presentations, it became apparent to me that the virtual study abroad course had given my classmates and me the tools to successfully study abroad, and to make it a meaningful experience.
Featured image
Image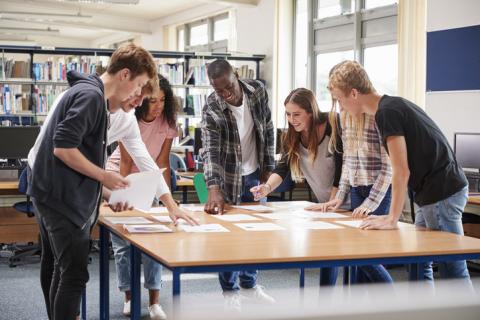 Standfirst
While studying abroad has been too much of a challenge in the past few years because of the pandemic, some students at Goucher College in the US undertook a virtual international exchange to gain insights into the study abroad experience