Top 7 universities for medicine in Australia 2023
Scroll down for the full list of best universities for medicine in the Australia
Medical degrees in Australia can be taken at undergraduate or postgraduate level. 
While a few universities offer undergraduate medical degrees, most offer a master's in medicine that students must complete in order to continue on to a career in medicine. 
Most universities also offer health-related undergraduate degrees (in such fields as public health, biomedicine and science). 
As with medicine courses across the world, medical degrees in Australia take longer than most other degrees, usually between four and six years. Given the time and dedication required, it's worth taking care to choose the right one.
Most universities in Australia require a prospective student to take a UCAT test (for undergraduate admissions) or the GAMSAT (for postgraduate students). It is important to check with your chosen university if it demands either of these tests as well as the pass marks for acceptance. 
These are the best universities for medicine degrees in Australia, according to the World University Rankings 2023.
---
Best universities for medicine in the world
Best universities in the United States for medicine degrees
Best universities for medicine degrees in Canada
Best universities in the UK for medicine degrees
---
The faculty of health and medical sciences at the University of Adelaide is the largest school at the institution.
Within the school, students can study undergraduate and postgraduate programmes in allied health, dentistry and oral health, health and medical sciences, medicine, mental health and wellbeing, nursing, public health or psychology.
The Adelaide health and medical sciences building hosts 1,700 students, 600 researchers and provides students with varying technique in health care using the Adelaide Health Simulation teaching facility.
Students will learn observation, communication, fine and gross motor skills, intellectual-conceptual, integrative and quantitative abilities, and behavioural and social skills.
The University of Queensland doctor of medicine is a four-year postgraduate-entry programme. (School leavers accepted for provisional entry must complete their first degree at the university within the minimum time specified for the programme.)

The University of Queensland has two research-intensive schools, three clinical medical schools and five hospital-based institutes and centres. 
The first year focuses on theory, patient contact and clinical research skills. The latter two years develop these skills and feature clinical placements that offer students a chance to experience both metropolitan and rural Queensland. 
From 2022, the university will introduce a multiple-mini-interview as part of the application process for the MD as well as requiring all applicants to have completed certain prerequisite courses.
The university also offers undergraduate programmes in a range of science and health-related subjects, which can be taken as a prerequisite to the MD programme. 
---
What can you do with a medical degree?
What can you do with a dentistry degree?
What can you do with a nursing degree?
---
The doctor of medicine at the University of Sydney is a four-year course aimed at graduates who have already completed a bachelor's degree.
It's worth noting that exceptions are made for high school leavers who have achieved exceptional results. In such cases, these students can undertake the seven-year double-degree pathway, which combines the MD with an undergraduate degree.
The programme is centred on eight themes, including indigenous health and inter-professional teamwork. In the first year, students spend one day a week at one of the university's clinical schools, and by year two placements account for 50 per cent of their time.
The university offers a number of science and health-related undergraduate programmes (such as diagnostic radiography), which can lead on to further study.  
Monash University's school of medicine offers a master's medicine programme for students looking to pursue a career in medicine.
Students will spend one year studying, followed by three years spent in clinical environments in both metropolitan Melbourne and rural Victoria.
The Monash undergraduate medical course is a five-year programme of study with direct entry from school. Undergraduate students can also take the bachelor of medical science (honours), a one-year course that provides a pathway to further study in medicine. 
The research faculty at the medical school has contributed to developments in areas such as IVF, Alzheimer's disease, cancer and infectious diseases. 
The Monash Medical Centre is a 640-bed teaching and research hospital that offers specialist surgical, medical and mental health services to the wider community. 
Students from more than 170 countries are represented within the student body. 
The oldest medical school in Australia, the Melbourne Medical School is part of the Faculty of Medicine, Dentistry and Health Sciences at the University of Melbourne.
It is known for its health research and its inclusion of all major fields of medicine, as well its emphasis on rural health.
The Faculty of Medicine, Dentistry and Health Sciences is Australia's largest biomedical research faculty; there are some 1,500 academic staff, 4,000 honorary staff and 1,500 graduate researchers. 
The University of Melbourne offers the first Australian professional entry master's level programme. The four-year course has been created for those with an undergraduate degree in any discipline. Students will complete a year of clinical learning through a case-based teaching approach, two clinical training years and an MD research project focused on a single medical discipline.
There is no undergraduate degree in medicine available at the university; however, students can choose a bachelor in biomedicine or science. 
---
Top universities in Australia for medicine 2023
Click each institution to view its full World University Rankings 2023 results 
Featured image
Image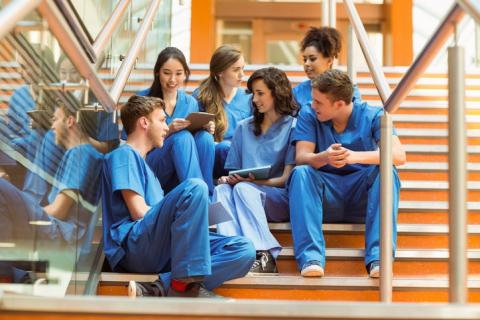 Standfirst
Find the best universities for medical degrees in Australia with Times Higher Education's World University Rankings data