Historically speaking, women's colleges have been places of mentorship, leadership and sisterhood for talented women who were previously denied educational opportunities because of their gender.
Although many female colleges have now merged, closed or become co-ed, a number of women-only institutions remain, offering a unique educational experience you may not have considered before.
But what's it like being an international student at an all-women's university?
Below, Chinese student Flora Wang and Indian student Aleena Mehta reflect on their experiences studying at two top all-female institutions in the US and Canada.
---
Studying at a US university as an Indian student
Scholarships in Canada for international students
Eight things all students should know about studying in New York
International perspective: Indian students studying in Canada
Nine tips for students studying abroad for the first time
Scholarships available in the US for international students
An open letter to Chinese students in the US: dealing with stress
---
Flora Wang, Brescia University College, Ontario
I went to an international high school in southern China, and it was at a recruitment fair there that I first found out about Brescia University College in Canada from talking to one of their admissions officers.
I was really drawn to how Brescia advocated for women to be bold and become great leaders, which are goals I have always personally aspired to.
When I first came to Canada, I was extremely nervous because I knew nothing about Canada other than the snow. To my delight, as part of my orientation week I was invited to attend Brescia's International Bridging Programme.
The programme is designed for students like me, who come from other countries and cultures, to get familiar with Canadian culture and help us settle into the school year.
Personally, due to cultural differences, I was shy when I was young and did not often introduce myself to outsiders, which was considered good manners by my family. When I came to Brescia, I experienced this cultural difference and wanted to find a balance.
The Bridging Programme helped me make many friends with people from all over the world and gain the confidence to share my ideas and thoughts in another language.
I have found that I am more relaxed and confident when communicating with others in a female environment. Being in a women's college such as Brescia has really given me the skills to communicate effectively and think critically in a safe, supportive and relaxed environment.
I have noticed the same development in many of my fellow Chinese friends at Brescia: we've all become more willing to share our ideas and even get involved in the student community in different leadership positions.
Based on my personal experience, I would absolutely encourage young women to consider a women's college. Studying abroad has also given me the chance to not only study excellent academic programmes, but to learn all about Canada's rich culture and values and its celebration of diverse students from around the globe.
I grew up amid the mountains of Jammu and Kashmir in India. Initially, my academic interests in subjects such as politics and economics were largely shaped by the legacy of my homeland.
As a child, I was often told generation-old tales of the partition and hostile bloodshed in my city, and debates on geopolitics and economics were normal in my house.
It was this interest in politics and my positive experience at an all-female school for the first 10 years of my education that drew me to the idea of studying at a women's college.
As a high school senior, I would spend endless hours reading research papers about how alumni from women's colleges were more likely to be happier in their professions because they appreciated themselves and the people around them much more wholly. Women's colleges were described as highly collaborative and inspirational, and their graduates were fierce.
I knew that this was what I wanted out of my college experience.
I was drawn to Barnard College specifically because of its reputation and location. I grew up watching an idolised version of New York in shows such as Gossip Girl. Now that I'm here, I still have to pinch myself sometimes when I see the perfect Manhattan sunrise from my bedroom window.
However, moving from a small city in India to the Big Apple has come with challenges.
From getting lost in the subway because I literally have no concept of public transport to converting dollars to Indian rupees after every weekend to missing my beloved dog back home, studying abroad in a place like New York is all about unlearning, learning and relearning.
Furthermore, sometimes when my parents tell me about the politics in their workplace back home, or about the new restaurant that's opened down the street, I find myself not relating any more, or worse, not remembering any more.
Being an international student, at least for me, is about making a constant effort to not let your culture fade away.
Luckily, the amazing school spirit I have found in everyone I meet at Barnard has been a great comfort. Getting to call this institution home gives me something in common with everyone straight away, and it's rare to find a student here who does not speak their mind and stand up for what they believe in.
As time goes by, the reality of studying at a women's college in the US is beginning to live up to the fantasy. From waking up to the yellow canopy of trees that surrounds the residential quad, going to class and being inspired by the wits of other ambitious women, my experience so far at Barnard College has made being miles away from home worth it.
Featured image
Image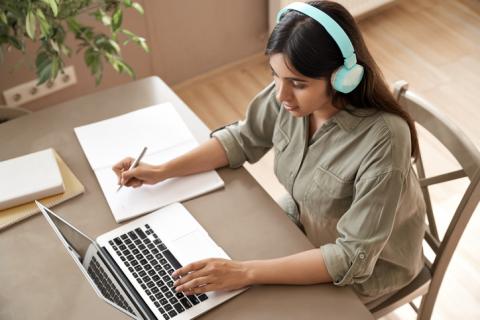 Standfirst
An Indian student in New York and a Chinese student in Canada reflect on their experiences studying abroad at an all-women's university