Many international students consider the US as a destination for its top-ranking universities. Knowing what the Ivy League is and what those universities can offer will help students better understand which institution is right for them.
Here, we explain the origins of the Ivy League, which universities it includes and how international students can apply to them.
What is the Ivy League? 
The Ivy League is a collection of eight private universities located in the northeast United States. These universities were originally members of the NCAA Division 1 athletics league, which was established in the 1950s.
These eight universities were known for their highly competitive sports programmes, and as they continued to perform well in the athletic world, they began to attract further funding, grants and top lecturers from around the globe. As a result, the institutions soon gained a reputation for academic achievement alongside sporting success.
Today they are considered some of the most prestigious universities, not just in the US, but globally. 
Why is it called the Ivy League? 
All eight universities in the Ivy League have beautiful, historical campuses. Many believe that the term "Ivy League" was coined in 1937 when sports writer Caswell Adams was writing about the football game between Columbia University and the University of Pennsylvania. He referred to them as old "ivy-covered" universities, which led to them being referred to as the "Ivy League". 
Which universities are part of the Ivy League? 
---
IELTS, TOEFL and Duolingo test scores required for the Ivy League and Oxbridge
The cost of studying at a university in the United States 
Everything international students need to know about US student visas 
Oxbridge and the Ivy League: tips for applications
---
How do you apply to an Ivy League university? 
The application process for an Ivy League university is incredibly competitive. Each university's process differs slightly but most share similar requirements: 
A strong GPA 
High SAT scores 
An interest in extracurricular activities 
Volunteering experience 
Letters of recommendation 
Strong candidate interviews 
The average GPA requirement of applicants is between 3.85 and 4.18.
However, candidates are not only judged on their grades. University admissions officers also like to see evidence of societies, interests and community involvement. Most universities in the Ivy League have a high volume of applications per year but each institution has its own capacity and acceptance rate. The average acceptance rate across all eight institutions is lower than 11 per cent. 
How much does it cost to study at an Ivy League university?
Because these are private universities, tuition fees for both domestic and international students are high. Fees at some of these institutions currently average $56,000 (£47,000) a year. 
The cost of living at some of these schools can also be quite high, with New York and Boston being particularly expensive cities.
What financial aid can I receive for Ivy League schools? 
The Ivy League receives a lot of funding in the form of donations, alumni support and grants. This means that students who are accepted but may not be able to afford to attend can receive financial aid. 
All Ivy League universities are "needs-blind" for US residents, meaning that all students are judged on merit alone and can be offered a place regardless of financial background. The good news is that Harvard, Yale and Princeton extend that to international students too. 
Financial aid comes in several forms; a grant (that does not need to be paid back), work-study schemes (where students are helped to find part-time jobs) and federal student loans. Harvard and Princeton offer assistance that allows students to graduate debt-free. 
To apply for need-based financial assistance you first need to complete the FAFSA application. Some universities may require students to complete a CSS profile too.
It's always worth talking to your chosen university to explore what kind of financial options are available to you.
What is the difference between the Ivy League and other universities? 
The main difference between the Ivy league and other universities is their reputation. They are the  alma maters of US presidents, actors, authors, politicians and businesspeople, including Barack Obama, Emma Watson, Franklin D.Roosevelt, Meryl Streep and Toni Morrison.
Their strong alumni groups are a great resource for students to build their professional networks and look for opportunities and recommendations within their chosen sector. 
Many graduates find that a degree from an Ivy League school helps them get their foot through the door for selective careers such as medicine and law.
However, it is important to remember that many other universities in the US provide an excellent education. Institutions such as Stanford University, the University of California, Berkeley, California Institute of Technology, the University of Chicago, the Massachusetts Institute of Technology and many others rank highly in the Times Higher Education World University Rankings. 
There are more than 4,000 universities in the US, so it is always worth expanding your search and looking at the other universities to find the right one for you. 
Featured image
Image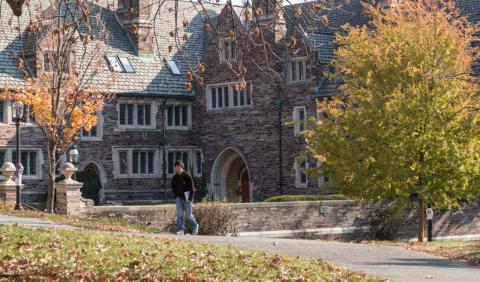 Standfirst
When it comes to applying to university in the United States, the phrase Ivy League is likely to come up. But what does it mean and which universities does it include?