Attending university in the United States is a dream for many students around the globe. But paying for university education in America is another story entirely. American universities do not follow any standardised government fee system, meaning that tuition costs vary drastically across the US.
Tuition fees in the US for public universities can range from $5,000 to $50,000 (£4,470 to  £44,700) per year. Most undergraduate degrees last four years.
American universities differentiate between in-state and out-of-state students when calculating tuition fees. A typical four-year public college charged in-state students $10,940 (£9,657) a year while out-of-state students were charged $28,240 (£24,928). There are private non-profit colleges too, which charge $39,400 (£34,779) on average. These include universities such as Harvard, Stanford and Yale.
Private student loans for international students
It's likely that you will need to take out private student loans to finance your education. There are two types of lenders providing international student loans: banks and lending companies. Borrowing from a bank offers the convenience of having your banking and student loans in one place. Banks such as Citizens, for example, give a 0.25 per cent interest rate discount to borrowers who bank with them.
Non-bank lenders may offer international students more flexibility. MPOWER, for example, looks at your desired career path and potential income while qualifying you for a student loan, without collateral or a co-signer.
In both cases, each lender has its own eligibility requirements. Shopping around is a great way to see what you need for certain private loans, along with what they offer. Consider using a comparison tool, like Investopedia's rating pages, and joining a community such as Juno to ensure that you always are able to access the best student loan deals.
While obtaining an affordable interest rate is key when picking a private loan, you might want to consider other factors, such as grace periods, fees and the repayment period.
International student loans with co-signer
Having a co-signer can lead to a lower interest rate on your private student loan. Securing a US-based co-signer may also be an eligibility requirement for some banks and lending companies, so it's important that you secure a co-signer while looking for a private student loan.
International student loans without a co-signer
If you don't have a co-signer, you can expect a higher interest rate on your loan. While having a co-signer may not be a requirement for some non-bank lending companies, it can still save you money over time.
If you are not able to find a co-signer, it's a good idea to factor in a higher interest rate into your budgeting.
Financing without loans
Many international students elect to finance their education through other avenues. This could be taking out a loan in their home country, accessing financial aid or scholarships, arranging support from family or liquidating other assets to cover the cost of tuition.
Given the high interest rate of international student loans, trying to minimise the amount borrowed is an effective strategy to make sure that you don't have to pay back a large amount of debt post-graduation.
Furthermore, most international students are still eligible for scholarships and aid from the colleges they have been accepted to. These funds usually help to minimise the amount you may need to borrow. Because of this, it's possible to appeal your scholarship or aid amounts by speaking to the university's financial aid department – read Juno's how-to on appealing financial aid here.
DACA recipients
If you're a DACA recipient, you do not qualify for federal loans or grants, but you may qualify for state funding. When it comes to private loans, DACA recipients with a social security number may have more private loan options.
Student loan companies such as College Ave and Earnest may offer more competitive rates, but they will likely require borrowers to have a US-based co-signer and social security number. Read more about Earnest's co-signer requirements here. Read Juno's DACA guide here.
A few things to keep in mind
1. Funding and visas
The United States student visa requires that you show proof of funds for your degree before being able to apply and secure your visa. This means that securing funding and, potentially, taking out loans might be the first step you need to take before moving to the United States for university study.
2. International student health insurance
International students in the United States need to buy health insurance to remain in the country. Most universities charge the same premium to all students regardless of their country of birth and age, which can result in many international students overpaying for insurance.
3. Rainy day funds before loan disbursement
Loans don't end up in your bank account the moment you get accepted by the lender. They take time to disburse and are usually dispensed in chunks before each semester. It's a good idea to come to the United States with an emergency fund to cover moving expenses and any other financial obstacles that might arise during the move.
4. Fun money and budgeting
Your cost of living will likely include money to have fun and enjoy your experience. It's crucial that you budget for and prioritise this when you're thinking about taking out loans and financing your degree.
5. Understanding eligibility
US citizens and certain categories of non-citizens are eligible for federal student loans. Federal loans can come with perks that might make them more desirable than private loans. There are a few caveats when it comes to being an eligible non-citizen; this guide provides information on how to know if you are eligible or not.
Please note all costs and conversion rates were correct at the time of publication. These may vary over time.
Featured image
Image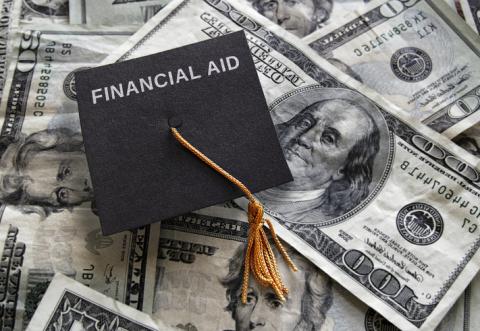 Standfirst
The United States is a popular destination for international students, but many are unsure how to fund their degrees. This guide will help you understand what funding you may be eligible for