What are languages?
Language degrees are the study of a chosen language in order to improve proficiency and understanding. Most universities will offer a number of different languages including French, Spanish, Italian, German and Russian among others. This list is not exhaustive and most universities will offer degree programs across a number of commonly spoken and less commonly spoken languages.
It is possible to study more than one language as part of a joint honours degree or to study a language alongside another subject altogether. The languages offered will vary across universities, as well as the combinations of joint honours degrees, so it is important to check this with your institution of choice before applying.  
What do you learn with a languages degree?
The composition of language degrees will vary between different languages and different institutions. In essence most language degrees will focus on improving fluency and the ability to read, write and speak in another language. Most degrees will also cover the history, politics, literature and film of the country associated with the chosen language. Again this will vary between courses and modules can be selected based on the interests of the individual students.
One of the biggest draws of a language degree is the year abroad. Students will travel to the country where their language of study is spoken natively to immerse themselves in the culture and develop their language skills further. Students can either work while abroad or continue their studies at a local university; this will usually be dependent on what their university offers. The year abroad is crucial to cultivating a stronger grasp of the language, developing independence and strengthening interpersonal skills, all of which will be attractive to prospective employers.
Due to this most language degrees will span four years in order to accommodate the year abroad. If more than one language is being studied then the year will be split across the different countries that are being studied.
---
Explore the best universities for arts and humanities degrees
---
What should I study at high school if I want to do a languages degree?
Typically, it would be advised that you study the language of your choice up to an advanced level at school to progress to studying a language (or two or three) at degree level. However, it is worth contacting your university of choice for entry options if this is not the case. Some universities will allow students to study a language ab-initio or take beginners modules in a new language. This will be supported through seminars, regular assessments, encouraged independent study and presentations.
Other subjects that could complement a languages degree are other humanities and arts subjects such as English literature or language, history or politics. However, there is no definitive list of subjects that could be studied alongside languages.
---
Student experience studying languages
Working abroad in Germany as a student 
What it's like to study a modern languages degree
Learning Turkish on a year abroad
International perspective: a British student in Spain
Why study German?
A year abroad at university in Switzerland
International perspective: an Indian student in Spain
---
What do people who studied languages do after graduation?
Those who study languages are able to move into a number of different sectors due to the transferable skills acquired. One of the more popular careers is teaching, whether this is teaching your chosen language or teaching English as a second language. Another common career path that language graduates will follow is translation and interpretation.
However, these are not the only career options open to those who study languages. Other industries that welcome language graduates are the media, PR, finance, banking, tourism, consulting or working internationally with a charity or as part of a business that trades internationally. The communication skills acquired during a languages degree are highly sought after by many employers and can be applied across many sectors.
Some graduates will also choose to pursue further education to improve their fluency with their chosen language or will choose to study or work abroad.
---
More subject guides
What can you do with an English language degree?
What can you do with an English literature degree?
What can you do with an art degree?
What can you do with a politics degree?
What can you do with a history degree?
What can you do with an archaeology degree?
What can you do with an architecture degree?
What can you do with a design degree?
What can you do with a linguistics degree?
---
Which famous people studied languages?
Many famous people have studied a foreign language, as either a single or a joint honours degree.
Marathon runner Paula Radcliffe completed a degree in French, German and economics while author John le Carré also has a languages degree.
Language degrees also appear to be a good requisite for a career in acting or music as Coldplay frontman Chris Martin has a degree in Greek and Latin and actress Kate Beckinsale studied for a degree in French and Russian literature.
Read more: Best universities for arts and humanities degrees
Featured image
Image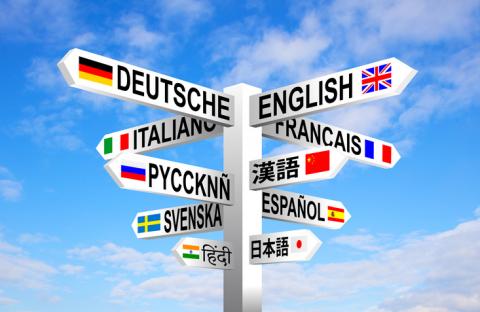 Standfirst
Our essential guide to what you will learn on a languages course, what you should study to get your place on a degree, and what jobs you can get once you graduate