What is art?
Art is broadly recognised as an expression of creativity, where emotion, imagination and skill are used to create works that portray ideas that are intended to provoke, to be considered and to be appreciated.
Through using a diverse variety of skills, artists are able to create works - such as sculptures, sketches and paintings – that are designed as an expression that can have an effect on the wider world. The wide-ranging nature and application of art means that it is interlinked with many other subjects, including history, theology, and music. 
Art can be appreciated by everyone, regardless of the background, education or beliefs, and this is perhaps one of the main reasons why it is such a popular choice of degree course.
---
Explore the best universities for arts and humanities degrees
---
What do you learn on an art degree?
An art degree course is the perfect opportunity to develop and refine the studio skills that are essential to the career of a professional artist, in an environment equipped with the necessary tools and surrounded by like-minded individuals.
The environment gives students the opportunity to discuss the subject, and critique and assess the work of peers, developing their understanding of the subject while hearing opinions from a range of different perspectives. Art students are often given the chance to speak to professionals in the industry, from professional artists to curators, which can influence and help to guide the students towards a career path that best suits them.
Much of the work done on art degree course takes place in studios, which are occasionally opened for public viewing. If you are considering an art degree, you should take advantage of these opportunities to see behind the scenes. 
Art courses often contain some theoretical and historical study too, which helps to build an understanding of the history of art as well as influencing the students and broadening students' awareness of the different styles and techniques that exist.
Some art degrees are more specialised than others, particularly design-focused courses which tend to point the students in the direction of a specific vocation rather than provide a broad syllabus. It is worth researching the content of an art degree course thoroughly before applying for it, because the courses differ to such a degree that some may seem perfect, while others are simply not for you. 
What should I study at high school if I want to study art?
For prospective art students, establishing a portfolio of work is advisable in order to be considered for many degree courses. Universities and colleges generally want to be able to recognise an interest in the subject, which means that understanding some of the different topic areas of the subject of art and being able to display technical skill through a portfolio of work are key areas that prospective students should aim to pursue.
A number of higher education institutions require an art foundation qualification before students can begin an undergraduate degree. Many universities and colleges offer foundation qualifications as entry routes to the full undergraduate courses.
Studying art at school before going to university are obvious recommendations, but other subjects, such as photography, design technology, textiles and the history of art, are all useful qualifications and often help to develop a better understanding of the study of art. 
Art is a subject that requires creativity and technical skill, so being exposed to new types of artistic techniques and developing a richer understanding of the wider subject could increase the chances of being accepted on a degree course.
---
More subject guides:
What can you do with an architecture degree?
What can you do with a degree in design?
What can you do with a mathematics degree?
What can you do with a medical degree?
What can you do with a biology degree?
What can you do with a veterinary science degree?
What can you do with a performing arts degree?
What can you do with a business and management degree?
What can you do with a sports science degree?
---
What do people who study art do after graduation?
Art degrees differ vastly, so some degree courses are more vocational than others, but generally art graduates have a broad range of employment options once they finish their degree.
The most obvious art career requires a lot of determination and perseverance but for aspiring professional artists, an art degree would be a great path into the industry. Also, many illustrators and photographers hold art degrees of some kind and there are numerous courses that would help to develop specialised skills for specific careers.
The work of graphic designers, animators and printmakers is all rooted in the study of art too. Creativity is a skill that a lot of art graduates have in abundance and this asset is very useful in a wide variety of different industries. Many art graduates find themselves using their skills in media and marketing roles, and teaching is another way to use some of that creativity to inspire others.
---
Student experience studying art
Does studying the liberal arts present you with too much choice?
Why are there so few women in the arts?
Where did UK royals go to university?
Seven unusual degrees you might not have thought of
---
Which famous people studied art? 
Many world-famous artists, no matter what era they lived in, completed an art degree course at some point during their lives. Andy Warhol, Damien Hirst, Tracey Emin, Pablo Picasso, and countless others whose work the world has come to admire have honed their skills on an art course of some form.
However, there are other people whose artistic pasts may come as more of a surprise. World-renowned actress Sharon Stone completed a degree in creative writing and fine art at the University of Pennsylvania before she began her acting career, while Adam Sandler also completed a degree in fine art, graduating from New York University in 1988. 
Read more: Best universities for arts and humanities degrees
Featured image
Image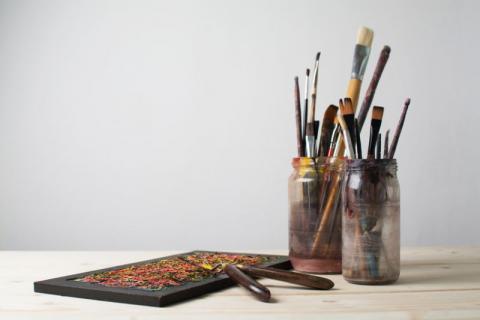 Standfirst
Why study art? Find out what you will learn on an art degree, what you should study to get a place on a university course, and what jobs you might get once you graduate