I am Jian Feng, the first ever international student executive officer at the University of Leeds' students' union. I want to share with you my journey during the coronavirus pandemic. 
An international student from China, I returned to the University of Leeds early in October. Compared with March, everything had changed so much. It was hard to believe when I walked back on to the nearly empty campus. Because China has been back to normal for a few months, it took me some time to get used to the different environment. 
Learning and working online changed my daily life. Although it saved time trying to find the right buildings and offices on campus, and I was able to easily meet people from all over the world, online communication couldn't bring the same personal feeling as face-to-face interaction. I also lose attention quickly with online learning.  
I miss the campus life from before the pandemic. All the things we worried about then – such as exams and social activities – feel worse now. 
However, I feel most sorry for the first-year students who began university this year and may be struggling to make new friends and feeling disappointed because campus life right now is so different from what they imagined it would be. 
The higher education system is facing huge challenges under the pandemic. There have been discussions around why we need a campus if we can learn everything online. Is it possible to build an online student community? Do we still need a library for study spaces? How can we consider the pandemic situation so that it might bring new knowledge into our curriculum?  
The pandemic also helped us to reflect on social issues that we might have ignored in the past. For example, some Asian students who wore masks suffered racial abuse. It showed that society still has a long way to go to be inclusive and diverse.  
Mental health issues have also been discussed in universities, and institutions must ensure that students are properly supported. And as for climate change, it is absurd to see that lockdown is one of the most efficient ways to save our planet.  
---
How are international students coping with the Covid-19 pandemic?
Covid-19 memoir: how I returned home as a Chinese student studying overseas
How to reframe your mindset during the Covid-19 outbreak
Interviews with international students in Canada about the Covid-19 situation
---
However, it is good to see some positive changes led by students. As the international student executive officer, making sure that international students around the world can access all the support they need and make the most out of their university journey is my top priority. 
To enhance our voices, I created an international student advisory board, which meets monthly, to build up a student group from all faculties who want to make a positive change for students from abroad. I invited other student executives and staff to provide feedback and suggestions, all of which is being incorporated into a report to be sent to staff across campus. There is also a follow-up meeting to make sure that the issues raised by students are addressed. 
Recently, I also proposed the creation of a buddy system in each faculty. Students from different backgrounds can get a chance to meet each other, improve their language levels and learn about voluntary roles and different cultures in Leeds. I know that intercultural awareness hasn't been given enough attention, and such projects can help my university to be more inclusive, rather than have a huge population of international students who don't really meet and mix with home students. 
Moreover, I recently had the chance to meet with my local MP to discuss the new two-year post-study work visa for graduates in 2021. I believe that international students have a strong potential to contribute positive changes in the local economy after the pandemic.  
By encouraging more international students to work in the city, we can also attract more global businesses and companies to Leeds. It could also help with tourism. 
I think the pandemic has given us more time to develop ourselves because we are unable to go out. I started to learn French, edit creative videos, and do more extracurricular reading. Using online platforms, I had the chance to join guest lectures in other universities as well.  
It has been a hard year for everyone, but I am confident that as university students, we can make positive changes and keep developing ourselves. 
Featured image
Image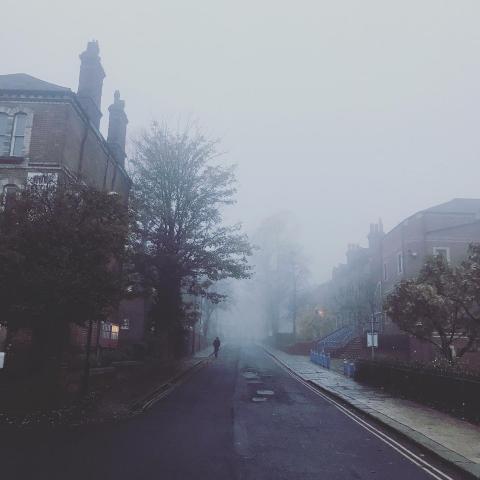 Standfirst
Chinese student Jian Feng is using his position as international student officer at the University of Leeds to provide support for other international students