I am a Syrian refugee living in the UK and studying at the University of Hertfordshire. My family and I had to leave Syria after I took part in a demonstration for political change. Soldiers knocked on our door and I hid. If they had found me, I would not be alive to write this. Many of the friends and family we had to leave behind are not.
My family fled to Lebanon but we knew it was not safe to stay there because of our opposition to the Syrian regime. One day I received a text message from my mum telling me that the UN had set a date for us to go to the UK. I knew that we had been chosen to go to Europe, but we did not know exactly where until that moment.
When they told us that the receiving country would be the UK, several things came to mind: Big Ben, Brexit, Churchill and of course all the fantastic higher education facilities. Going to the UK meant that English would be spoken, so I didn't have to worry about learning a new language because I already knew basic English. I said farewell to Beirut with a few tears because I loved the city. I had never loved Damascus in the same way because of my fear of its security centres.
My first memory of the UK is of being cold; I was wearing four layers in the arrivals hall. Officers from the Refugee Council were at the airport to welcome us and they took us to a church where some kind people gave us Syrian food to eat. Later, we were helped by volunteers from Herts Welcomes Syrian Families.
I asked them whether I would be able to study here and complete my education. They told me about the costs and I started to lose hope because I couldn't afford the fees and I couldn't apply for a loan because I had not been in the country long enough. But later, the volunteers found out that the University of Hertfordshire offered a special scholarship for refugees.
---
Universities launch drive to support refugees around the world
A day in the life of a university student in the UK
From a waiter working in Singapore to becoming a Harvard graduate
'I love this country too much to idly stand by'
---
I applied to study media and journalism to continue the degree that I had started in Lebanon. I already had two years' experience working as a journalist and photographer in Lebanon, which I really enjoyed. 
But first, I had to pass the language test. Volunteers from the University of Hertfordshire, who had experience teaching international students, gave up their time to help me improve my English. The first time I went to lectures I was so excited that I forgot my raincoat and got very wet. But I did not feel it because I knew that this was the first step to getting into university and that pleased me so much.
The language course I did was called pre-sessional English, and the team was so welcoming that I felt like I was back in my own country. They were the perfect people to help me recover after the dark time I had been through. Studying in English is difficult, but I know that I will be able to graduate from the university because of the caring environment that the staff and students have created.
I did not feel this way when I studied in Lebanon, even though the system is based on a Western one, to a certain extent. In many ways, I feel like I am discovering university life for the first time. Friends who also escaped Syria but ended up returning to study there tell me that I am lucky because successful study in Syria depends on the contacts you have, and the classes often consist of hundreds of students.
In the future, I hope to use the skills that I gain at university to write about refugees and the causes that I care about. I am happy to be continuing my education, but that does not mean I will ever forget Syria and what I was forced to leave behind.
Featured image
Image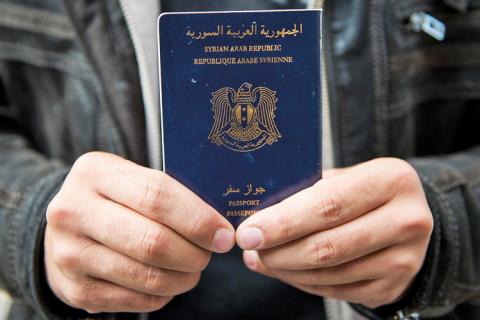 Standfirst
Amr shares his story of coming to the UK from Syria, and how a scholarship for refugees from the University of Hertfordshire helped achieve his dreams of continuing his studies