I am originally from Wisconsin in the US and I have been living and working in South Korea since 2009.
I moved here to be an English instructor and while working at a high school in Seoul I studied for my master's degree online at the University of Illinois at Urbana-Champaign (UIUC). My MA is in global studies in education.
I knew that I wanted to continue with my studies and started looking for PhD programmes. There was a lot to consider. I needed to think about what different programmes offered, scholars I would be working with, the community of graduate students, and the compatibility with my work, family and intensive hours of study needed to complete my studies.
I considered many different options: moving back to the US; doing an online programme with UIUC; or remaining in Korea to attend Seoul National University. In the end I decided to stay in South Korea and enrol at a university here  to complete my PhD.
Some of the major factors for staying in South Korea were: my work, my husband's work, tuition affordability, scholarship and funding opportunities, programme flexibility, and the scholars working in the Global Education Cooperation Programme in the College of Education at Seoul National University.
Once I decided to apply, I began collecting the documents I needed. These included a copy of my passport, birth certificate, diplomas (high school and any university degrees) and transcripts. Each university/college/programme may require other documents as well.
Additionally, you will need to submit one of the following: an English IELTS/TOEFL score, proof of native English abilities, a Korean language score or complete language course (for programmes not provided in English and specific scholarships). If you are applying for international student scholarships, you'll need to prove your parents' nationality and relationship to you as well. 
Having lived in Korea for a while, I knew that this would be a demanding task because all documents need to have an apostille attached (a stamped official document to confirm your documents are legal).
This process was difficult and quite costly due to the fact that I needed to expedite document processes while living abroad. I would recommend looking at the documents required for previous application cycles and preparing these in advance as the apostille hardcopies must be submitted during the application process.
In Korea, the deadlines can be announced with little time to prepare such documents; this can be quite defeating. To be honest, I almost gave up during the document collection process; however, after discussions about finances and overall costs my husband encouraged me to pay the expedited processing fees to complete the application stage and gain admission.
On a positive note, this process will be cheaper and easier if you are applying from your home country, because documents are easier to access.
Once you submit the aforementioned documents during your application process and after gaining admission, you'll need to go through the (D-2 or D-4) visa process. You will receive a Certificate of Admission from your university, which you will need to take to the Korean embassy in your country (possibly in addition to other documents requested) and complete an interview that tends to cover the reasons you wish to study in South Korea. You can find more information on the visa process at the Study in Korea website run by the Korean government.
My visa process was a bit different because I have been living and working in Korea for a long time. I came to Korea on a work visa that was sponsored by my place of employment and am currently on a marriage visa that is sponsored by my husband.
A student visa is usually sponsored by your university.
---
The cost of studying at a university in South Korea
Best universities in South Korea 
International perspective: a British student in South Korea
---
After gaining admission to the Seoul National University Interdisciplinary Programme: Global Education Cooperation, my biggest concerns were balancing my studies with work and family obligations, and language.
Many Korean universities offer international programmes in which the language of instruction is in English, but this is a bit limiting in the course options available to you.
In terms of external obligations, Korean culture is very work- and family-oriented and while the schedule of courses can be quite rigorous, the professors seem to be understanding and flexible.  I have only had one course go offline throughout the course of the pandemic so far. 
Many universities are transitioning to in-person courses and hybrid courses this year and remain flexible because of Covid-19. I look forward to participating more fully in the university community.
It's important to study hard, but also use this time to explore the city and culture. Enjoy bringing your experiences and perspectives to both academia and your personal life.
Korea can seem fast-paced and abrupt at first, but once you immerse yourself, you will find such kind and caring communities living in a complex and technologically advanced society.
The world seems so much richer, open, and exciting when you have the opportunity to study outside your home country; so my advice is to take risks, immerse yourself in the culture and language, and enjoy the whole experience.
Featured image
Image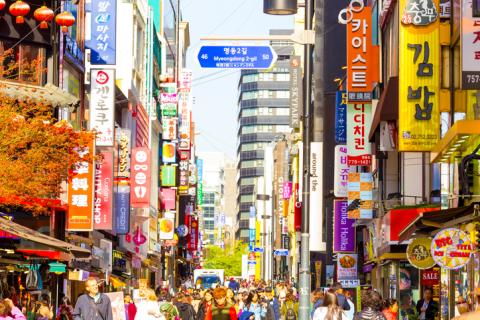 Standfirst
South Korea is fast becoming a popular destination for international students due to its high-ranking universities and interesting culture. American PhD student Nicki Gerstner shares her reasons why she chose to study there