I have always been intrigued by the way society operates and the impact of political and socio-economic factors on individuals and communities. This is why I decided to pursue a course in international politics, which encompasses issues such as human rights, conflict, globalisation, the environment and national security. 
Coming from a humble background, quality education was a far-fetched dream until I joined VidyaGyan, a leadership academy in rural Uttar Pradesh, founded by the ShivNadar Foundation.
My teachers at VidyaGyan mentored me well and prepared me for applying to university. This helped me gain admission to Georgetown University, Qatar where I am currently pursuing international politics.
It was at VidyaGyan that I discovered my passion for reading and my eureka moment came while reading Deepa Narayan's book on gender equality, Chup: Breaking The Silence About India's Women.
While discussing the issues raised by Deepa with my teachers, I realised that menstruation is one of those taboo issues that not only dominates women's lives but also restricts the basic freedom of women.
---
Vlog: what is it like to study at a satellite campus?
Why I chose to study at a UK university's branch campus
Video: tips from international students on studying abroad during the pandemic
Video: how I got into Stanford University as a low-income international student
---
I created a campaign in my own village (Kuwarpur Baghel) in Uttar Pradesh, rallying women around menstruation and menstrual hygiene. 
Discussing issues linked to menstruation is a taboo topic in my village and around the country and women rarely bring it up in a public discussion.
Not surprisingly, my mother was completely against this campaign, but surprisingly, my father supported me during my summer break to spread the message and organise educational screenings at my house for young girls and women from the village. I was happy to see that many girls had switched from using unhygienic rags to sanitary napkins – a direct outcome of my efforts.  
Subsequently, on the basis of my academic achievements and community outreach, and with the guidance of my teachers, I secured admission to Georgetown University in Qatar. Given my interest in international policy, Georgetown was an apt option that offered the exposure I was looking for.
I left for Qatar in October 2020. Upon arriving in this beautiful new country, I faced many challenges, ranging from adapting to local food to understanding a new language. But my faculty and seniors have been welcoming and supportive.
I had to isolate for 14 days on my arrival in line with government guidance on international travel. My classes were online at first but students were allowed to use the library and that is when I got a chance to meet some of my classmates, many of them from all over the world. I made a friend from Uganda and she has shared a little about her culture.
When I compare my host country's cultural norms with India, the first distinguishing difference is the strict dress code in public places. Qatar has a dress code for men and women in public, which doesn't allow men to wear shorts above the knees and women to wear anything too revealing, transparent, or above the knees. This is something that makes Qatar culturally distinct. I and many of my non-Qatari classmates have embraced these differences with an open mind.
My teachers here at Georgetown have helped in honing my problem-solving skills and have helped me identify what works and what doesn't when it comes to living in a multicultural society.
I hope to work in a government or non-governmental organisation in the future. But I still have a long way to go to and I am looking forward to life as it unfolds.
Featured image
Image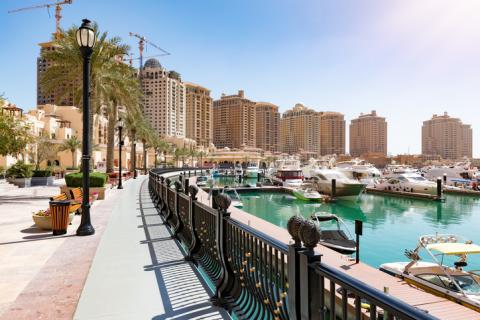 Standfirst
Shikoh's community work and passion for international politics made Georgetown University Qatar the perfect choice for her