In October 2020, I decided to begin a PhD in law. After my LLB and LLM this would be my third venture into higher education, and I chose to continue at De Montfort University in the UK.
Ever since my second year of undergraduate study, I had dreamt of completing a PhD in law. This was further cemented through my master's dissertation project exploring food labelling legislation in the UK, which brought to light a lack of research in the field of food labelling. On realising this and how I could contribute, I began researching and preparing my application.
Prior to starting, I heard from myriad academics, tutors, and former PhD students that research was filled with hurdles and that I should embrace the uncertainty. 
To me, this was scary. Once I passed the application and interview stage, with an offer of study in hand, I couldn't help but feel that I had plunged myself into the unknown. I had also not expected to be starting my PhD during a pandemic.
Eight months after I applied, my first day of university rolled around. It was mid-pandemic, which meant it was a virtual first day.
Around midday my excitement turned into apprehension. I sat there with my laptop out, thesis in mind and a blank document staring back at me. I felt utterly lost and out of my depth. What was I supposed to be doing?
You may know that PhDs are almost entirely made up of self-directed research.
Not only does this require a whole lot of planning, but also a great deal of self-discipline and structured work ethic. Although I had begun developing these qualities during my previous studies, it was barely enough of what is required during a PhD.
Additionally, instead of being in a class full of students, I was now completely alone.
---
Nine things to know before doing a PhD
What is it like to do a PhD as an international student in the UK
Is it possible to do a three-year PhD as an international student?
PhD diary: Where do I begin?
---
It wasn't until I began speaking to my supervisors that I realised what I was doing wrong. As it turned out, PhDs are supposed to be filled with the unknown.
This was especially true during my first year, as I carried out a thorough literature review, reading all that had been written on the wider topic of food labelling and working out where the gaps in knowledge were.
The learning curve at the onset of my PhD was the steepest. Not only did I have to start figuring out what my original contribution to the existing field would be, but this all had to be done through online research only.
Prior to this I was used to churning out short essays and answering a monthly specific tutor-set question. The lack of quick turnaround and short project timelines initially made me feel like my PhD was nothing more than sitting around twiddling my thumbs.
Such anxieties were heightened by a lack of face-to-face contact, as all meetings and seminars took place online. While every effort was made to make this as engaging and enjoyable as possible, we all now know that nothing beats real human interaction.
However, I now understand that my PhD is a means for me to carry out in-depth research exploring whether consumers are being offered all the information necessary to make an informed decision regarding food suitability to their dietary needs.
Overall, the first year of my PhD has taught me is that it is entirely possible to complete a whole year's education without stepping on to campus.
Second, it has taught me that there's a lot I don't know and perhaps will never know about aspects of food and consumer law, but I guess that's the point of doing a PhD. It's all about the process of learning and researching that will make these next few years exhilarating and unpredictable.
Featured image
Image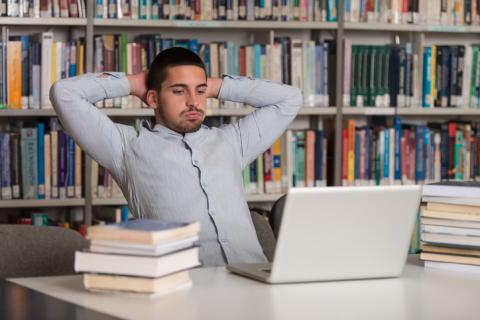 Standfirst
Mehul Parekh shares the challenges and uncertainties that came with starting a PhD remotely during the pandemic and how he has learnt to overcome them