My journey to doctoral studies in Switzerland began a little over a year before I actually started on 16 September 2013. I was (and still am) a research scientist working at the Biotechnology and Nuclear Agriculture Research Institute in Accra, Ghana.
My abstract had been selected for a poster presentation at the Global Cassava Partnership for the 21st Century (GCP21) conference in Kampala, Uganda in June 2012. By a twist of fate, I crossed paths with Hervé Vanderschuren, who was team leader of the cassava research team, and Wilhelm Gruissem, professor of plant biotechnology, at ETH Zurich. They later became my supervisors when I attended ETH Zurich.
We sat at the same table for lunch, and I introduced myself and talked about my home institute and my research. I soon realised that I had contacted Vanderschuren via email a year before about the possibility of pursuing a PhD in his group.
However, a lack of funding to support my PhD studies at that time meant that this dream had had to be shelved. Enjoying lunch together at the same table presented me an opportunity to reiterate my earlier intent of doing a PhD in his team and also to make a good personal impression and to discuss funding.
Two months after our lunch meeting, Vanderschuren emailed me with information about application details for the Swiss Government Excellence PhD scholarships. I read this with excitement: finally, my dream of pursuing a PhD at ETH Zurich had received a shot of hope. We applied for the scholarship, and we were successful.
The scholarship
The Swiss Government Excellence PhD scholarships provide an opportunity for foreign students, especially those from low-income countries, to receive quality education at one of the 10 Swiss public universities or the two federal institutes of technology.
My time as a Swiss Government Excellence scholarship holder at ETH Zurich was full of several interesting activities such as sight-seeing tours, which I found helpful for integration into the Swiss environment, and dinners (especially Christmas dinner and traditional Swiss cuisine), which proved to be a good way to meet and network with students from different backgrounds and cultures.
The scholarship also provided another great benefit, a card for half-price public transport, which facilitates travel to a variety of tourist sites and cantons in Switzerland.
---
International perspective: a French student in Switzerland
Most international universities in the world
A year abroad at university in Switzerland
---
Enabling research environment
One of the first things that caught my attention about ETH Zurich was the excellent infrastructure and funding support for research.
Regular seminars or talks are organised by the different departments, and these events attract experts from all over the world who are leaders in their fields to discuss topical research interests. These seminars foster learning, facilitate exchange and allow students to receive support or potential solutions to challenges they face in their research or professional development.
Furthermore, the inclusion of lunch or dinner meetings with guest speakers affords students an opportunity to connect on a more personal level with the speaker. The influence of these meetings on the psyche of students might be underestimated, but from my personal experience, such interactions revive waning enthusiasm.
Besides excellent infrastructure for research, another important factor that enhances the quality of research is the diversity of most research groups.
In the cassava research team, students from 10 different nationalities worked together. Diversity creates a welcoming and friendly atmosphere for foreign students, especially those making their first trip outside their home countries. In terms of culture, scholarship and, most crucially, a variety of different life experiences, there is a great richness that enhances research, increases productivity and promotes the development of tolerant individuals.
Extracurricular and social life
My time in Switzerland was exciting and an eye-opener. Zurich's cosmopolitan nature makes it possible to meet and interact with people from different countries, cultures and educational backgrounds. Unwinding over drinks organised by our group and others housed in the same building helped me to connect with my lab colleagues on a personal level. It is not surprising that some of these connections have grown into solid friendships.
Extracurricular activities aim to foster a different kind of learning from that developed in classes, seminars and labs. That is why programmes such as the ETH week and the Clinton Global Initiative University (CGI U) caught my attention. The ETH Week is a one-week programme that brings together bachelor's, master's and PhD students from different disciplines to foster independent thinking, instil responsible acting and improve problem-solving skills.
The yearly CGI U meeting provides a platform to connect students from all over the world who have volunteered to take on real-world challenges in education, the environment, public health, poverty alleviation, climate change and peace and human rights.
In light of this, student-initiated projects such as EquipSent (in which I am involved), which aim to enable education by matching out-of-use but functional scientific equipment in high-income countries such as Switzerland to universities in low-income countries, are worth commending.
Africa, ASAZ and development-oriented projects
As an African and one passionate about the development of the continent, I believe in the importance of training people to help develop their home countries. The availability of scholarship programmes that support master's and doctoral studies goes a long way to enhance the quality of teaching and research in African universities and research institutions.
The African Students Association of Zurich (ASAZ) is an organisation whose aim is to bring together African scholars at institutions of higher education in Switzerland. Founded in 2016, it has for the past three years focused on presenting Africa from an African perspective, by organising, promoting and raising awareness of research or events centred on Africa.
ASAZ works with initiatives such as the Africa Innovation Foundation to unearth and encourage home-grown innovations tailored to solving the continent's challenges.
The exchange also benefits the host country, too. For the Swiss higher education and research sector, exchange deepens cultural and language learning, facilitates the exchange of ideas and experience, improves tolerance and group dynamics and increases awareness of global issues and challenges.
A fitting example is my PhD research project, which focused on investigating the genetic diversity of cassava mosaic geminiviruses (CMG) in farms in Ghana and then explored how to engineer resistance against the identified CMG species or isolates. We were able to obtain the results through exchange and collaboration between countries.
The lessons I have learned during my PhD will continue to guide my actions and decisions. The skill of efficiently planning daily experiments combined with extracurricular activities has shaped my outlook on life. Switzerland exhibits such efficiency and control in almost every sector that other countries, including mine, have to play catch-up.
Read more: University life in: Switzerland
Featured image
Image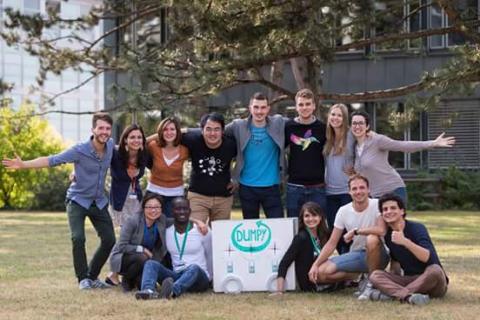 Standfirst
With the help of a prestigious scholarship, Ghanaian PhD student Wilfred Elegba got the chance to study in Switzerland