I'm Marie Rosszell, a year-4 foreign student in the Faculty of Business Administration (FBA), specialising in brand management. I am half Japanese, half Canadian and I grew up in Tokyo, Japan. I'll start my full-time job in sales at Google Japan in October 2016 after my graduation in June.
The reason I choose the University of Macau (UMacau) is that as a student who is pursuing a career in business, it is crucial for me to understand how to conduct business properly on a global scale, so I wanted to expose myself to a different culture to enhance my knowledge in international business.
I chose UMacau because it is a vibrant and young university known for its geographic advantage, where we can best look at the gem of cultural legacies after two civilisations encountered each other over the course of 500 years. I am not only given opportunities to meet great people with a cross-cultural background, but I also know more of Macanese as well as Chinese business etiquettes and mentality, which will be very beneficial in terms of marketing strategy references. In a new semester ahead, I look forward to having new lectures and meeting new classmates. The professors are quite friendly and helpful. The course content looks quite interesting. I believe that the knowledge I acquire here inside and outside the classroom will definitely broaden my horizon on branding and business management.
---
What are the best universities in Asia?
---
I am currently staying at Lui Che Woo College, where a cohesive and energetic residential community has been established to enhance our learning experience beyond the traditional classroom settings. I very much enjoy my college life here, as the staff and classmates are friendly, inspiring and helpful.
Yip Ming-Chuen, our college master, often encourages us to participate in sports and team-building activities, such as kin-ball, which aims to improve our physical well-being and interpersonal skills. I'm quite surprised and happy to find out that my new roommate is a Swedish student. It will be a great opportunity to learn more about European cultures and their lifestyles and taste.
The college is now my home here and I am grateful that I have found a sense of belonging in a foreign land. The Chinese New Year is just around the corner and celebrations will be jazzed up with a modern twist. What's more, I know they are planning to go ice skating during the holidays and have barbecues throughout this semester. 
As a foreign student, it is more likely for me than it is for local students to encounter problems, simply because I have just started a new life in this city. I'd love to say thanks to Sharon Kuok, the student exchange programme coordinator, who offered me a lot of help when I was in need. She is always reachable and often does her very best to make sure that we are doing well at school. I remember that upon my arrival, my visa somehow had some problems and I was quite desperate. She immediately took me to the Macau customs office to try find a solution, even though it was a Saturday – her day off. In my eyes, her sincerity and kindness represents the culture of UMacau and I hope to become someone like Sharon, willing to help others no matter what.
So far I am really enjoying indulging myself in the learning atmosphere that UMacau has to offer. Everyone I meet is altruistic and willing to help in my quest for knowledge. Also, I enjoy my whole world of learning: in a corner of campus café or in the spacious study room of the campus library. It's so wonderful to learn from one another academically and personally in my college. Last but not least, when you start loving a place, you'll also be impressed by its surroundings, for instance, old Coloane Village, where you'll take a sip of coffee in a Portuguese café and get some sense of how Macau evolved from a tranquil fishing village to a gambling capital of the world.
The University of Macau is sixth in the ranking of the world's most international universities.
Featured image
Image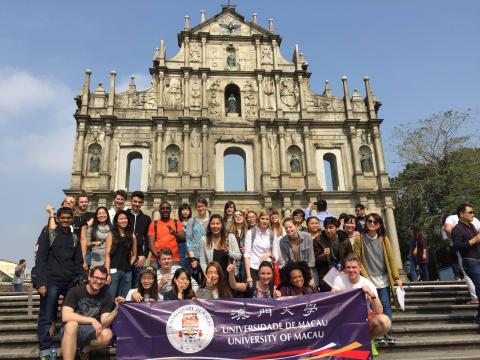 Standfirst
A Japanese student, soon to start working for Google Japan, shares her experience of studying global business at one of the world's most international universities: University of Macau, China.