I always knew I wanted to live abroad. During my junior year, I studied in Sydney, Australia and completely fell in love with it. My time studying abroad had such a significant impact on my love for travelling and learning about other cultures that I knew I wanted to experience that again. As I approached the end of my senior year of college (fourth year), I started researching how I could find my way back overseas. 
Immediately after completing my bachelor's degree, I achieved a master's degree from my university through a special one-year programme. This allowed me to begin considering a new programme that would start in autumn 2020.  
Although my bachelor's and first master's degrees are in neuroscience and psychology, I knew I wanted to study human and criminal behaviour. Many competitive forensic science master's degrees are offered in Europe (particularly in the UK, Switzerland and the Netherlands). However, most of them require a background in criminal justice, law, or forensic science and many were taught in languages other than English. 
Fortunately, the University of Amsterdam's course was different from other international master's programmes because it is taught completely in English and doesn't have such strict requirements.  
Visas and living costs 
My dream of studying abroad again became a reality once I was accepted into the University of Amsterdam. I was advised to start my visa application immediately, pay the tuition fees and find a place to live. Fortunately, applying for a visa with a US passport was not too difficult.  
As a non-EEA (European Economic Area) student, I had to pay higher annual tuition fees compared with EEA students. The University of Amsterdam offers a number of scholarships. Unfortunately for me, most are for EEA students or are faculty-specific. I was only eligible to apply for one scholarship, the Amsterdam Merit Scholarship, which is highly competitive. 
I was encouraged to find accommodation quickly. But I was also advised to be careful when choosing where to live because I could not view the accommodation before agreeing to the rent. Luckily, I was supported by the University of Amsterdam, which offers student housing to first-year students. I applied to live in student accommodation and received a university-approved studio for one person, which was an excellent result. 
---
Best universities in the Netherlands
Everything you need to know about studying in the Netherlands
The cost of studying at a university in the Netherlands
---
What have I learned since living in the Netherlands? 
Prior to my departure, everyone told me that I would love the Netherlands because of its clean and punctual public transport, the sights and the places to explore. My arrival was complicated by the outbreak of the Covid-19 pandemic and my first year was an unusual experience as a result. 
All my classes were online, I only visited the campus five times in my first year, and I had limited opportunity to meet new people and make friends. However, the silver lining was that I adapted to form friendships via Zoom or texting people after class.
I learned the importance of being intentional with my social interactions. Over time, I developed a network of friends. As Covid restrictions reduced in the summer of 2021, we were able to hang out in large groups again and it felt like my friend group had expanded overnight. 
By autumn 2021, I could visit museums, try new restaurants, and really appreciate Dutch culture. I learned to love many aspects of life in the Netherlands, but my favourite elements were the active lifestyle (cycling everywhere), the weather and the laid-back weekends.  
Would I recommend studying in Europe? 
Despite the challenges that many international students faced while studying abroad in 2020 and 2021, studying in Europe has positively changed my life. I was lucky to have had a fantastic experience in Sydney which encouraged me to try again in Europe.  
This love of being abroad helped me through the pandemic. My life today in Amsterdam is a world apart from the life I had two years ago, and it is a direct result of the experiences I had in 2020 and 2021. 
If you are looking for an adventure, a chance to make new friends and find new experiences, then living in Europe is right for you. No two experiences are the same, but I hope that my story will help future international students find their next adventure. 
Featured image
Image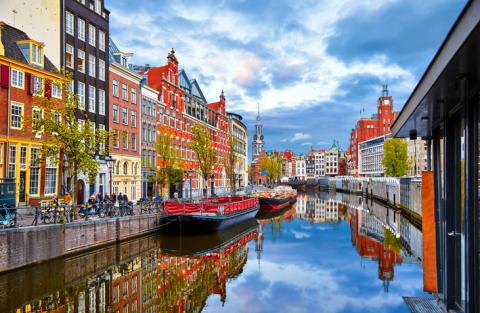 Standfirst
Anna Knes is a second-year forensic science master's student at the University of Amsterdam. Raised in Chicago and having studied for her undergraduate degree in the US, she shares her experience as an international postgraduate student in the Netherlands