I began my career in the private sector, having first obtained a bachelor's degree in business administration at Copperbelt University in Zambia in 1995.
After graduation, my passion for children's rights led me to work for an international development organisation, providing public services to rural communities in Zambia. The role involved advocating government to develop and implement public policies for children.
However, I wanted a more influential and direct role closer to where public policies were developed. 
I was awarded a scholarship by Australia's Department of Foreign Affairs and Trade, which is development aid to my country, in support of increasing human capital around public administration. 
The quota of scholarship allocations was at continental level, so competition was tough. We were told that just 200 people across Africa were awarded scholarships, from thousands of applications.
The scholarship facilitated my application to study at any university in Australia, and since I wanted a well-paced degree in public policy, Murdoch University turned out to be the right fit, with uncomplicated enrolment requirements.
I chose Murdoch because at other universities the programmes were less than two years in length or required a lot from international students, including English language tests, even for those from countries such as mine where education and business is conducted in English.
---
International perspective: a Vietnamese student in Paris
International perspective: from Delhi to Toulouse
International perspective: a British student in Spain
International perspective: a Brazilian in Japan
International perspective: a South African studying in the Netherlands
International perspective: a Canadian in Ireland
---
I like the fact that Murdoch focuses on equipping students with knowledge of the underlying processes of public policymaking. I've enjoyed the challenge of mastering new concepts and then working innovatively with them. The public lectures organised by my school have also been insightful.
Moving to Australia was exciting but daunting too, because I was going to be away from my family for the longest period ever in my life. I was not going to be able to visit home for a year.
The homesickness was hard to endure initially – I missed the food, my dogs, mother and sisters, and speaking in my mother tongue.
Being a lover of storytelling, I miss speaking in ChiBemba (a language of northeastern Zambia) and I realised that although I have a good grasp of the English language, I am often unable to convey the rich detail of a story. When recounting a story to my friends in Australia I often tell them: "if only I could tell it to you in my mother tongue, you'd think I was so witty and funny".
The expected academic standard, strict rules and emphasis on self-learning were all quite different from what I had experienced during my undergraduate studies.
As a mature student studying a new area, I have found it harder to grasp new concepts than I used to and so I spend more hours on my studies than perhaps some of my younger peers have. 
I have enjoyed my study at Murdoch so far, particularly the flexibility that my school offers in putting together the components of my degree, thus making it unique to my requirements. I have also been comfortable with the assessment combinations, which have pushed my limits for learning new concepts and forced me to think creatively. 
Overall, I like the look and feel of Perth. It's not a concrete jungle like New York City, nor as rural as Juba in South Sudan. Other than the difference in vegetation, Perth is similar to my home city of Lusaka, which means that I don't feel so homesick. 
Read more: Most international universities in the world
Featured image
Image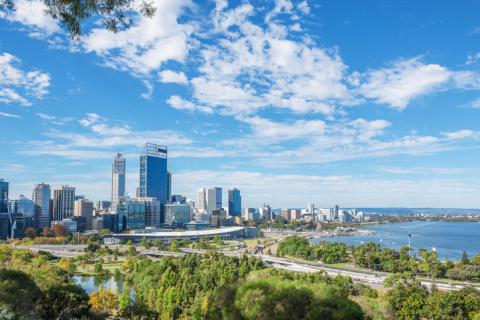 Standfirst
Zambian student Mwape Mulumbi decided that heading to Australia would be her best option for developing her career