The truth about moving abroad is that sometimes it can be lonely, exhausting, intimidating and uncomfortable, but it is always invigorating. You grow to enjoy your own company and push boundaries you otherwise would not get near.
My university story began when I was completing my foundation studies at a matriculation college (the equivalent of A levels) in Malaysia. I received a full scholarship from the Ministry of Education Malaysia to pursue my undergraduate education at the Australian National University (ANU) in Canberra.
The overall admission process was honestly not much of a hassle given that my sponsor liaised with an education agency from my home country to help me through every step of my application. I'd say four to five months is an adequate amount of time to prepare for everything: the IELTS, medical check-ups, overseas health coverage, visa and everything else.
Looking back, the only difficulty I faced was finding convenient yet affordable accommodation. As Canberra is transitioning from a sleepy suburb into a thriving city, the rents are soaring every year.
The rent on campus is a bit heavier on the pocket, but if money is not an issue I would highly recommend living on campus for your first couple of years abroad to have a fulfilling experience. The diverse and inclusive residential community has been a "home away from home" and was where I met my closest friends.
My first week abroad was not as daunting as I imagined it to be because of the wide range of student services and support that was free and accessible. One of the many services is Set4ANU, which is a peer-mentoring programme designed to help students transition to university life through holistic support during their first eight weeks at ANU.
---
Best universities in Australia
How much does it cost to study in Australia as an international student? 
Everything you need to know about applying to university in Australia 
---
In terms of the programme and courses, ANU gives you the flexibility to tailor your degree to match your needs and interests. I am glad I was able to take up languages, psychology, science communication and other courses unrelated to my major but which will be beneficial to building my career or trying something out of my comfort zone.
After taking some introductory astronomy courses, I quickly decided that I wanted to continue studying astronomy and physics. ANU has great facilities for astronomy, with its research school being an observatory on top of nearby Mount Stromlo. 
One of the many things I find admirable at ANU is the student-teacher relationships and overall teaching culture. As someone who wishes to pursue academia, I have always paid attention to different teaching approaches and attitudes, and I can say I have learned plenty.
To have an enriching experience when studying abroad, taking part in student societies and clubs is your best bet. They are not only great platforms to engage with like-minded individuals and develop soft skills, but also to have a break from studies, seek new passions and hobbies and, most importantly, have fun.
I have been part of the committee for several organisations and I find it rewarding to be able to have a direct impact on the causes where my passions lie. For instance, as the partnership manager at Robogals, an organisation that aims to empower young girls to pursue STEM-related fields, I have been able to liaise and seek sponsorship and funding from companies to run our STEM workshops.
Apart from that, my role in the astronomy society has allowed me to turn the events of my dreams into reality. Organising a string quartet performance at the Yale-Columbia dome ruins at Mount Stromlo observatory is definitely a core memory.
If you choose to study abroad, I hope you have a smooth transition and thrive in the path you've chosen. However, the journey is yours alone – on your hardest day, remember to be kind to yourself and please always prioritise your mental health and well-being.
Featured image
Image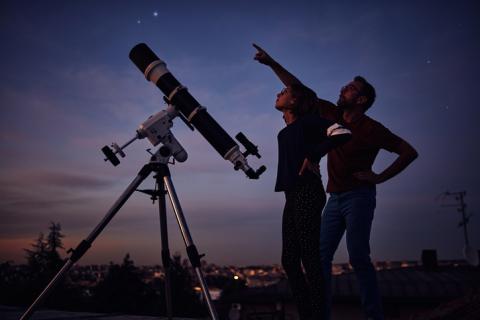 Standfirst
Rishika Prabhakaran, an astronomy student from Malaysia, shares her experience of studying abroad in Australia
Created date
2023-05-12T10:09:51+0100