I am writing this blog on 23 January 2023, which marks 12 months since I boarded my flight to Madrid to begin my year studying abroad. I was doing a year overseas with my home university, the University of Texas at Austin. I remember my energy and eagerness. It feels surreal thinking back to how 2022 started when now feels like the typical start to another year.  
The first month of 2022 was jammed full of preparation: packing, acquiring my visa, setting up an appointment for a Metro card, compiling vaccination records, completing lengthy health forms and budgeting – all while my university friends and peers eased into their own semester. 
Even though I was confident that I'd be able to cover the costs of studying abroad with my dad's help, I still applied for scholarships that were offered by my university to ease the burden. Of the three scholarships I applied for, I was awarded one that covered about 15 per cent of my estimated budget. To keep my spending in check, I created a spreadsheet that gave me a weekly spending threshold. This was to ensure I returned home satisfied with the balance of my bank account. 
Since I had taken Spanish classes throughout elementary school and during university, I was keen to go to a Spanish-speaking country for my time abroad and put my skills to the test. Due to Covid-19 restrictions, Spain's economic and political stability, and the ease of transportation, made it the most appealing destination.  
---
Five reasons why you should study abroad
Video: how to choose which university or country to study in
Campus versus city universities
How to find your perfect university match
---
As a psychology major, I chose to study at the Universidad Pontificia Comillas in Madrid, at their social sciences campus, Cantoblanco. Their exchange programme provided the best opportunity to explore the city and country compared with other programmes, so it was an easy decision in the end.  
Although I had taken Spanish throughout school, I had never had a need to use it in an organic setting until I began to explore Madrid. A silent 30-minute taxi ride when I arrived made me realise how self-conscious I was about my Spanish-speaking skills.  
This nervousness followed me throughout the semester, but conversations grew easier. Certain phrases such as: "¿Puedo tomar un café con leche?" ("Can I have a coffee with milk?") became part of my everyday vocabulary.  
Gradually building on these phrases helped strengthen my confidence in speaking. My proudest moments came with the interactions I had with servers, grocery-store clerks or pharmacists. Although I still had an American accent, they eventually stopped asking where I was from as my speaking grew faster and my articulation became more confident. 
My Spanish was really tested during university classes, as the ones I had chosen were taught in Spanish. Thankfully, they were all international courses, so the varied Spanish abilities among the students were met with leniency, which was reassuring for students with Spanish capabilities like mine.  
One class that I particularly enjoyed was Spanish modern art. I came out of it with a greater appreciation of art as I walked the halls of Museo Reina Sofía able to truly understand the gravity and significance of Picasso's Guernica. I had a better grasp of Spanish art and history of the 20th century. Learning about another country's history for a whole semester compared with spending maybe two days on the subject back in Texas was refreshing. I left Comillas with a wider understanding of my chosen academic subject.  
It was also interesting experiencing the differences in the course structure in Spain. Typically, in the US, we were assigned three to four big projects, tests or exams along with weekly assignments to help our overall grade. In Comillas, however, there would be maybe one to three side assignments and then the end-of-semester exam that counted for at least 50 per cent of our final grade.  
This was quite intimidating since I was used to having an idea of what my grade would average out to as the semester progressed. Not knowing how each of these Spanish professors graded nor how dense the final content would be was nerve-racking. Thankfully, towards the end of the semester, I realised that the international classes wouldn't be that harsh on us temporary students and I passed with flying colours. 
All in all, studying abroad was no easy task. It took work, research and a lot of preparation for all the cultural adjustments (especially linguistic ones) from the moment I decided to study abroad to the moment I arrived back in Dallas.  
However, the experience was truly worthwhile. The places I saw, people I met and experiences I had were irreplaceable, and I can't imagine my life now without my time in Madrid. It helped me grow into the person I am today, both personally and academically, and I'll never forget that. Plus, it's pretty cool to say that I've studied abroad in Madrid. 
Featured image
Image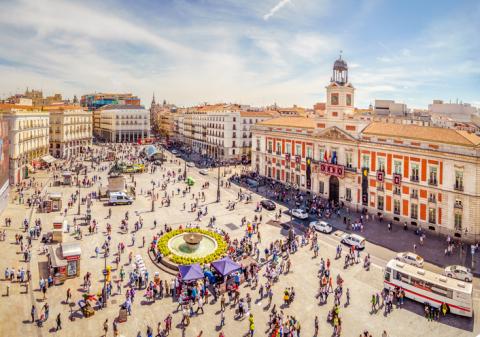 Standfirst
Erin Matthews, a US student from the University of Texas, Austin, spent time as an international student Madrid in 2022 and shares her favourite memories of studying in Europe
Created date
2023-03-17T13:55:20+0000