I grew up in Bogor, a small city about two hours drive from the capital city of Indonesia, Jakarta. I then lived in Jakarta for several years to study and work. After finishing my master's degree, I worked in the World Bank office in Jakarta. From then, I knew my passion was to work for international development organisations.
So, when I decided to pursue my doctoral degree, I purposely applied to a PhD programme that focused on economic policies. Australian National University (ANU) has a dedicated school focusing on public policy in the Asia-Pacific region, and it has a prominent academic group working on policy issues in developing countries.
Besides preparing for language and degree requirements, the most crucial part of preparing for your PhD abroad is contacting potential supervisors and finding one that fits you and your chosen subject. I was lucky enough to find my supervisor, who had extensive experience working in policy. 
He was part of some international development organisations before taking up his role in academia. Connecting with the right potential supervisor helped me think through my research topic and what areas I wanted to work on during my PhD.
Many people think that PhD programmes will prepare you only for jobs in academia, but I found that it also helped me to enter the job market outside academia.
First, working on my dissertation helped me to learn about various relevant tools in evaluating policies and using a structured framework when analysing policy issues. Because I knew from the beginning that I was interested in having a career outside academia, I chose research topics that focused more on the applied side of economics. I then used various methods commonly used to evaluate policy and techniques relevant to evidence-based policymaking.
---
Scholarships for international students in Australia and New Zealand 
Everything you need to know about applying to university in Australia
A guide to student bank accounts in Australia
---
Writing my papers pushed me to familiarise myself with multiple types of data and information and how I can work with those in a logical and structured way to inform problems. I also learnt to think more thoroughly about any policy formulation. 
Second, being in a PhD programme exposed me to a wide range of policy-relevant discussions through reading groups, seminars or even informal coffee chats with fellow students. I was not the only student in my department – there were other PhD students who were working on exciting topics in various areas. Informal chats with them about their work made me aware of what other countries face and that most of the policy challenges are similar in other countries.
My department also hosted many seminars and conferences, and I tried my best to attend. Right now, I am researching a set of countries that are totally new to me and not my country of origin. However, I was lucky enough to be exposed to these countries' problems and contexts through many seminar events organised by the school.
Like others, sometimes I lost sight of the goal of doing a PhD. Each person has their own way to find their way, but for me, reading news worked best. When I read the news, I can see how there are still many development challenges worldwide. My eagerness to be part of the solution helped me to move forward.
 A PhD is not only for those who want to be in academia. There are other types of career that will benefit from all the skills and knowledge we get through the PhD programmes: consulting, private sector, public sector and international development organisations.
The key is finding a suitable "system": programme, department and supervisors that can work with you toward your passion.
Featured image
Image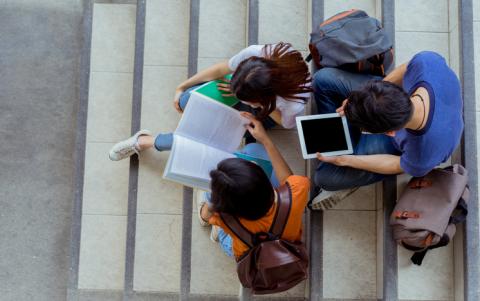 Standfirst
Ruth Nikijuluw, an international student from Indonesia, is a recent PhD graduate who has entered the working world after completing her degree in Australia. Here she shares her insight into how her PhD helped prepare her for life beyond academia
Created date
2023-03-24T13:03:49+0000