Growing up in Singapore, I considered myself to be relatively culturally aware. It is one of the most religiously diverse countries in the world, and I've celebrated everything from Diwali to Vesak Day to Christmas.
Under the city state's Ethnic Integration Policy for public housing, I interacted with neighbours with backgrounds different from my own. I even received structured racial harmony classes in school, culminating each year in a Racial Harmony Day where Singapore's cross-cultural communities were celebrated with traditional food and dress.
However, as a result of the Covid-19 pandemic, previously hidden xenophobic sentiments started to surface in my home and beyond. Following reports of community cases involving Indian nationals, many fellow Singaporeans took to social media to spread harmful and racist messaging. The global anti-Asian hate surge also made me consider the privilege I've had as a Chinese person in a majority ethnically Chinese country.
Such experiences prompted me to develop my intercultural understanding, or IU. This refers to the range of cognitive and behavioural skills that lead to the effective navigation of cultural difference and improved communication among people of different cultures.
In an increasingly globalised world, the merits of IU speak for themselves – when you hone your intercultural understanding, you hone empathy. Here are some tips that I have picked up when developing intercultural understanding.
Start with your own culture
Culture is not limited to one's race, ethnicity or family background; it encompasses all the different parts that make up a person. It also takes into account your workplace, school and the people you spend time with.
There are lots of definitions of culture that you can research, such as Hofstede's Cultural Dimensions Theory, or Project GLOBE studies. Another way to understand your own culture is to look inwards and ask yourself, "What do I value the most?"
---
Three things that were a culture shock for an Asian student in the UK
Navigating university as a refugee student in the UK
Studying at an English-speaking university as a non-native speaker
Video: tips from international students on studying abroad during the pandemic
---
Admit what you don't know
Humility is the key to intercultural understanding. Identifying and then taking responsibility for gaps in your knowledge and understanding creates space for dialogue and learning.
Sidestepping questions and avoiding certain topics can impede one's communication and their ability to navigate within cultural differences. As long as you ask with a genuine desire to learn, most people will be more than happy to answer.
Engage in facilitated dialogues
Participating in structured exchanges can be a great way to understand other cultures. During my first year of university, I took part in the Becoming a Global Learner Leadership (GLL) series hosted by the University of California, Davis with the Association of Pacific Rim Universities Virtual Student Exchange Program. The virtual platform brought together students and leaders from across the world to have honest discussions on culture, identity and conflict.
Each week, we were given a safe space to voice our thoughts and experiences and were provided with key concepts that are applicable to real life. For example, I learned how certain companies are more performance-based when it comes to salary rises, while in other companies, receiving a rise can often depend on other factors, too.
Diversify your networks (in a way that is genuine)
Intercultural understanding is a lifelong process – you should never aim to become an "expert" at culture.
Remain intentional about reaching out to and connecting with people of cultures different from your own, and building genuine connections with them. I am still in touch with friends I made during the APRU GLL series – we occasionally host virtual game nights, and we hope to meet in person one day.
Featured image
Image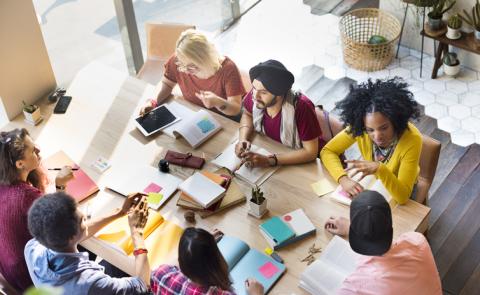 Standfirst
Singaporean student Willie Chua shares some tips on how to develop intercultural understanding when studying alongside students from all over the walk