Moving abroad means that you often have to navigate new traditions and cultural events, some of which may occur during Christmastime. For many international students moving abroad to university, this may be the first time you encounter some of these, so we've put together a little explainer to some common festive traditions and where they come from.
1. Mistletoe
Perhaps this is a Christmas tradition to skip this year because of the Covid pandemic, but in some countries if you happen to meet someone under a sprig of mistletoe, you are supposed to kiss – a little peck on the cheek will do.
The tradition of kissing under the mistletoe can perhaps be traced back to Norse mythology and the god Baldur. It is thought that his mother cast a spell to ensure that no plant could grow and be used as a weapon against him. However, the spell did not reach mistletoe plant, which continued to grow and was then turned into a spear that was used to kill him.
No one is quite sure of the connection between this legend and the tradition of kissing under the mistletoe, but it is perhaps one of the first tales sharing the link between love and mistletoe. However, some records show that the tradition of kissing under the mistletoe really started to become more common in England between 1720 and 1784.
2. Christmas wreath
Hanging a Christmas wreath (a garland of green tree branches, often decorated with baubles, ribbon, pine cones and orange slices) is a common practice during December. Spotting them on people's front doors can be a fun Christmas activity, but have you ever stopped to wonder where this tradition came from?
There are several different explanations for the wreath. For Christians, it symbolises Jesus' crown of thorns, and the holly berries symbolise his blood.
For some, the origins of the wreath can be dated back to the ancient Romans, who often hung wreaths after winning a battle. Others believe that the circular shape represents everlasting life, while yet others think that the green branches are a symbol of growth and life through harsh conditions.
These days, the wreath is seen mostly as a lovely decorative item, often placed on front doors, but also on mantelpieces, on staircase bannisters and elsewhere around the home.
3. Christmas tree
Christmas trees are another classic feature of Christmas decorations, and it is believed that the tradition began in Germany.
Well actually, as mentioned above, the use of evergreens as a symbol of life and growth can be traced as far back as ancient Rome and ancient Egypt. But it is thought that the first decorated tree at Christmastime was in 16th-century Germany, where they used to add candles to a pyramid of trees.
The tradition of Christmas trees didn't become popular in the UK and the US until the late 19th century, but since then it has become a widely adopted tradition in many countries across the world.
4. Advent calendars
An advent calendar is a calendar used to mark down the 24 days in the lead-up to Christmas. 
In today's world, advent calendars usually take the form of a cardboard box with doors for each day and a small chocolate behind each door. Each day, you open the door and consume the chocolate, in so doing taking the countdown one day closer to Christmas Day. In recent years, advent calendars have evolved to contain not only chocolate but also toys, beauty products, alcohol and other food items.
You may also see advent candles, which have the numbers 1 to 24 printed on the side, and the aim is to burn it for a little while each day to get to the next number to count down to Christmas. 
And to clarify, Advent is a season of the year observed by Christians as the lead-up to Christmas.
5. Christmas crackers
Christmas crackers are a traditional feature of Christmas Day, usually popped just before or after Christmas lunch.
Crackers are filled with little plastic toys, jokes and a paper crown. Two people pull on each end and then split the items in the middle. The one who comes away with the biggest part of the cracker is the "winner".
So if you see a cracker lying next to your plate at Christmas lunch or dinner, split it with your dining companion, don your paper crown and share your joke with the group.
Featured image
Image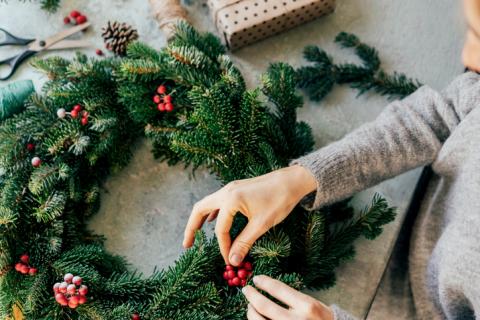 Standfirst
Why do we decorate a Christmas tree? What is mistletoe? This guide explains some of the Christmas traditions that you may be encountering for the first time and what they mean