Across the world, Christmas is acknowledged and celebrated in many different ways. Moving abroad as an international student is the perfect way to immerse yourself in another country's Christmas traditions and celebrations, and for many this may be the first time you experience some of these things.
If you are staying at your university over Christmas and are wondering how you might fill your time, perhaps some of these festive activities might pique your interest.
Of course, it's important to mention that there may still be Covid-19 restrictions and rules in place for certain activities, so please do ensure that you keep up to date with these.
1. Stroll around a Christmas market
Christmas markets are an excellent way to kick off the festivities, strolling around the stalls, picking up some decorations and drinking some hot chocolate. The very first Christmas market was held in Germany, but many countries around the world have since replicated this annual tradition.
Most towns and cities will have their own version of a Christmas market. If you're based in the UK, some of the biggest ones to visit are in Birmingham, Manchester, London and Edinburgh. For US-based students, some of the most festive markets can be found in Washington, Colorado, Texas and New York.
Students in Canada can head to Banff, Toronto, Montreal and Calgary for huge festive markets. There's the added bonus that the weather in Canada at this time of year is usually pretty snowy and Christmassy.
Although Christmas markets are less common in Australia, Sydney and Brisbane appear to have some great ones if you happen to be studying there.
Christmas markets are hugely popular across Europe, particularly in Germany, France and Austria. If you do ever have the opportunity to visit one of these countries over Christmas (or you happen to be studying there), you won't regret it.
2. Try your hand at ice-skating
Ice-skating is a traditional seasonal activity in parts of the world with cold winters. But increasingly, as soon as December dawns, ice-skating rinks pop up in many locations as part of holiday festivities, and a visit to one can be a great outing for you and your friends.
As rinks tend to appear in most cities and towns, a quick search will reveal the ones that are closest to you, and many are often located close to Christmas markets.
If you've never skated before, it may take a little while to get the hang of it, but it's always worth giving it a go once to see if it's something you want to do every year.
3. Sample some festive treats
Each country has its own traditional festive treats, so why not make it your mission to try some this year? If you are studying in the UK, then a mince pie (don't worry, it's filled with fruit, not minced meat!) smothered in cream or brandy butter or some traditional Christmas cake are a good way to experience a British Christmas.
Eggnog is a drink enjoyed around the world during Christmas time, but it has come to be most popular in the US and Canada. There are alcoholic and non-alcoholic versions for those under the age of 21. Sugar cookies are also widely enjoyed during Christmas in North America.
For Australia-based students, pavlova is a popular dessert enjoyed on Christmas day. Made of a large meringue and topped with cream and fruit, it's the perfect dessert for those hot Australian Christmases.
Other treats that are enjoyed throughout the festive period across the world are gingerbread biscuits, chocolate yule logs, candy canes and mulled wine or cider.
---
How are university students spending the festive season?
Staying at university over Christmas? You are not alone
Books you should read over the Christmas break
How to do Christmas on a budget as a student
---
4. Host a barbecue
Many international students who choose to study in Australia or New Zealand will know that Christmas actually occurs during the summer months in the southern hemisphere.
So instead of a roast dinner with all the trimmings, Antipodeans choose to have barbecues on Christmas day, taking advantage of the sunshine and cooking up a barbecued seafood feast on the beach. It may seem strange at first if you're used to a cold and snowy December, but it's a great thing to experience while you're studying in Australia.
5. Go on a Christmas lights tour
Something that is constant across countries is the abundance of Christmas lights and decorations that adorn cities and towns during December.
If you're studying in the US, you may notice that many houses take this assignment very seriously and deck their homes to the max with fairy lights, nativity scenes, and light-up reindeers and snowmen. You may find that whole streets get involved, so have a look in your local area to see if there are any near to you.
As well as homes, many cities such as London, New York, Toronto and Sydney will adorn their main shopping areas or tourist spots with Christmas lights, decorations and a huge tree. In some cities, you can spend an entire evening walking around and spotting all the Christmas lights on display.
6. Watch a Christmas show
If you're in the UK, you may have heard other students talking about pantomime and might be wondering what it is. Well, it is, in essence, a fun, musical play often of a classic story such as Cinderella or Snow White, where the audience is often invited to interact with the actors. It's a classic Christmastime activity for any UK resident, and many local productions are put on every year. If you've never experienced a panto before, now might be the year to do it.
Alternatively for students in the US or Canada, a carol service is a lovely festive way to get into the Christmas spirit. Even if you don't know the words to the traditional Christmas songs, it's worth it just to soak up the lovely atmosphere and experience a carol service for the first time.
Featured image
Image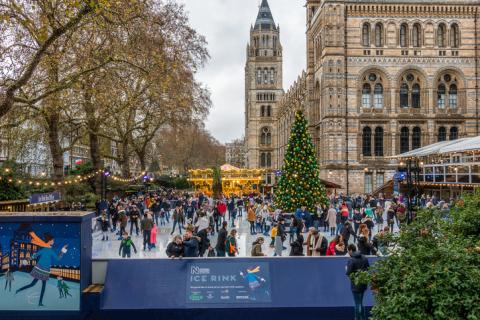 Standfirst
Experiencing Christmas in a new country is super exciting for any international student. This guide to some of the best Christmas activities around the world can help you embrace the festive fun