The "Garden State" of New Jersey is a culturally rich, exciting place to study – not just because there is a choice of 66 institutions of higher education, some of which are globally renowned. As well as a first-rate educational experience, there is all the beauty of New England's towns to explore and the cosmopolitan cities such as Jersey City, Newark and Atlantic City.
Located between Pennsylvania, New York, Delaware and the Atlantic Ocean, New Jersey has a range of rural countryside landscapes and coastal city vistas.
Here are the best universities in New Jersey, according to the Times Higher Education/Wall Street Journal US College Rankings 2022.
Established in 1746 as the College of New Jersey, Princeton University is one of the oldest universities in the US and is regarded as one of the world's most illustrious higher education institutions. In 1896, it was renamed Princeton University, and it opened its famous graduate school in 1900.
Acclaimed for its commitment to teaching, the Ivy League institution offers residential accommodation to all its undergraduates across all four years of study, with 98 per cent of undergraduates living on campus.
It has a small student body, with less than 10,000 in total, with international students making up 12 per cent of undergraduates.
Princeton is one of the world's foremost research universities, with connections to more than 40 Nobel laureates, 17 winners of the National Medal of Science and five recipients of the National Humanities Medal.
Notable alumni who have won a Nobel prize include the physicists Richard Feynman and Robert Hofstadter and the chemists Richard Smalley and Edwin McMillan.
Princeton has also educated two US presidents, James Madison and Woodrow Wilson, who also served as the university's president before entering the White House. Other distinguished graduates include Michelle Obama, actors Jimmy Stewart and Brooke Shields, Amazon founder Jeff Bezos and Apollo astronaut Pete Conrad.
Spread across 500 acres, the Princeton campus has about 180 buildings, including 10 libraries. It is popular with visitors, with about 800,000 people visiting its open campus each year, generating about $2 billion in revenue. Its campus is known for its beauty and architecture – the Lewis Library was designed by Frank Gehry and contains many of the university's science collections.
---
Best public universities in the United States
Best liberal arts colleges in the United States
Best universities in Massachusetts
Best universities in Seattle
Best private universities in the United States
---
The New Brunswick Campus (or Rutgers-New Brunswick) is the largest campus and the site of the original Rutgers College. The largest state higher education institution in New Jersey, it offers a traditional big flagship school and a big-time athletics experience.
Spread across six municipalities in Middlesex County, most of it is located in the City of New Brunswick and adjacent Piscataway, and is composed of five smaller campuses and a few buildings in downtown New Brunswick. It has four large recreation centres, a free-standing fitness centre with available classes and wellness programming, plus 20 acres of activity-friendly outdoor space. There's an Olympic-size pool with a diving tower, an 80-foot climbing wall, ropes challenge course and a roller hockey rink.
The Busch Campus is noted as the home of Rutgers' highly ranked Ernest Mario School of Pharmacy, as well as the golf course and the American football stadium. The Livingston campus is home to the RAC, which acts as home for many sports teams, notably the men's basketball team.
As of 2010, the New Brunswick-Piscataway campuses included 19 undergraduate, postgraduate and professional schools, including the School of Arts and Sciences, the School of Communication and Information, the Edward J. Bloustein School of Planning and Public Policy, the School of Engineering and the School of Environmental and Biological Sciences, among others. Psychology and economics are two of the most popular majors.
Rutgers lives up to its research university moniker – the school spends hundreds of millions on research and development annually, and there are nearly 300 research centres on campus.
The campus offers more than 750 student clubs and organisations, countless social and leadership opportunities, and easy access to New York City and Philadelphia. Rutgers is the birthplace of college football, having hosted the first collegiate game in 1869 against in-state foe Princeton.
Notable alumni include the actor James Gandolfini and the economist Milton Friedman.
---
Best universities in Los Angeles
Best universities in Washington DC
Best universities in Florida
Best universities in California
Best universities in Texas
---
Founded in 1881 as the Newark Technical School, it was renamed the New Jersey Institute of Technology (NJIT) in 1975.
NJIT is a public research polytechnic university that focuses on careers relating to modern technology. It is also a land and sea grant institution and a member of the Association of Collegiate Schools of Architecture.
There are about 11,000 enrolled students, studying across some 125 degree programmes. There are six schools: the Newark College of Engineering, the College of Architecture and Design, the College of Computing Sciences, the College of Science and Liberal Arts, the School of Management, and the Albert Dorman Honours College.
The campus is located on a 45-acre campus in the University Heights district of downtown Newark, New Jersey's largest city and a major travel hub.
The university is recognised as being a centre for technological research and innovation, with research projects into everything from cybersecurity and smart materials to neural prosthetics and wearable robots.
It is also home to the Van Houten Library and the Barbara and Leonard Littman Library for Architecture. New Jersey's largest high-technology and life science business incubator, owned by the university, is located in its Enterprise Development Centre. Comprising 90 member companies, it employs about 400 people and generates millions of dollars in third-party funding and revenues.
The Stevens Institute of Technology (SIT) was founded in Hoboken in 1870 and named after the Stevens family, known as "America's First Family of Inventors".
The institution was established thanks to Edwin A. Steven's decision to leave enough money in his will to finance the establishment of a university. It is one of the oldest technological universities in the United States and was the first college in America dedicated solely to mechanical engineering.
SIT has four academic schools: business, systems and enterprises, arts and letters, and the Charles V. Schaefer Jr. School of Engineering and Science.
All schools are located on the Hoboken campus, along with several halls of residence, restaurants and sports facilities. The campus is also home to Castle Point, the highest point in Hoboken.
As well as a host of research institutes, SIT also has three national research Centres of Excellence. The Maritime Security Centre investigates port and maritime security, while the Systems Engineering Research Centre is affiliated with the US Department of Defense. The final Centre of Excellence is the Atlantic Centre for the Innovative Design and Control of Small Ships, which combines engineering disciplines and shipbuilding.
Notable alumni include Charles Stewart Mott, co-founder of General Motors; Alfred Fielding, co-inventor of bubble wrap, and Samuel P. Bush, patriarch of the Bush political family.
SIT is currently in the midst of executing a 10-year strategic plan, "The Future: Ours to Create", which is growing and transforming the university, further extending the Stevens legacy to create a forward-looking, far-reaching institution with global impact.
Rutgers University-Newark is a campus of the larger Rutgers University in the city of Newark.
Rutgers-Newark was created in 1946 when the state of New Jersey made Rutgers University, a private liberal arts college, into a public state university. At that time, several other private institutions were merged with Rutgers to form what is now New Jersey's public research university.
It has two separate campuses – the Rutgers University-Newark Campus and the Rutgers Health Sciences Campus at Newark – and is regarded as one of the nation's most esteemed public research universities.
Rutgers-Newark can trace its history back to the opening of the New Jersey Law School in 1908. The law school merged with other local higher education institutions to become the University of Newark in 1936, which was incorporated into Rutgers University in 1946, becoming the Newark campus.
Rutgers has roots going back to 1766 – making it one of the oldest higher education institutions in the USA.
Rutgers University-Newark is a research and teaching institution with more than 12,000 students. The university offers undergraduate baccalaureate degrees, master's degrees and doctoral degrees in a wide range of subjects. It also prides itself on the quality of research undertaken at the university.
The campus covers 38 acres in the University Heights neighbourhood of Newark. This campus is home to all the major schools and academic facilities as well as residential, sports and leisure facilities. The campus is within easy reach of downtown Newark but retains a spacious, green feeling.
---
Best universities in New Jersey 2022
Click each institution to view its full World University Rankings 2022 profile
Featured image
Image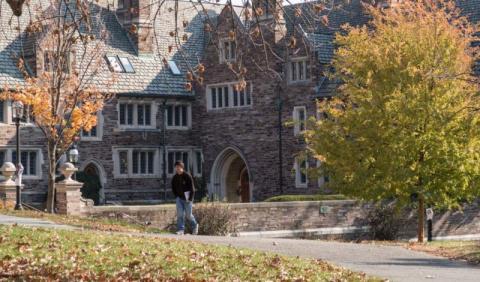 Standfirst
Explore the top universities in New Jersey using data from the Wall Street Journal/Times Higher Education US College Rankings