Top 10 universities in Australia for education degrees 2023
Becoming an educator of the next generation is a rewarding and secure career path to take. There are several different pathways to becoming a qualified teacher, varying significantly between country.
In Australia, universities offer a postgraduate teacher training programme known as the graduate diploma of education or the master of teaching.
However, education can be studied at many different levels in the Australia, beyond teacher training. Education as an academic discipline brings together fields such as sociology, politics, history and psychology to investigate a broad range of education-related problems, from social mobility to international policy.
A number of Australian universities offer undergraduate degrees in education, typically four years in length.
Below are the best universities in Australia for education degrees, according to the Times Higher Education World University Rankings 2023.
---
Best universities in the world for education degrees
Best universities for education degrees in the UK
Best universities in Canada for education degrees
Best universities in the US for education degrees
---
The UNSW Sydney was established in 1949 and is one of the founding members of the group of eight in Australia.
The school of education is undergoing a project with the Australian department of education to develop research-based courses, providing students with support as they learn science, technology, engineering and mathematics.
The university provides both undergraduate and postgraduate degrees to prepare students for both primary and secondary teaching in Australia but also overseas.
The University of Queensland was founded in 1909 by the Queensland Parliament, with its main campus in Brisbane.
A bachelor of education can be taken in either primary or secondary education studies, providing students with the knowledge and skills to foster children's learning and development. Upon completion of the bachelor's degree, students can choose to progress to the master of teaching programme. Students can also choose the 3+2 Education Pathway, where three years are spent studying the field at an undergraduate level followed by two years postgraduate.
Postgraduate education programmes are offered by The University of Queensland through several pathways. First, there is the graduate certificate in educational studies, a six-month programme suitable for practising teachers wishing to gain expertise.
There is also a master of educational studies that can be tailored to an individual's preferences, ranging from a year to two years, depending on the number of credits they wish to take. This programme is geared towards educators who already have classroom experience.
The University of Sydney was founded in 1850 as Australia's first university. Those wishing to pursue a career in education have a variety of study options at the University of Sydney.
A bachelor of education is offered at both primary and secondary levels. It is a four-year programme, with the last three of those years including school placements to prepare students for a teaching career. In the fourth year, students are considered competent to teach without close supervision.
Bachelor's students will take general study units in education and the sciences, social sciences and humanities to gain a general knowledge platform for teaching. The course is accredited by the NSW Education Standards Authority.
The university also offers a one-year master of education degree, in which a capstone unit is completed in the final semester. This course is not professionally accredited.
---
What can you do with an education degree?
---
The University of Melbourne was established in 1853, making it the second-oldest university in Australia. The university offers education courses at a postgraduate level.
There are two types of master of education programmes on offer at the University of Melbourne. Both are two years long and taken on campus. The first focuses on research and includes courses in education research design and methodology before culminating in a thesis project of 30,000 words.
The other master of education programme is designed for professionals looking to expand their education knowledge to move up into new roles. This course has eight specialisations: arts education; assessment and pedagogy; equity, diversity and social change; leadership and management; literacy education; mathematics and science education; policy in a global context; and student well-being.
The doctor of education programme is a four-year course focusing on research, enabling professional educators to conduct an academic enquiry related to their role in education. It includes a combination of coursework and a thesis of 55,000 words.
Monash University is located in Melbourne and was founded in 1958. Education can be studied at Monash University from undergraduate to postgraduate level through a bachelor of education or a master of teaching.
The bachelor of education with honours is a four-year course for those interested in teaching. Students can choose from specialisations including early childhood and primary education, inclusive education, secondary education and health and physical education. The course follows four stages, beginning with education studies, moving to explore curricula, then going on to discipline studies before concluding with professional experience.
The master of teaching is a two-year programme for those who already have an undergraduate degree in another discipline and want a qualification to teach. There are five specialisations for students to choose from: early childhood education; early childhood and primary education; primary education; primary and secondary education; and secondary education. Throughout this course, students must complete a minimum of 60 days' teaching practice.
---
Top universities in Australia for education degrees 2023
Click each institution to view its full World University Rankings 2023 results. 
Featured image
Image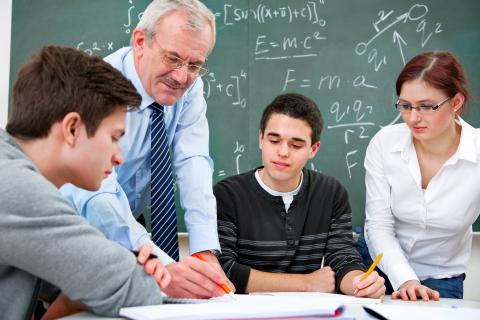 Standfirst
Explore the best universities in Australia for education degrees using data from the Times Higher Education World University Rankings 2023