Computer science is one of the fastest growing industries, with new jobs and specialties cropping up all the time. 
The tech sector in Australia is bolstered by investments across major infrastructure including the National Broadband Network (NBN).
A popular student destination, Australia is well known for its high-quality education as well as its broad career opportunities. 
Just over a sixth of the universities in the Times Higher Education computer science ranking are based in Australia and six Australian universities are featured in the top 100. 
Below are the best universities in Australia for computer science degrees, according to the Times Higher Education World University Rankings 2022.
---
Best universities for computer science degrees in the world
Best universities in the US for computer science degrees
Best universities in the UK for computer science degrees
Best universities in Canada for computer science degrees
---

The University of Melbourne is a public research university in Melbourne, Australia. Established in 1853, it is the second oldest university in Australia.
The University of Melbourne's School of Computing and Information Systems has been at the forefront of technological advancement. It played a role in commissioning Australia's first computer and managing the first internet connections. 
For undergraduates, the university offers five information technology majors within the Bachelor of Science or Bachelor of Design programmes. There is also a range of specialist programmes, including computer science, data science, information systems and software engineering. Entry requirements vary, with some of the specialist programmes not requiring completion of a computing major at undergraduate level. 
Graduate research programmes are led by faculty with international recognition. There's a vast array of research projects under way at the university, working to solve issues for industry, business, government and society. 
Established in 2006, the Australian National University College of Engineering and Computer Science evolved from the department of systems engineering (1981). Today, it offers the chance for students to get involved with research and engage with experts in the field.
Its engineering degrees take a "systems approach" to learning, allowing graduates to develop a holistic skill set to design, analyse and manage complex systems.
The university offers a range of undergraduate and postgraduate options in computer science. The majority of degrees are accredited by Engineers Australia or the Australian Computer Society, and the Bachelor of Software Engineering is accredited by both. 
Australian National University has close links with several large tech and finance companies including Google, Boeing, KPMG and Microsoft.­
The UNSW Sydney School of Computer Science and Engineering, within the Faculty of Engineering, was founded in 1991 and is one of the largest schools of its kind in Australia.
UNSW Sydney's Bachelor of Computer Science is a flexible three-year degree that teaches the core principles and technologies associated with the design and construction of computer systems. The institution also offers a Master of Information Technology, graduate certificates and graduate diplomas. 
Computing at UNSW Sydney focuses research in artificial intelligence, bioinformatics, computer architecture, computer systems, database systems, networks and software engineering. There are high-quality research facilities as well as programmes with a range of electives and research projects in which students can immerse themselves. 
Experts from Data61, a research institute funded by Australia's federal government, also teach a number of advanced courses.
UNSW computing's facilities include computer laboratories with more than 1,000 Apple OS, Intel-based and Linux computers. 
---
What can you do with a computer science degree?
---
The School of Computer Science at the University of Technology Sydney offers a range of undergraduate courses in computer science including information systems, computing science and games development. There are also postgraduate courses in information technology, which can be taken in formats such as a graduate diploma or a master's course. 
The university's research covers a broad range of areas within computer science and information technology, including artificial intelligence and quantum computation, data analytics, human-computer interaction and intelligent information systems.
Facilities for students include a computer laboratory and the UTS Science Super Lab, where more than 200 students can run experiments from different disciplines at the same time. 
The University of Technology Sydney is part of the Australian Technology Network, a group of five prominent universities committed to working with industry and government to deliver practical and professional courses.
The University of Sydney was founded in 1850. 
The majority of computer science courses at the University of Sydney are accredited by the Australian Computer Society.
The university's School of Computer Science teaches courses in artificial intelligence, machine learning, algorithms, visualisation, health informatics, human-centred technology, networking platforms, security, information systems and service computing.
The department also connects with hospitals through its biomedical and health informatics research programmes, while its links to industry include collaborations with companies such as Microsoft, IBM and Cisco.
It's also home to a range of advanced and purpose-built facilities, including access to Dell EMC's Artemis 3 supercomputer.
---
Top universities in Australia for computer science degrees 2022
Click each institution to view its full World University Rankings 2022 profile
Featured image
Image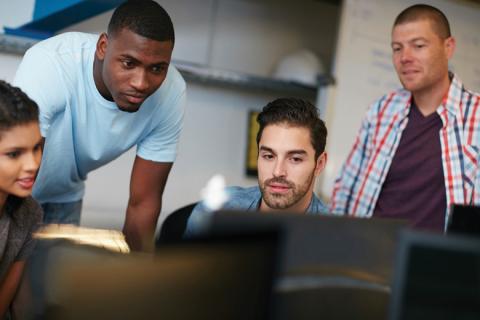 Standfirst
Explore the best universities in Australia for computer science degrees using data from the Times Higher Education World University Rankings 2022