Universities in East Asia are among some of the best in the world; they excel in teaching and learning and are now becoming more desirable study abroad destinations thanks to recent government initiatives and growing scholarship opportunities.
However, as well as all this, East Asian institutions are some of the most beautiful in the world. The Times Higher Education Student team has looked through many images of universities in the region to determine the 10 most beautiful campuses. And while we certainly don't advise picking a university based solely on how it looks, it is important to choose an environment that is suited to your needs and one that will have a positive impact on your university experience. 
1. Peking University, China
Founded in 1898 as the Imperial University of Peking, the institution may have changed its name but it has kept all its grandeur, making it possibly one of the most beautiful campuses in the world. Also known as Yan Garden, or Yan Yuan, the Beijing-based campus could be described as a small-scale Summer Palace, given its Weiming Lake area, which was once part of a royal garden of the Qing Dynasty. The Boya Tower (pictured below), a traditional Chinese pagoda to the south of the lake, is lit up at night. Peking University (known as "Beida") is particularly jaw-dropping in the autumn, as Weiming Lake mirrors the traditional architecture and colour-changing leaves. As far as picture-perfect tranquillity and natural beauty go, Peking takes the crown.
Peking University data-entity-type="file" data-entity-uuid="a9ec0362-0f5d-4119-9a68-3c539996238c" src="/sites/default/files/peking_university_photo.jpg" />
---
2. Nanyang Technological University, Singapore
Nanyang Technological University's reputation as a centre for cutting-edge technology, research and engineering is reflected in its mind-boggling architecture. A haven for modern-design addicts, the striking contemporary structures have been created by some of the most prominent architects of the decade. The School of Art, Design and Media, with its signature grass roof, has won multiple awards and the Learning Hub (pictured below) is just as breathtaking. It is made up of clusters of cornerless rooms set in angled concrete columns that appear, from the outside, to have been hand-sculpted from wet clay. Wallpaper declares it the "dim sum building" for its resemblance to stacked dim sum steamer baskets, while Dezeen said that it looks like giant parsnips. Either way, Nanyang's selection of standout architecture will blow your mind. The main picture above is the university's newly launched learning hub, The Arc.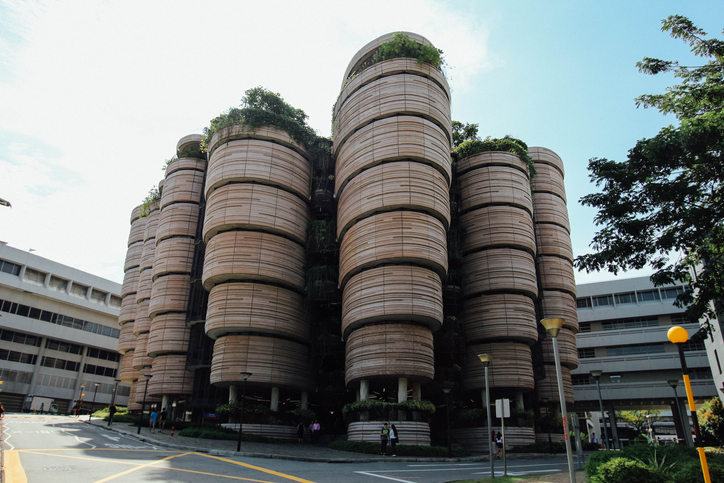 ---
3. Kyung Hee University, South Korea 
Established in 1949 in Seoul, Kyung Hee University is a mixture of Western-inspired neoclassical architecture and stunning examples of natural beauty. The imposing Peace Hall is an exact replica of the Cathedral of St Michael and St Gudula in Brussels, after the founder Dr Young Seek Choue became enamoured with it while on a trip to Brussels. The real draw of Kyung Hee's campus is the thousands of Korean cherry blossom trees – it is one of the best spots in Seoul during the flowering season (between late March and mid-April). For a 360-degree view of the cherry blossom flowering, the rooftop of the College of Fine Arts (pictured) will take your breath away.
Kyung Hee University data-entity-type="file" data-entity-uuid="331c72a3-6019-4ae4-9ccf-cca53c548cf8" src="/sites/default/files/kyung_hee_university_south_korea_1.jpg" />
---
4. The University of Tokyo, Japan
The University of Tokyo – one of the most prestigious universities in Japan – was established in 1877 and has five campuses in Hongō, Komaba, Kashiwa, Shirokane and Nakano. Hongō campus is known for its beauty, with its wide plantation of 120-year-old gingko trees (that shine gold in autumn), the koi carp-filled Sanshiro Pond (pictured) and the red-brick Yasuda Auditorium, which is used for graduation ceremonies. It is also famed for the Akamon (Red Gate) at the front of the university, which was built in the Edo period for military governors to welcome their brides. Akamon is a symbol of the university and a Japanese national treasure.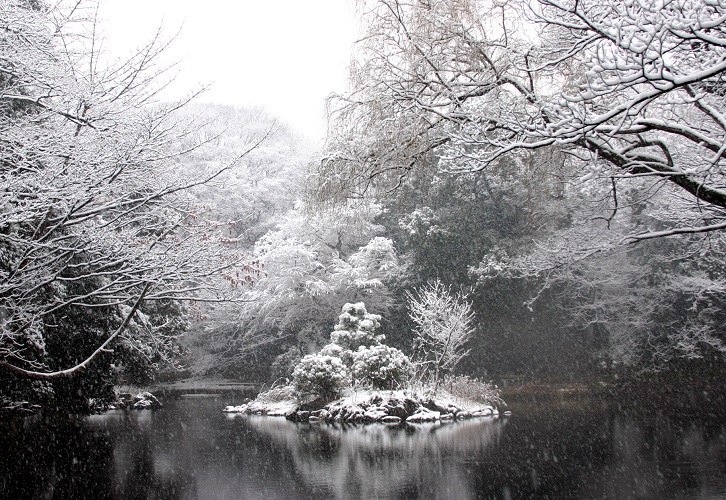 ---
5. Ewha Womans University, South Korea
Founded in 1886 by American missionary Mary F. Scranton, Ewha Womans University was South Korea's first educational institute for women. The recently finished Ewha Campus Complex is Korea's largest underground campus and was designed by architect Dominique Perrault (who also designed Bibliothèque nationale de France) and is referred to as "The Hidden Valley of Ewha". The vegetation-covered hill is split by a deep cleft that looks like a geological fault line but in fact contains underground parking, classrooms, a cafeteria and an exhibition space. Located in one of Seoul's most popular shopping districts, there are also several neoclassical structures so Ewha showcases the best of both worlds.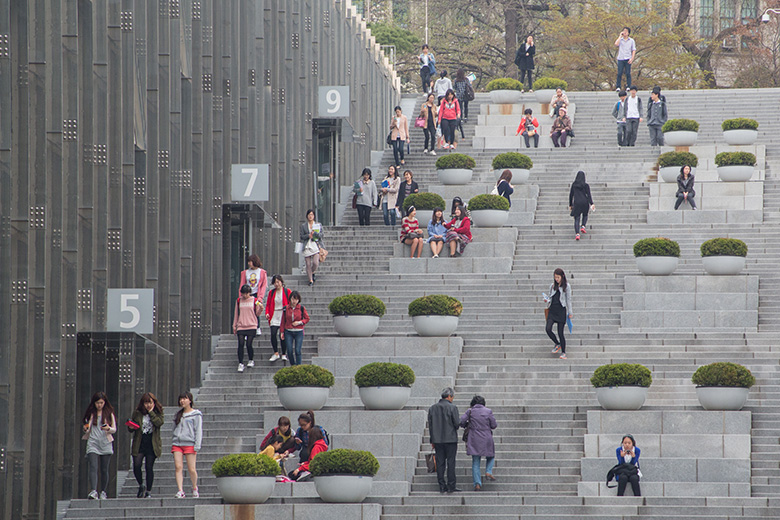 ---
6. Tsinghua University, China 
Tsinghua University is one of the largest – and most beautiful – universities in China. The campus is on the former site of a Qing Dynasty royal garden in north-west Beijing and is filled with trees, lotus ponds and a combination of traditional Chinese and Western-style buildings, which reflect its past American influences. Shutterbugs will delight in Tsinghua's ancient beauty and natural feel.
Tsinghua University data-entity-type="file" data-entity-uuid="842098d6-5807-437e-8d70-0a50df429d14" src="/sites/default/files/tsinghua_university.jpg" />
---
7. City University of Hong Kong, Hong Kong
If contemporary architecture is your thing, the City University of Hong Kong is worth a visit. The main campus has more than 14 principal buildings, all of which exemplify glass and smooth lines and are in keeping with the city's skyline. The Run Run Shaw Creative Media Centre is a highlight – built in 2011, the nine-storey building is elegant yet mind-bending and the dramatic central staircase shoots upwards with irregular twists. The architect was Daniel Libeskind, the New Yorker who is best known for designing the Jewish Museum in Berlin and the master plan for the World Trade Center site.
University of Hong Kong data-entity-type="file" data-entity-uuid="8684e4a8-b0a7-41a5-8309-b460aff4fb0a" src="/sites/default/files/cityu_1.jpg" />
---
8. Tama Art University, Japan
Sometimes just a single structure is enough to place a university among the big hitters and Tokyo's Tama Art University has one of those. Designed by Seoul-born architect Toyo Ito, the Tama Art University Library (pictured below) is made up of a series of grey concrete arches. Arranged in irregular patterns, the arches come together to form harmonious columns. The concrete ceiling has the occasional pendant hanging from it, but otherwise this is a vision of calm and natural light. This is the kind of library that students could quite happily spend their every waking hour in.
Tama Art University data-entity-type="file" data-entity-uuid="25fc8cc9-d9d2-486d-8ac1-62c7e1b71ff8" src="/sites/default/files/tama_art_university_tokyo.jpg" />
---
9. Xiamen University, China
Founded in 1921 by businessman and philanthropist Tan Kah Kee, Xiamen University is located in a city of the same name, which was dubbed "the Hawaii of the East" by former US president Richard Nixon. Students will delight in the campus, which is on the coastline and at the foot of rolling green hills. While each Xiamen University campus differs, each one is akin to a perfectly maintained garden, with serene lakes, lush foliage and buildings in the unique Tan Kah Kee-style – a blend of Eastern and Western architecture, with South Fujian roofing, Western walls, Southeast Asian intricate floor details, and skintled brickwork. 
Xiamen University data-entity-type="file" data-entity-uuid="38c13d35-014a-4d04-a068-d3fb2ee5f5bf" src="/sites/default/files/xiamen-university-china.jpg" />
---
10. The Universiti Teknologi Petronas, Malaysia
Set in the new township of Seri Iskandar in Malaysia (about 300km from Kuala Lumpur), The Universiti Teknologi Petronas is owned by Petronas, the country's primary oil company. It is surrounded by hills and dense tropical rainforests, while the campus includes open spaces, several lakes and buildings that reflect its forward-thinking, well-rounded approach to teaching. The Chancellor Complex's steel and glass drum-like structure is a gateway to the campus and the rest of the buildings are arranged in a star shape when viewed from above. But you needn't get up that high to appreciate the beautiful functionality of the university.
Universiti Teknologi Petronas data-entity-type="file" data-entity-uuid="52f0875a-deef-4c5b-a1a1-a0567744e42b" src="/sites/default/files/universiti_teknologi_petronas_4.jpg" />
Read more: most beautiful universities in Australia 
Featured image
Image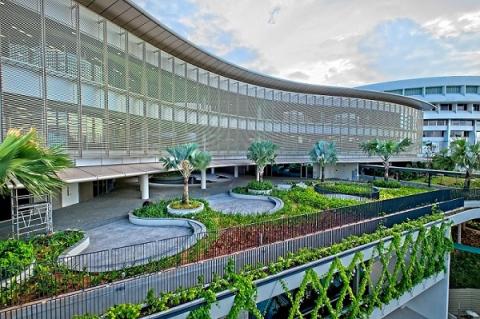 Standfirst
While it isn't advisable to base your university choice on how pretty the campus is, here are some of the most beautiful institutions in East Asia for your perusal