If you live in the European Union (or one of a few other countries outside the EU), you may be able to take part in the Erasmus exchange programme, which is designed for university students in the EU and partner countries to study abroad. Here we look at what the Erasmus+ programme can offer, explain how to apply to it and hear directly from a student who took part in Erasmus.
What is the Erasmus+ programme?
Erasmus is a student exchange programme for citizens of the EU and partner countries. There have been several versions of the Erasmus programme as it has grown over the years, but the main aim has always been to provide students with the opportunity to experience education abroad.
The current version is called the Erasmus+ programme. This combines the previous aspects of the scheme with further funding for staff training, work experience, vocational training and adult education abroad.
When did the Erasmus programme begin?
The Erasmus exchange programme was set up in 1987, and the Erasmus+ programme began in 2014. The scheme was named after the famous Dutch philosopher and theologian Desiderius Erasmus of Rotterdam, but the original idea of promoting cultural, social and educational exchange between students in Europe was down to Sofia Corradi in 1969, who was affectionately nicknamed "Mamma Erasmus".
More than 9 million students have taken part in the Erasmus student exchange programme since its launch, and it now accepts about 300,000 participants each year.
Which countries are involved in Erasmus+?
There are approximately 30 countries involved in Erasmus+. Some of the most popular destinations for students are Spain, Italy, France, Sweden, Germany and the Netherlands. Other participating countries include Hungary, Cyprus, Croatia, Malta, Romania, Norway and Slovakia.
It is important to choose your destination with care because you will not only have the chance to study and work there, but you will also be able to explore and learn all about the local culture.
How do you apply to Erasmus+?
The Erasmus+ programme is usually organised between universities or colleges through partnerships they have formed with each other. Each university will explain how you can apply for Erasmus+ through its Erasmus coordinator.
The usual steps are:
Complete a student application form, including a personal statement about why you want to study abroad and how it will help your education.
Complete a grant agreement.
Complete a risk assessment.
Complete a learning agreement.
Each stage needs to be signed off and supported by the faculty Erasmus coordinator, and applications will be sent in the January of the first year that you wish to go abroad.
Once the application process is complete, Erasmus+ will interview candidates in February, when all applications are closed. If you are successful, you will be nominated to the linked university. You can then complete the final stage of the process by applying directly to the institution.
---
Five things you hadn't thought to prepare for as an international student
How joining a society helped me settle in as an international student
The best ways to prepare for studying abroad
---
How do grants and tuition fees for Erasmus+ work?
Students who join the Erasmus scheme do not have to pay any university fees for their host university. However, you will still have to pay fees for your own university. Some students can receive help with reduced fees when studying abroad, but it is best to find out this information directly from your own university.
Students who are eligible will receive the Erasmus+ grant, which will go towards other study or working abroad costs. If you receive any student grants or loans, you often will continue to receive these even during your year abroad.
Erasmus+ also offers a student grant for students with special needs who wish to take part in the programme and might not be able to participate without other financial support. This entails more forms and requirements, which your faculty coordinator will be able to advise on.
Finally, students can apply for a travel grant when taking part in Erasmus+. If successful, you may receive aid towards travel costs for at least half the academic term.
Why apply to Erasmus+?
There are many benefits of the Erasmus Student Exchange Programme:
Travel – see the world and explore different cultures
Meet people – make new friends and contacts who will be part of your life forever
International education – experience new teaching and learning styles
Independence – learn how to manage your life and set priorities for yourself
Learn a new language – communicate with people in their own language and develop your skills beyond tourist level, or practise your English with other non-native speakers
Build your employability – enhance your CV with experiences that many employers will find interesting and make yourself a valuable candidate
Student experience: Alexandra Alexandrova
I am Alexandra Alexandrova, and I would like to share with you my experience of moving abroad to Barcelona through the Erasmus programme.
Planning a study period abroad is a big dose of excitement with a juicy dash of challenges that go with it inevitably.
My journey abroad began in 2017, when I started my studies in the Netherlands, having moved to study there from Bulgaria. In 2019, I had the amazing opportunity to move again to study in Barcelona through the Erasmus programme. So yes, I would be an international student, going abroad from my already-abroad experience – a bit confusing.
To be fully transparent, my home university arranged most of the practicalities for the exchange semester. Early on in our second year, we had lecturers telling us all about opportunities to go on exchanges with and without Erasmus. If we chose to take part in the exchange, our university provided us with a step-by-step guide that informed us about the deadlines we had to keep in mind when submitting the documents and making contact with the partner university.
However, such ready help may not always be available as some institutions do not actively promote exchange programmes. It may be down to you to seek out the student exchange office and prepare a schedule so you do not miss any deadlines. For example, the Erasmus grant application is usually around June/July – a few months before the start of the trip. If you miss it, you might miss out on the grant, too – so start early. While the grant will not cover all your costs, it can definitely ensure that either your rent or daily expenses are covered.
I would also advise that you read up about local culture. That doesn't mean that you have to learn all of their history. It is simply to suggest that you research what types of things to keep your eyes peeled for and explore once you arrive. And most importantly, you must show respect to the local community and how they conduct their daily lives.
Finding accommodation is probably one of the hardest tasks anywhere. That was certainly true in Barcelona. I unfortunately had to move several times during the year because the only places I could find were not very suitable and were often without a contract. However, I was always happy where I lived, as I avoided the busy centre of the city.
In Barcelona, no matter your living situation, you can easily spend a big portion of your time outdoors. There are plenty of open areas to walk around, sit and drink a coffee or grab a bite without spending too much money.
And the food is absolutely amazing. If you're new in Barcelona, avoid eating in busy touristy areas such as the Rambla or Plaça Reial because they can be quite expensive. Try as many different tapas as possible, and be sure to give paella a go and sample the vermut.
Barcelona, besides being warm and friendly, is a very progressive city. Most spaces are LGBTQIA+ friendly. The neighbourhood of Eixample is home to many queer clubs and bars.
Most places accommodate the needs of people with physical disabilities, including wheelchair accessibility and plenty of lifts. That is, of course, not applicable to every venue and site, especially the small central streets, but efforts are usually made.
And finally, the best piece of advice one can give to newbies in Barcelona – beware of pickpockets. I have never been robbed, however I'm one of few. I would strongly recommend that you carry your backpack in front or use a belt bag, even if it disrupts your outfit. Be most careful in touristy areas, and always keep an eye on your belongings.
Moving away from your comfort zone is never easy. Finding people you connect with is more difficult than I would have thought. Using apps such as Bumble to meet friends and signing up for different courses can help to expand your circle.
And I would definitely recommend being ready to walk a lot and travel by metro or bus daily. There are many different travel cards priced between €11 and €80 that you can choose from, depending on what you're looking for. I enjoyed travelling by public transport as it was all very well connected.
Featured image
Image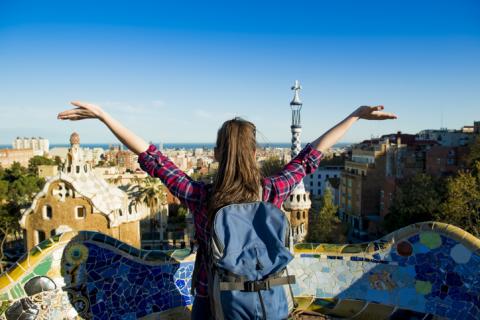 Standfirst
Have you ever wanted to study abroad? Do you live in the EU? You might want to have a look at the Erasmus programme for its study abroad exchanges